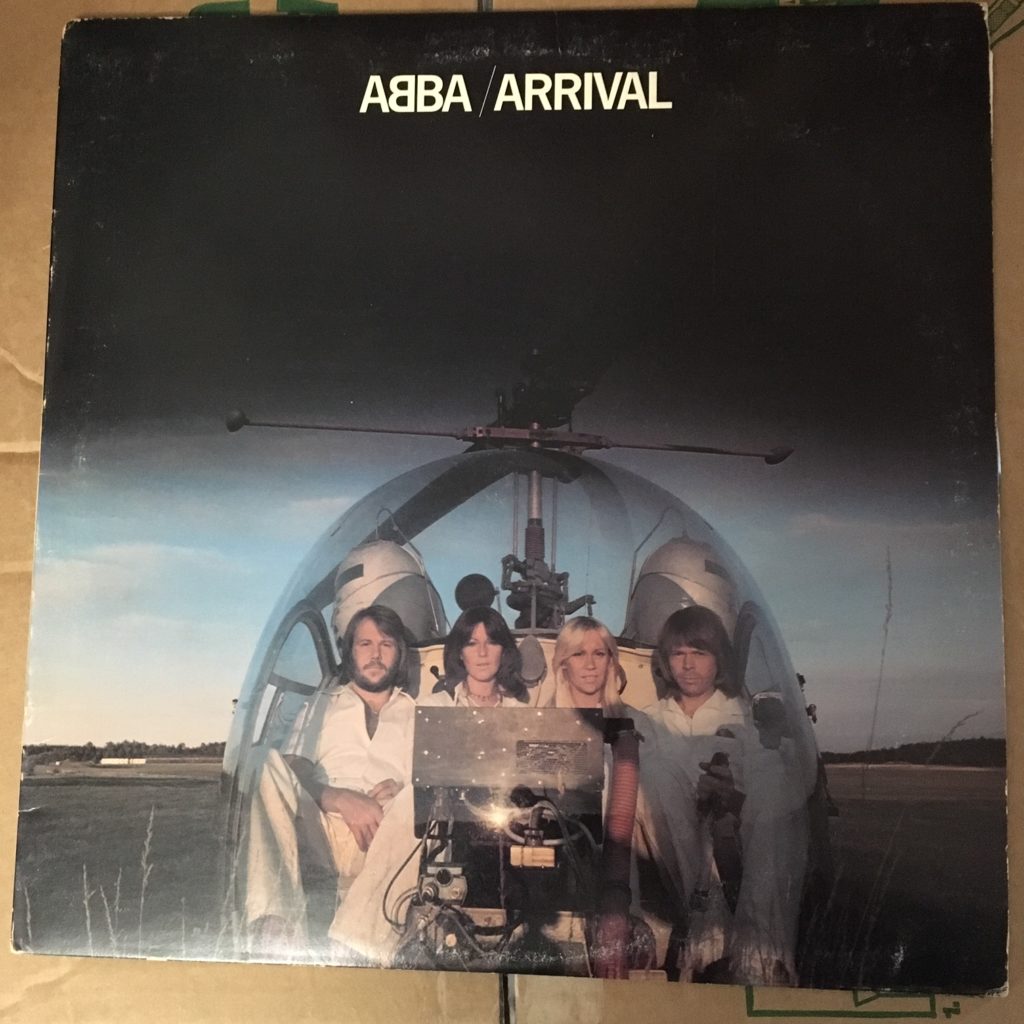 There aren't a lot of albums that I owned in high school that made it through a pretty colossal cultural purge that occurred somewhen around the end of my freshman year of college. There are even fewer of those that I still listen to and think are good, solid, listenable albums, and not just nostalgic novelties that take me back to those old days. ABBA's "Arrival" is among the few of the few.
This copy I bought new, and I'd guess it was at the old Two Guys Department Store in Schenectady, which had a significant record section. (It failed the litmus test of record store self-awareness, however — copies of 10cc's "The Original Soundtrack" were stocked, yes, in the soundtrack section.) Considering the thousands of plays I gave it on a truly bad stylus in the '70s, it's a miracle it plays, but play it does, and the sound's not bad. There's a lot of hiss, an amount of popping, but it's listenable.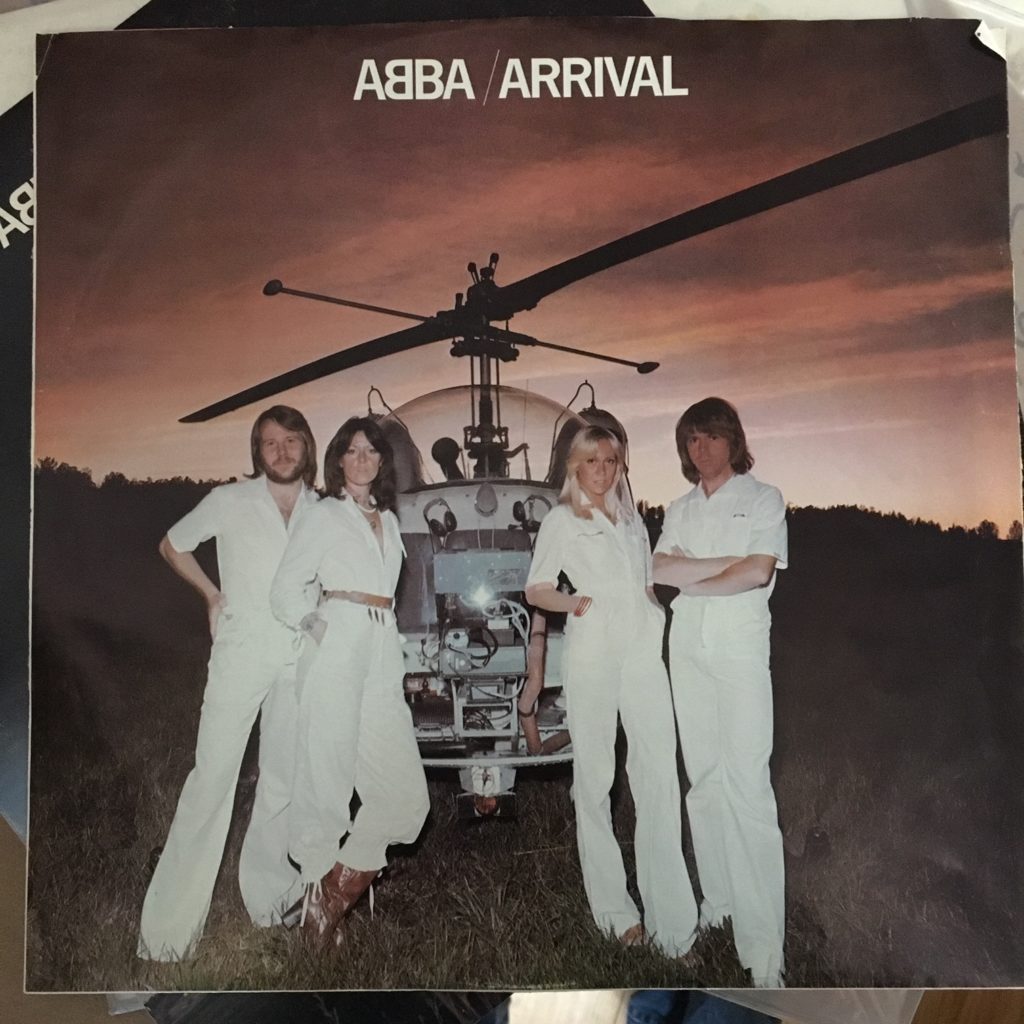 One thing that really surprised me opening this one up — it's on Atlantic Records. These days, it doesn't mean much to anyone what record label something is released on — the whole dynamic has changed. And it was never the case that any major label was purely of one direction or another. But it's a label I associate more with its incredible stable of blues and rhythm & blues talent (start with Aretha Franklin and Ray Charles, and add its association with Stax/Volt), and in the late '60s Crosby, Stills, Nash & Young. In 1976 Atlantic put out albums by Ben E. King, Stephen Stills, John Prine, Fred Wesley, Average White Band and the Spinners — and ABBA. (In fairness, the label also released "Laverne and Shirley Sing" that year.

This was the album that broke big for them. ABBA represented absolute pop perfection in the '70s, and as a kid growing up in the AM radio Top 40 culture of the time, it's hard to imagine that there was a time before "Dancing Queen" existed. When that song broke, it became ubiquitous, and it seems like it never stopped.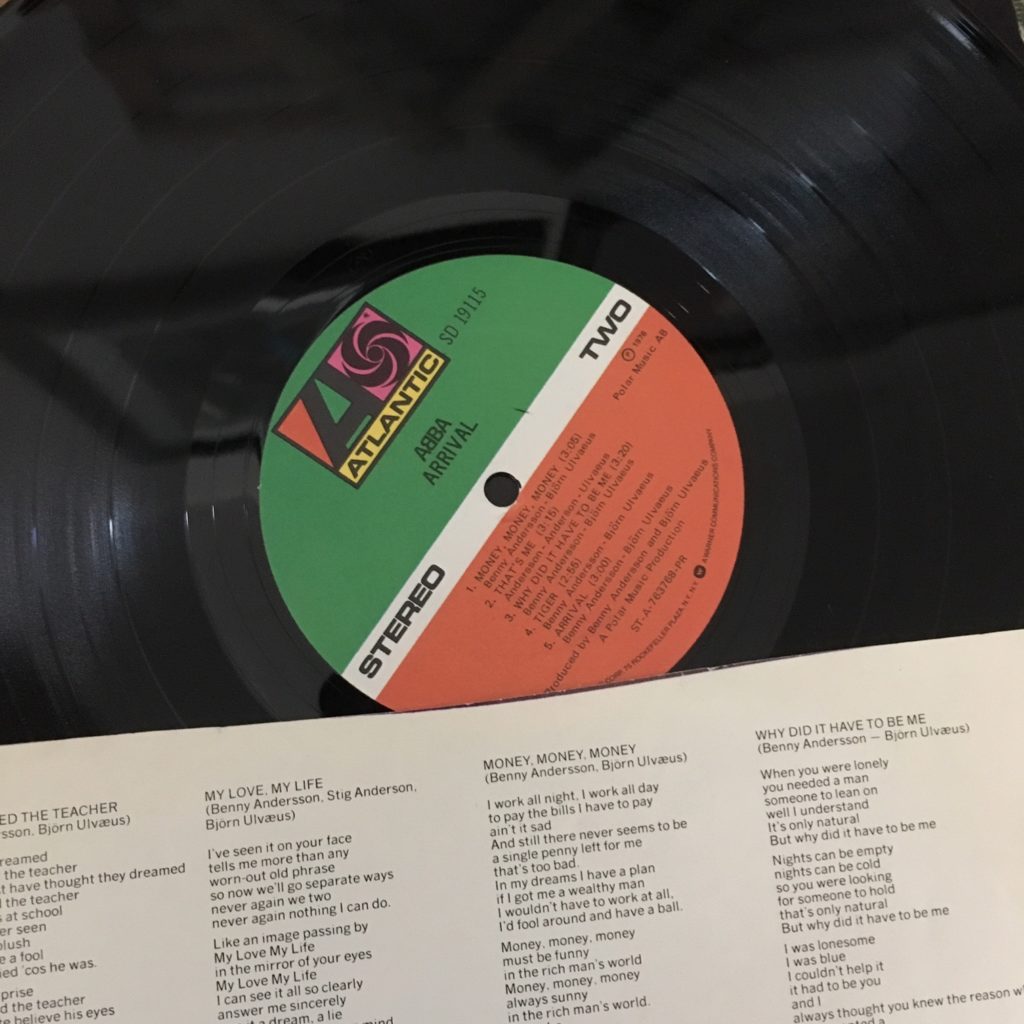 Musically speaking, this album is pop perfection. It starts out with "When I Kissed the Teacher," a schoolkid fantasy brought to song that certainly wouldn't be allowed on an album these days, but was definitely viewed as harmless dreaming at the time. It is full of the harmonies, nonsense backing vocals, and layered instrumentation that would be the ABBA sound. Then it goes into "Dancing Queen," a soaring pop confection. There's drama in "My Love, My Life" and the much better "Knowing Me, Knowing You," broken up by the ridiculous "Dum Dum Diddle" that is actually one of my more dangerous earworms.
The flip side is much weaker, though it starts out with "Money, Money, Money," which was another big hit. "That's Me" (easier to remember as "Carrie not the kind of girl you'd marry") and "Why Did It Have to Be Me" follow, and they're fine. "Tiger" is the kind of nonsense I never get into — not having grown up where tigers feature prominently, the imagery never grabs me. It closes with "Arrival," a sweeping bagpipey-synth instrumental that, while I like it, never found use as a fadeout track in the days when I was making mixtapes by the score. Probably by then including ABBA on anything but the poppiest of mixes wasn't possible.
Emotionally speaking, I can close my eyes and listen to this and remember being 15. There was a lot of magic associated with these songs. There was a delightful day ice skating at Schenectady's Central Park when I came upon the revelation that "Dancing Queen" might be the most perfect song for ice skating ever – and even though there's more than a chance that my companion that day was influencing my emotions more than the song, it's a belief I've never let go of. "Knowing Me, Knowing You" portended breakups that hadn't yet happened, but at that age even a breakup song was a promise because it meant there would have been something to break up.
My sensibility always has been, and apparently always will be, more pop than hard rock. Give me some melodies and harmonies, good arrangements and a clever lyric, and I'm a happy man. (Okay, maybe ABBA doesn't deliver on the clever lyrics.) I won't be looking for a digital remastered edition of this, or a pristine 180 gram pressing.