Well, we're three entries in and I've already found a record out of order. (How my collection should be organized is a discussion for another day.) Even spelling out the numbers and starting very simply with 'A', it seems that within a group, one would then order them by date of release, right? So far, my collection has gone: ABBA's Arrival (1976), then ABBA's The Album (very end of 1977), and now ABBA's Greatest Hits . . . 1975, dammit. Maybe next time I'll check on my order before I post. Anyhoo . . .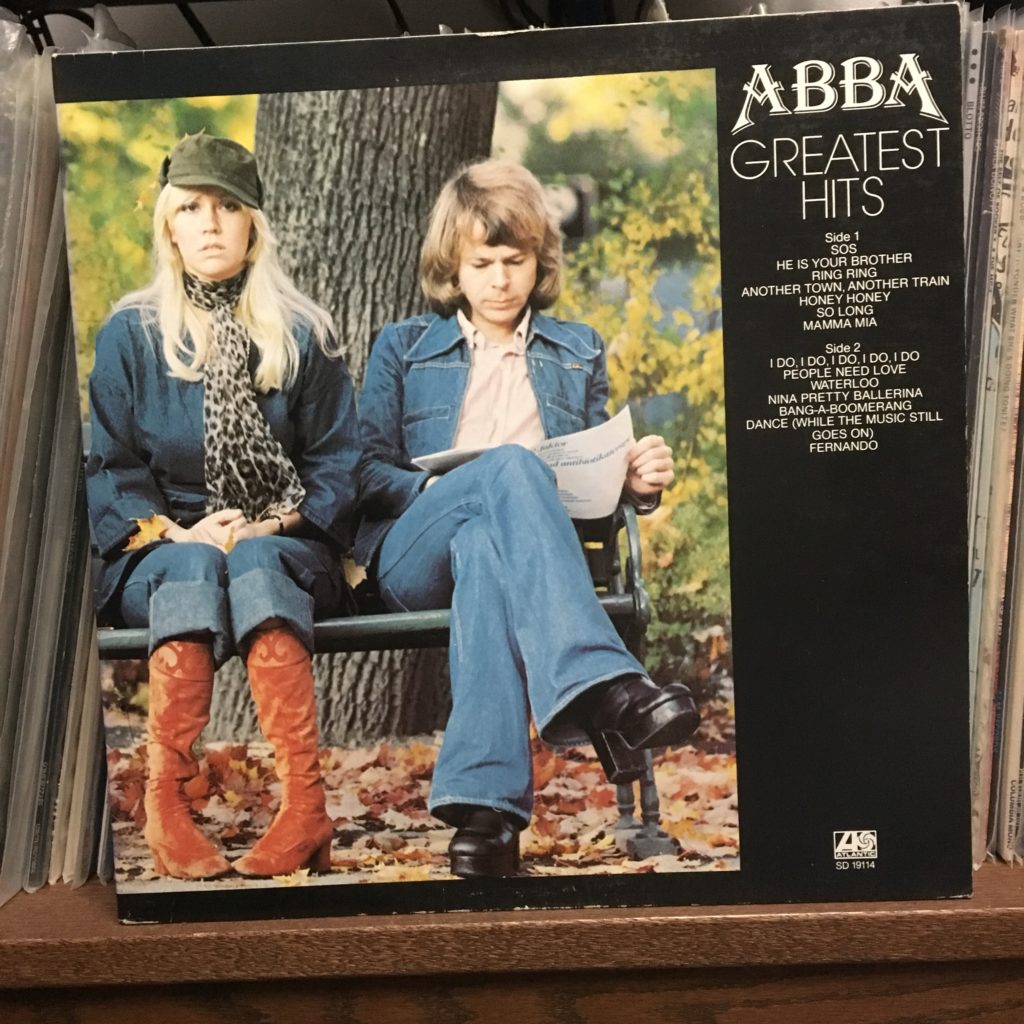 Ahh, the front cover. Wistful, possibly lonely Agnetha, bedecked in '70s wear, toes together, sitting next to but apart from Björn, a vision in bell-bottomed denim and platform heels that somehow were okay for men (at least male musicians) at the time. Wikipedia says that Björn is reading a paper, and memory and setting would certainly have one think that of course he's reading a newspaper, that's what one does when sitting next to a beautiful woman on a park bench in the height of autumn.
He is not. It appears to be a pharmaceutical paper of some sort, with a title that includes "faktor" and "antibiotikaterapi." Make of that what you will.
I'm not sure when this photograph was taken, but the couple had married in 1971, and would divorce in 1978.
Interesting that this is the front cover, when the back cover presents a much more romantic vision, Benny and Frida mid-kiss on the other end of the bench: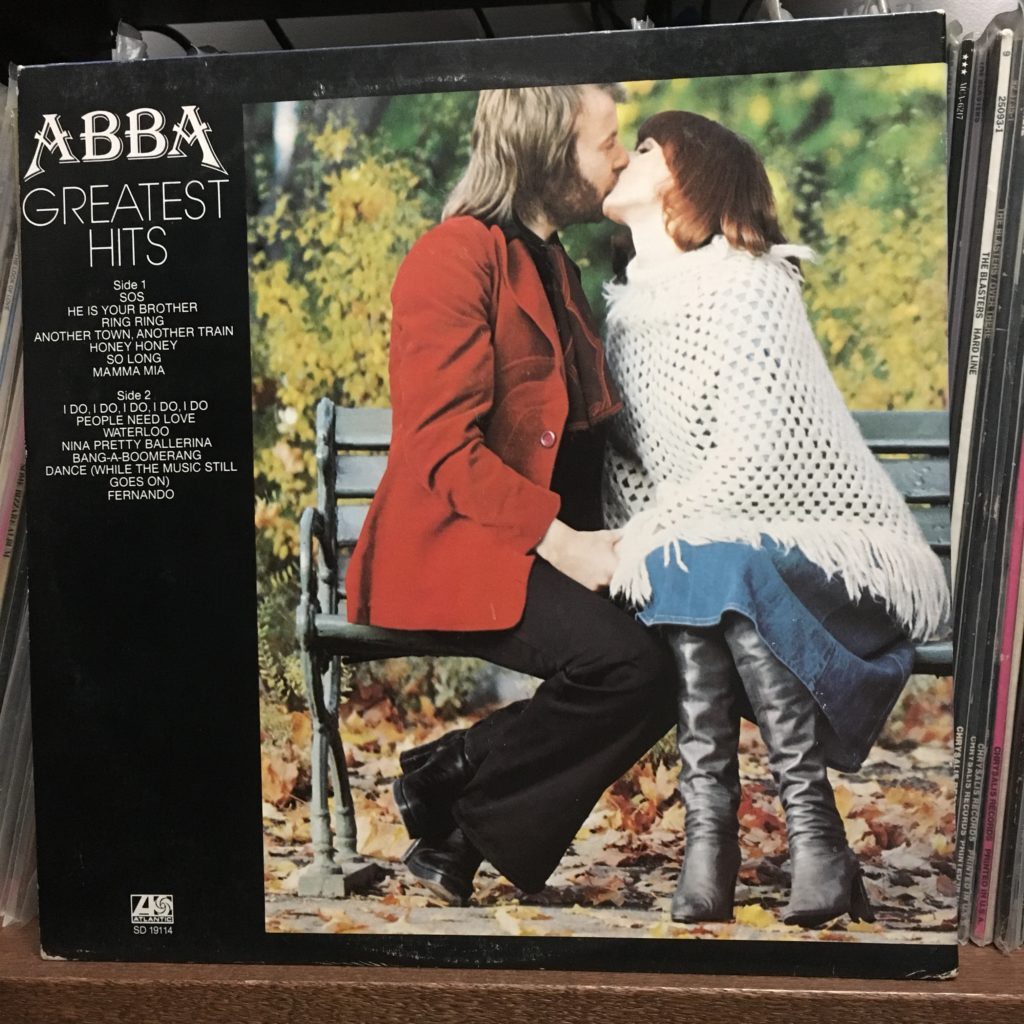 Benny and Frida were, according to Wikipedia, engaged from about 1971 until they finally married in 1978. So this vision of love between the be-shawled and the high-heeled likely comes in the blissful pre-marital stage. They separated in 1980 and divorced in 1981. Being superstars cannot be easy.
Just as odd, to me, is that the full track list is on both the front and back covers of the album. I can't think of another record that does that.
The inside gatefold doesn't give fans much for their money. At a time when most bands were cramming as many little polaroids of themselves into gatefolds and record sleeves as they could fit, ABBA went with a giant, somewhat oddly colored, not very stylized photograph that appears to be from the same photo session as the cover: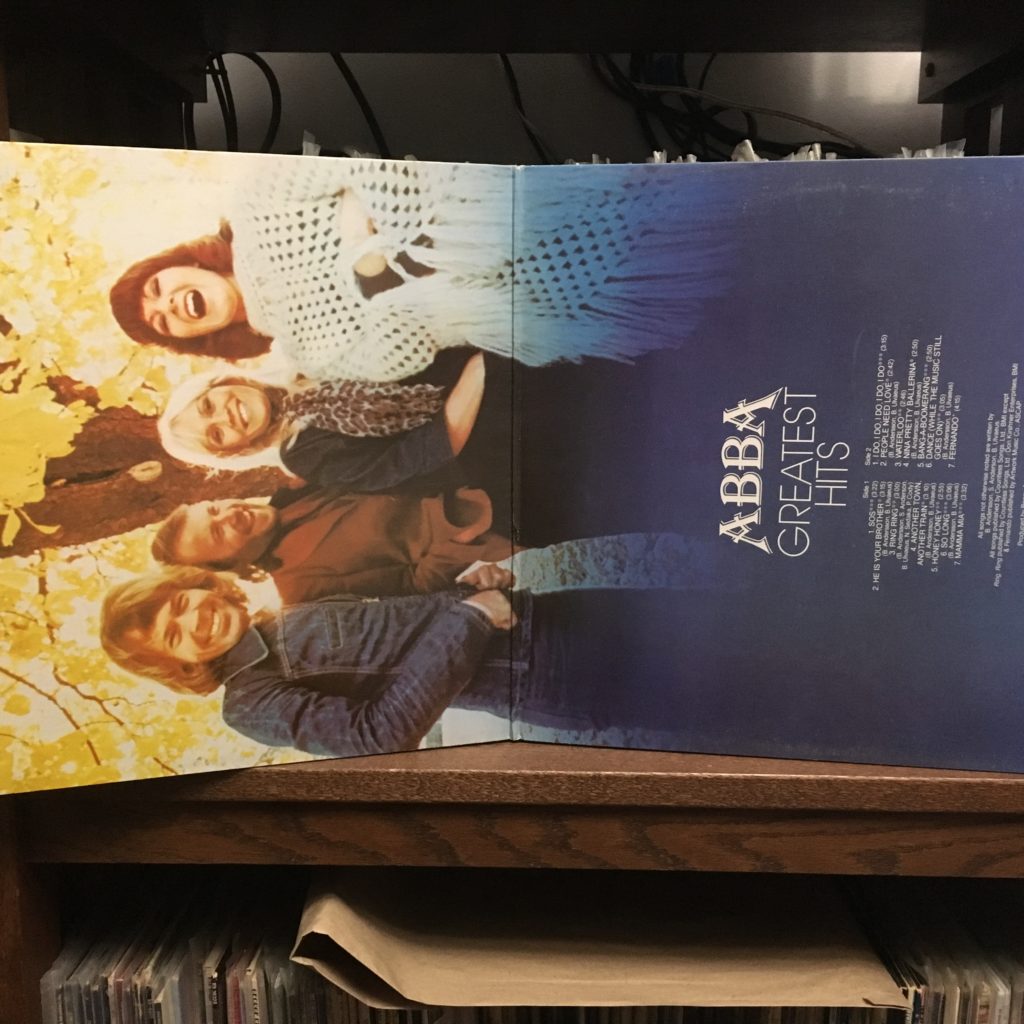 Just that one big photo and a more detailed tracklist with credits. Oh, and a version of the ABBA logo done in a typeface called Algerian, so ubiquitous in the '70s that it's hard to understand what any designer was thinking associating it with ABBA, who had always taken an amount of care with their graphic design. (If you'd like to join a harmless campaign of distaste, check out this blog documenting inappropriate use of Algerian.)
All that aside, what a string of hits ABBA had before "Dancing Queen"! There's "SOS," "Honey Honey," "Mamma Mia," and "I Do, I Do, I Do, I Do, I Do." There's "Waterloo." There's "Fernando." And the lesser-known songs aren't bad either. There was a time when I had a penchant for sneaking "Bang-A-Boomerang" onto mixtapes, as an ABBA song that most people hadn't heard and a pure pop confection, perfectly layered instruments and vocals and joyous noise. You don't even know it, do you? C'mon, give it a spin:
This is another one that I've had since the beginning of time, or at least since high school, which I sometimes think of as the same thing. As Joe Jackson once sang,
"Of all the stupid things I could have thought
This was the worst
I started to believe
That I was born at seventeen"
Even my record collection goes back to junior high. And my tastes probably go back further than that, to something I have no memory of or control over.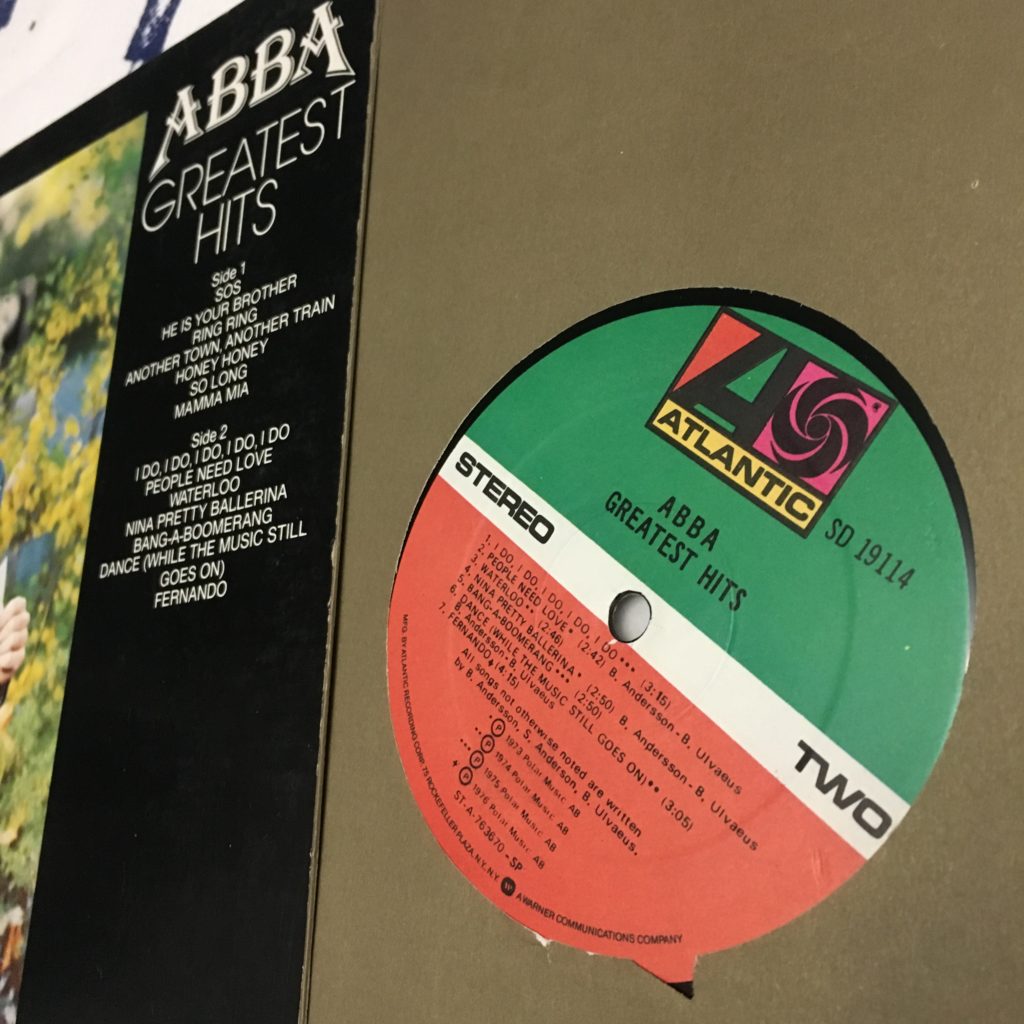 [gets back on track]
As I said, I've had this one for a very long time. I must have bought it new, around the time it came out, but I don't have a particular memory of getting it, so we'll just presume it was picked up on one of those journeys to downtown Schenectady, one of the trips where we told our parents it was absolutely urgent that we go to the city library to do some research or something and then ended up hanging out in the Two Guys, thumbing through records or enviously browsing the camera department or eyeing the incredibly well-stocked chemistry set replenishment racks (oh yes, if you'd used up all the copper sulfate from your Gilbert chemistry set, Two Guys had the replacement bottle). Then as we crossed back to the library where we were supposed to be, to where our parents thought we were, we'd take a few runs up the wall of the police station. There was a steep inclined brick wall at the entrance, and we would try to see how far we could run up it. It was never all the way; the pitch was too steep. I don't recall the police ever noticing, by the way.
I repeat: Department stores in the 1970s stocked chemicals meant for teenage boys to play with.
Now tell me the world hasn't changed.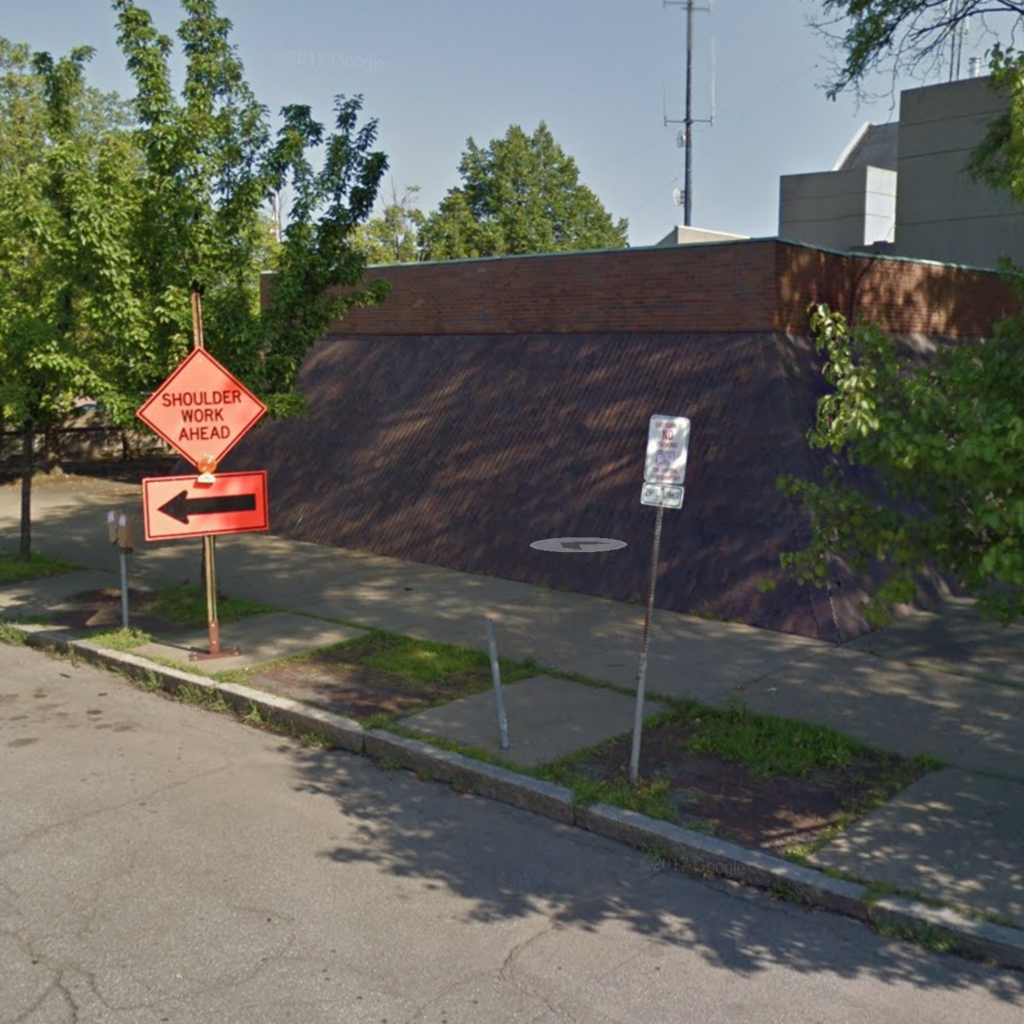 Back to ABBA's Greatest Hits. Passionate record collectors generally despise greatest hits collections – if you were a real fan, you'd have the original albums. And that's true. But for someone with a limited budget, someone who discovered a band three or four albums in, or someone who really just kinda wanted to hear the hits, a greatest hits record was a good introduction. The problem, of course, was that then you might not want to buy the previous albums, because you already had three or four songs off them, and what were you paying for? It was a conundrum for a teen on a budget. This album collected hits from "Ring Ring," "Waterloo," and "ABBA," and honestly, I never saw the need to buy those. This was plenty for me.
If you're already tired of hearing about my pop records, just wait . . . Oh, no, the next one, alphabetically, is nearly as pop as ABBA. Ah, well. We'll just see if it's in the right order.