So, it's 1984. I've moved from my early obsession with the British Invasion to new wave and a smattering of oddities. But it would be fair to say that musically, I was bored. Radio in Syracuse was AWFUL. The only radio that had ever been cool, the major college FM station, had been converted from an anything goes format to an all-jazz format, on the advisor's pretense that that would give the students marketable programming experience (after all, we know how jazz rules the airwaves). It is a year in which "Karma Chameleon" is one of the best songs on the radio, and I don't mean that in a good way. Paul McCartney and Michael Jackson had a huge hit with "Say Say Say." Kenny Loggins and Phil Collins were both assaulting me on a regular basis. (If you look at the hot 100 singles of the year, it is to weep.)
Not listening to the radio was certainly a viable choice in private life, but harder in the workplace and out and about. The awfulness that was Top 40 was unavoidable.
Now, imagine in that context, I'm thumbing through the racks at the indie record store, and I find this cover: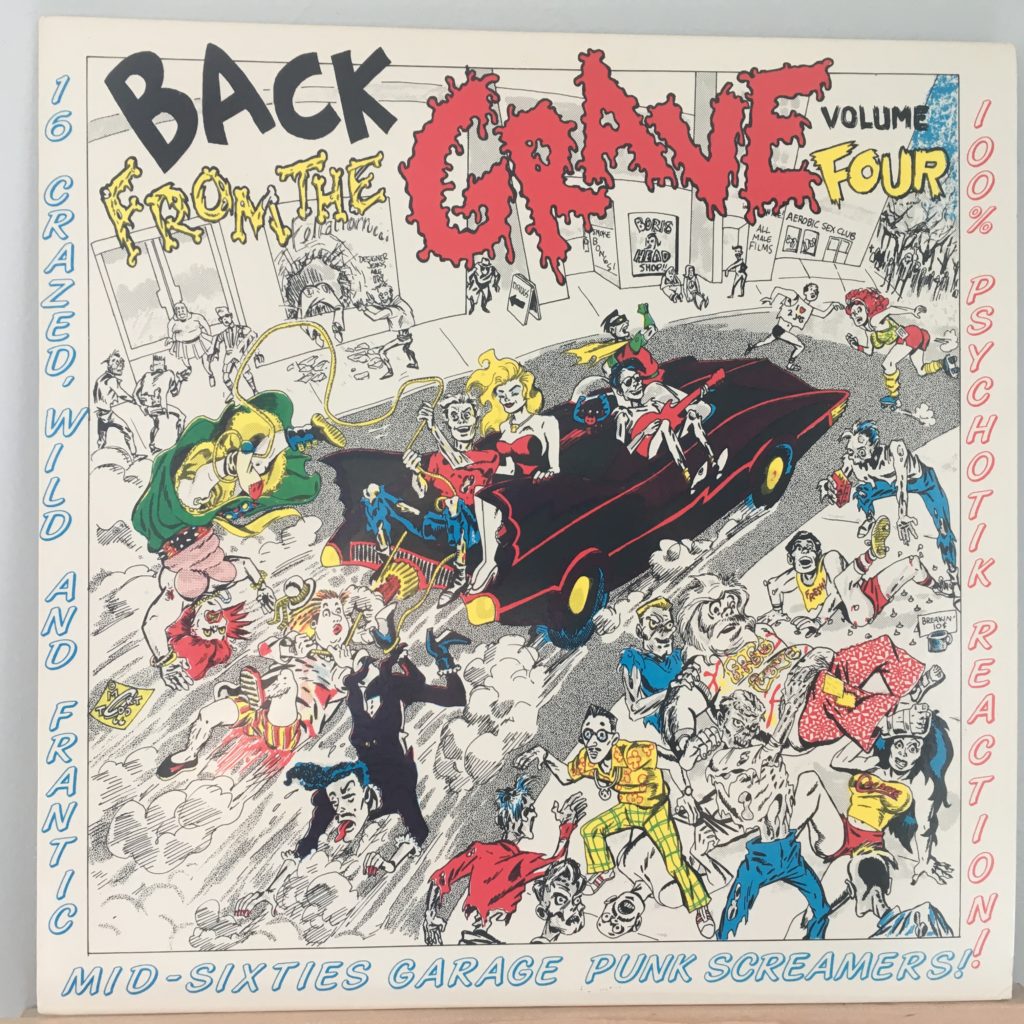 Primitive, bizarre, featuring a cover by artist Mort Todd that appears to depict zombies attacking hippies, and somehow mixes in the Batmobile — this grabbed my attention. "16 Wild, Crazed and Frantic Mid-Sixties Garage Punk Screamers!" How could I not buy this?
By the way, I was quite well aware of the original Nuggets collection, which mined a similar vein but which, at this time, was an unattainable collectible. You could find it, but it cost a fortune. And Nuggets, despite having a reputation for being obscurities, mostly featured hits. Edgy, proto-punk hits, but hits nonetheless. The Seeds performed "Pushin' Too Hard" on the Eve Arden/Kaye Ballard sitcom "The Mothers-in-Law" (do watch that, do) — even a third-rate network sitcom was incredible national exposure. The BFTG collection was something else entirely.
"Back From The Grave Vol. 4," the first of the series that I bought, was probably about $8, and oh my god so worth it. The music on this album is insane — raw, garage, punk — the real deal. These are bands with way more energy than talent, but wow do these songs rock.
Other than The Sonics, who are legends of garage rock, I've never run into another of these bands on any other collection or on their own. To add to the punk feel, they are not even really typeset, but done on a form of typewriter (the name of which currently escapes me). And it's all put out by Crypt Records of Morristown, NJ — not exactly a big label. (Nuggets, by contrast, was on Elektra and then Sire, before being issued in a hugely expansive edition by Rhino.)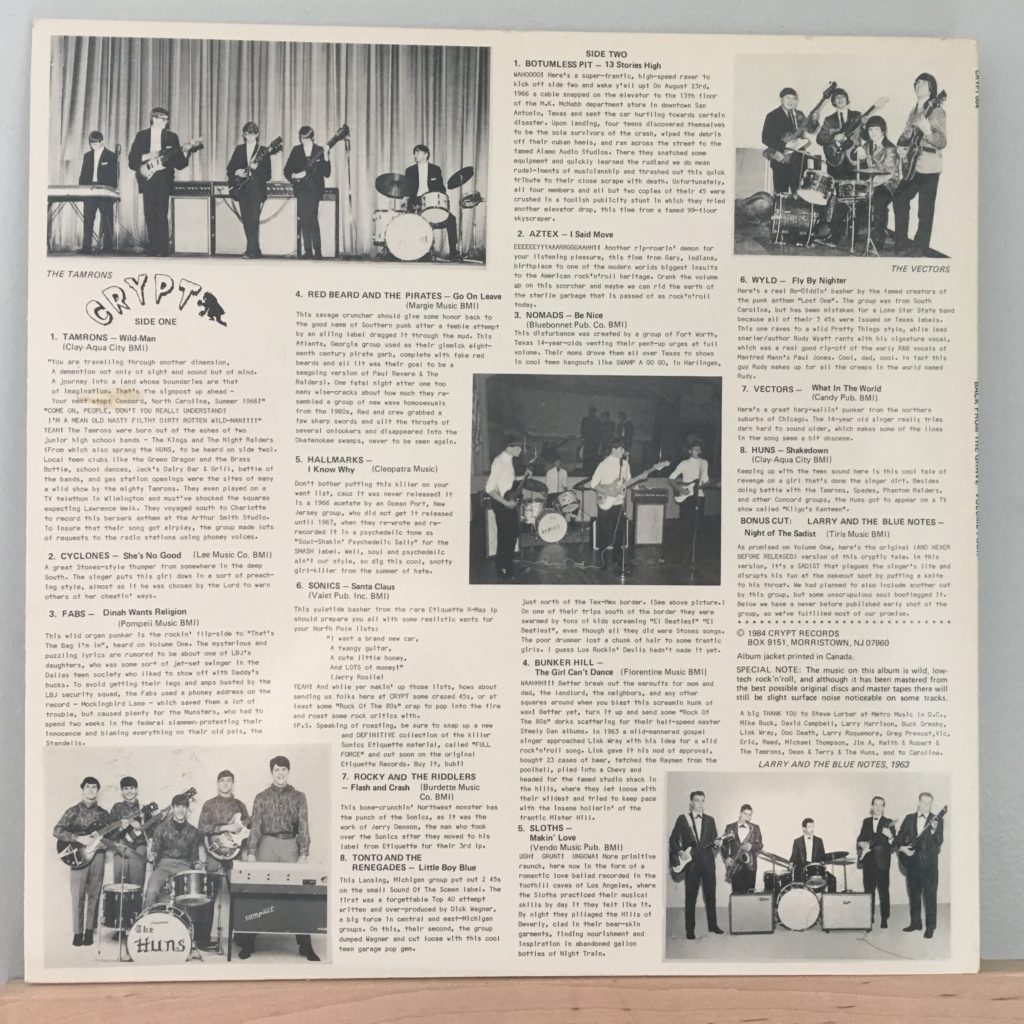 This album blew my mind. 17 tracks by bands you've never heard of, rocking harder, wilder, crazier in the '60s than you could even imagine. The liner notes are fantastic — telling us plenty about these bands that would otherwise be entirely obscure. Does anyone else write liner notes like this single paragraph describing the Cyclones' "She's No Good"? –
"A great Stones-style thumper from somewhere in the deep South. The singer puts this girl down in a sort of preaching style, almost as if he was chosen by the Lord to warn others of her cheatin' ways."
There's a bonus cut called "Night of the Sadist," which the notes explain was featured under another title ("Night of the Phantom") on the first volume of this collection. "In this version, it's a SADIST that plagues the singer's life and disrupts his fun at the makeout spot by putting a knife to his throat." That would disrupt your fun, yes. The band performing this early bit of ghoul rock? Larry and the Blue Notes. Not kidding.
There's also this wonderful special note: "The music on this album is wild, low-tech rock 'n' roll, and although it has been mastered from the best possible original discs and master tapes there will still be slight surface noise noticeable on some tracks." 1. Thank you. 2. WHO CARES?! This music WANTS noise. It basks in noise. It's fantastic.