I came a tiny bit late to the Blondie party — or rather, I came to it exactly the same time almost everybody else did, with 1978's Parallel Lines. I believe that I really had precisely zero sense of new wave prior to going to college — if I'd heard of Elvis Costello, or Nick Lowe, or Blondie before the fall of 1978, I certainly hadn't heard their music. It just wasn't on the airwaves of the Capital District. It's entirely possible that one of my best friends — we'll call him The Doctor — tried to tell me about The Talking Heads, and that I failed to listen (for years).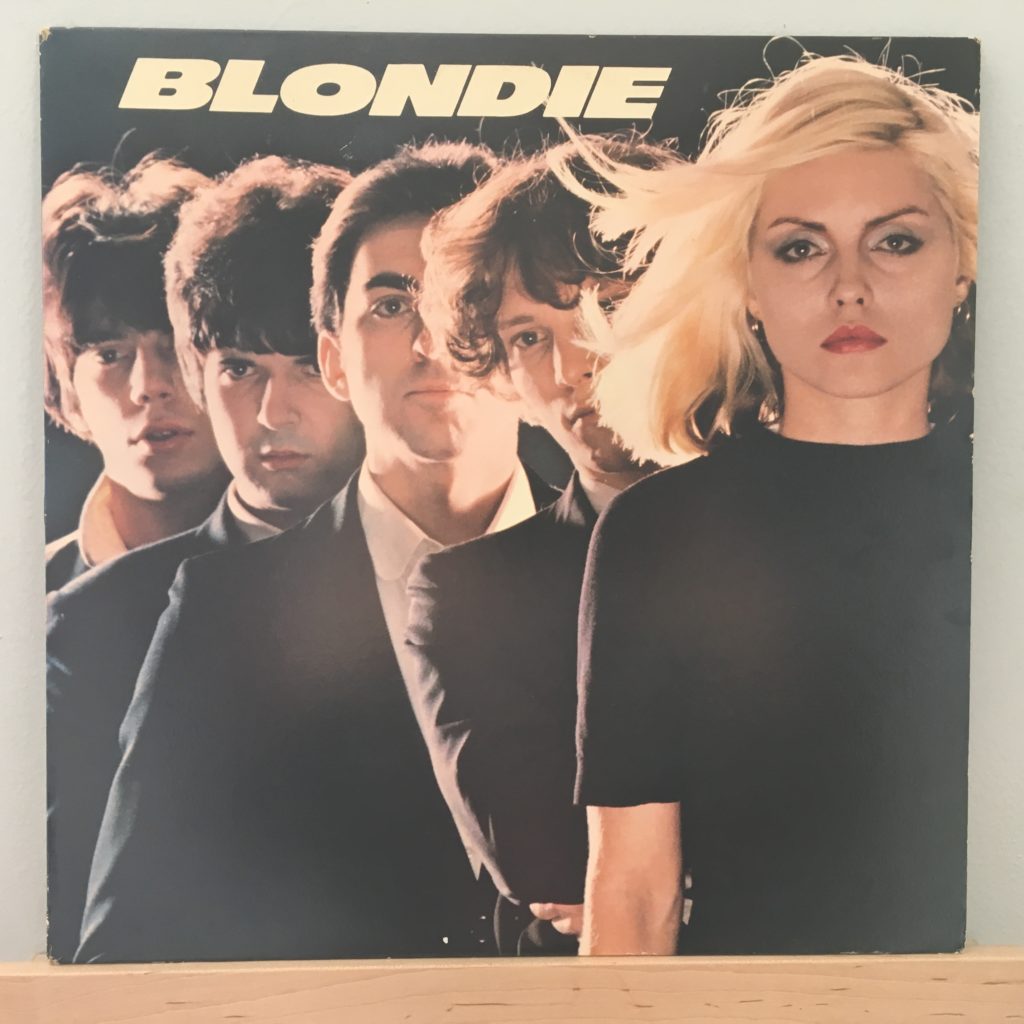 So then came freshman year, and the explosion of new influences. It was the fall of 1978. Disco was still going strong — new albums from Chic and Donna Summer were big. The Who — already considered classic rock — came out with their huge return to form, "Who Are You." Linda Ronstadt's "Living in the USA" came out. But there were also new albums that would be classics of new wave – the Talking Heads' "More Songs About Buildings and Food;" Devo's debut "Are We Not Men? We Are Devo!" and Blondie's "Parallel Lines."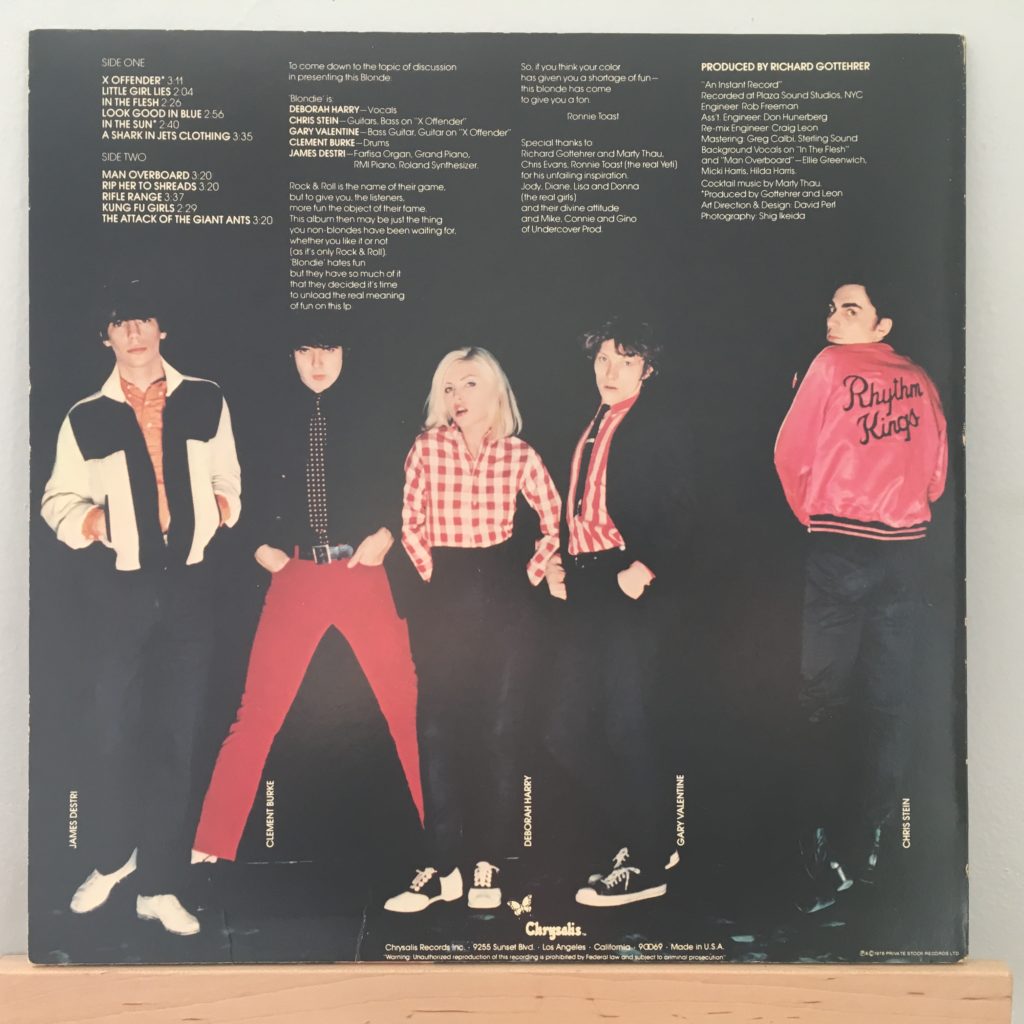 "Parallel Lines" was not an album that could be ignored. More on that album when we get to it, but it did introduce me to Blondie. You couldn't exist in 1978 and not hear Blondie. And then The Doctor said that if I wanted to hear Blondie, I should really check out their first two albums.
Well, that happened, but not for months. In the summer of garage sale record finds, learning about Jefferson Airplane and The Animals and staring out the acid window at the Syracuse summer sky, I also picked up those earlier Blondie records. And, wow. That super slickness that producer Mike Chapman brought to "Parallel Lines" was not really in evidence on Richard Gottehrer's production of "Blondie." In my 18-year-old mind, that meant this was a more genuine article, a new wave shot in the arm that twisted the girl group sound into something rocking, raucus, and more than a little bit sexy.
It kicks off with "X Offender," an altered title that shows you couldn't release a single titled "Sex Offender" in 1976, but you could still sing a song about it, and what a song. Right into "Little Girl Lies," playful and sexy, and then the plainly seductive "In the Flesh." And it just keeps going from there, song after song mixing fast rocking with comic strip imagery (Brenda Starr, kung fu girls and giant ants). This album is pure wow start to finish . . . But the album, which was first released in December 1976 by Private Stock, and then re-released by Chrysalis in September 1977, didn't even chart in the US; It hit #14 in Australia, and rose to #75 in the UK . . . in 1979, after "Parallel Lines" was such a smash.
I consumed this and the next album, "Plastic Letters," at the same time, in that same summer, so the distinctions between them are thin for me. Love this album. In fact, listening to it again in its entirety for the first time in years, the production is amazingly crisp, and the sound quality is excellent.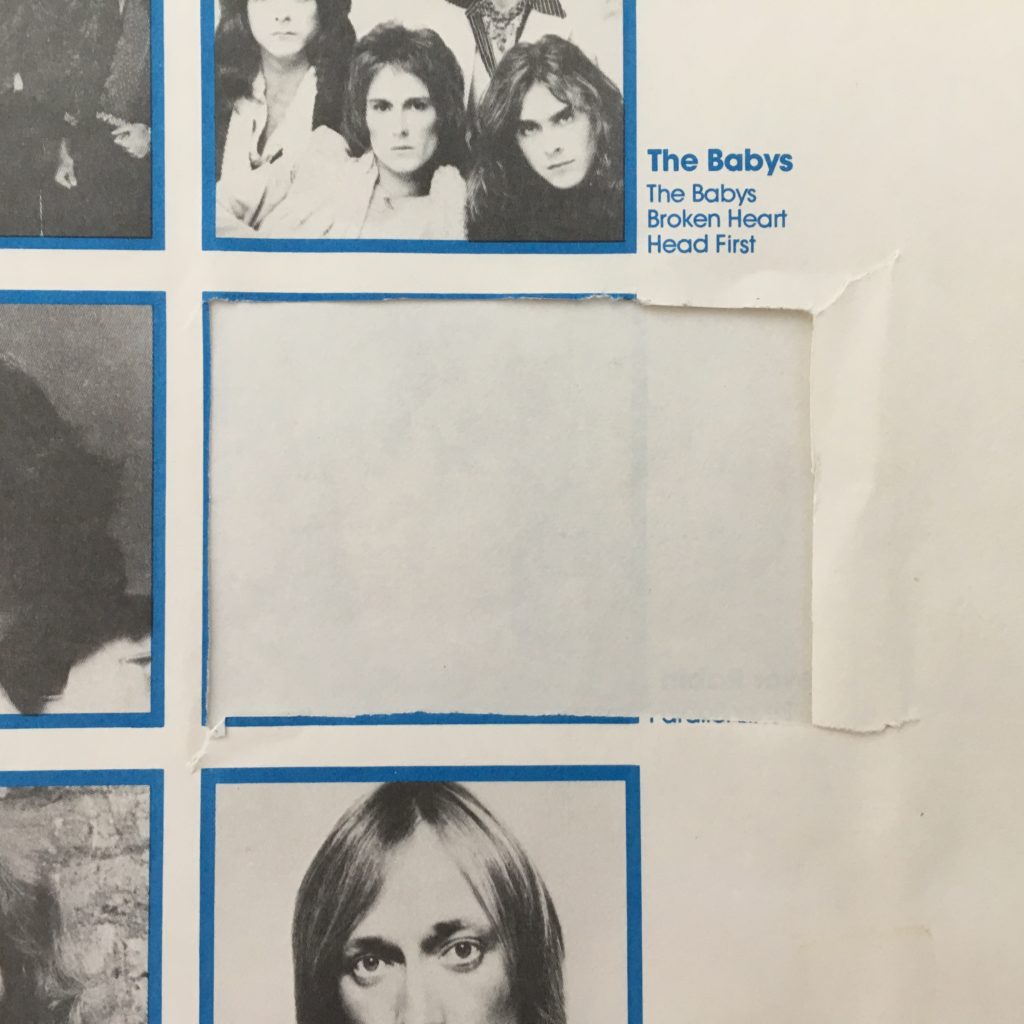 When I bought this record, someone had cut out exactly ONE of the pictures on the promotional sleeve for Chrysalis Records. And all these years, I wondered exactly who it was they had cut out.
Thanks to the magic of the internet, and the fact that there's an eBay seller who thinks someone will pay $5.50 for an intact Chrysalis sleeve (no record, no jacket – just the sleeve), I now know what was cut out of this some 40 years ago: Blondie.