If you're from the Albany area — and particularly if you're from the Albany area in the late '70s or early '80s — you know Blotto. Starting from the odd beginning of a comedy roots band called the Star Spangled Washboard Band, Blotto was a very popular band that managed to blend humor with some serious musical ability. Even though I wasn't living in the area then, I heard of Blotto, and they played Syracuse often enough that I got to see them play there a number of times. They put on a heck of a fun show, played fun, satirical songs, and could really rock. Their first record was this E.P., issued on their own record label Blotto Records in 1979.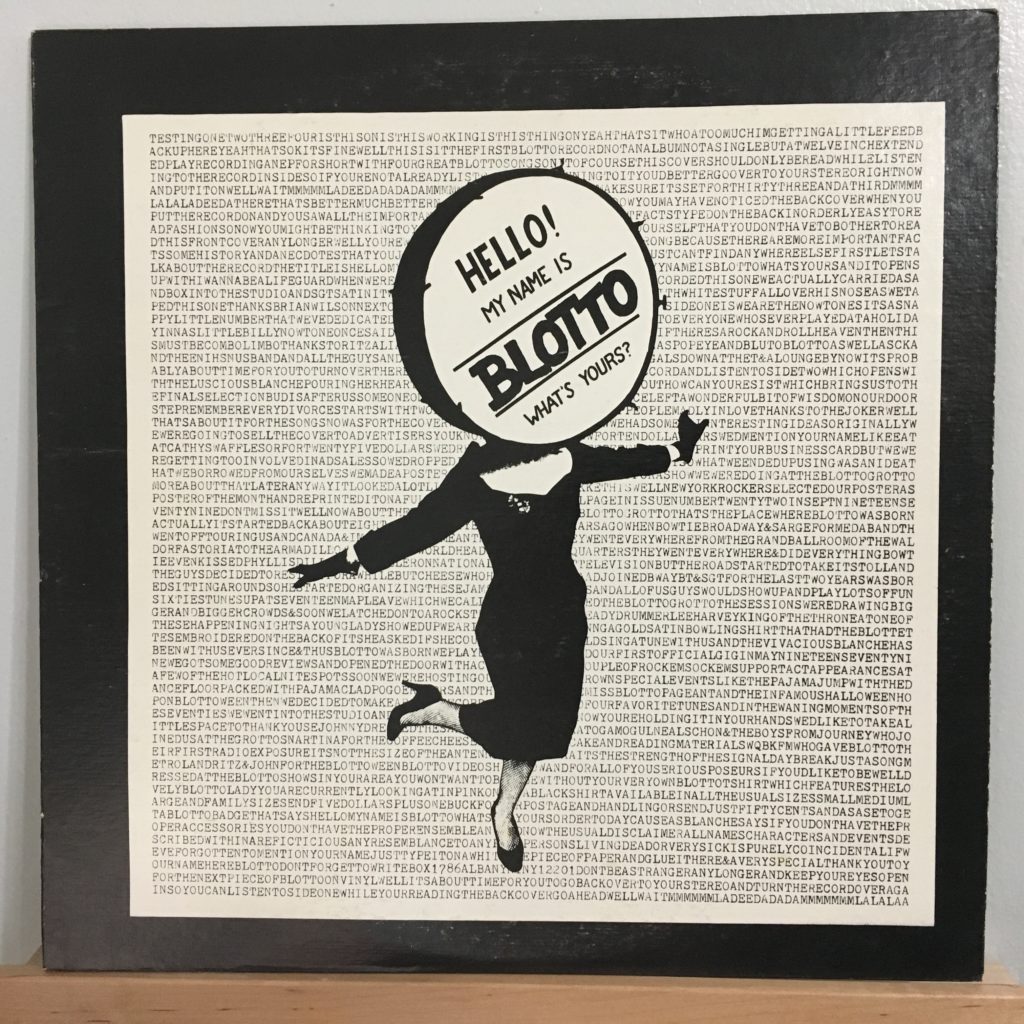 Blotto followed the conceit of the Ramones, in that all the band members took the surname Blotto. On this record, they were Bowtie, Broadway, Cheese, Lee Harvey, Sarge, and Blanche Blotto. This disc starts with the fun summer tune "I Wanna Be A Lifeguard," which I believe even got some airplay. Then it moves to "(We Are) The Nowtones," a scathing, terribly funny , absolutely accurate indictment of (and yet appreciation for) lounge acts. Nowadays such things barely exist, as cheap recorded music has taken over everything, but in the '70s there was still just enough of a tradition of going out to hear live music that there were these lounge acts everywhere (think "Murph and the Magic-Tones" playing the Armada Room in "The Blues Brothers"), and they generally featured quite competent musicians playing an array of covers for an indifferent and hammered audience.
"We are the Nowtones
We do Top 40
We wear matching outfits
We look real sporty
Like a living jukebox, we play the hits
Appear in nightclubs that are the pits"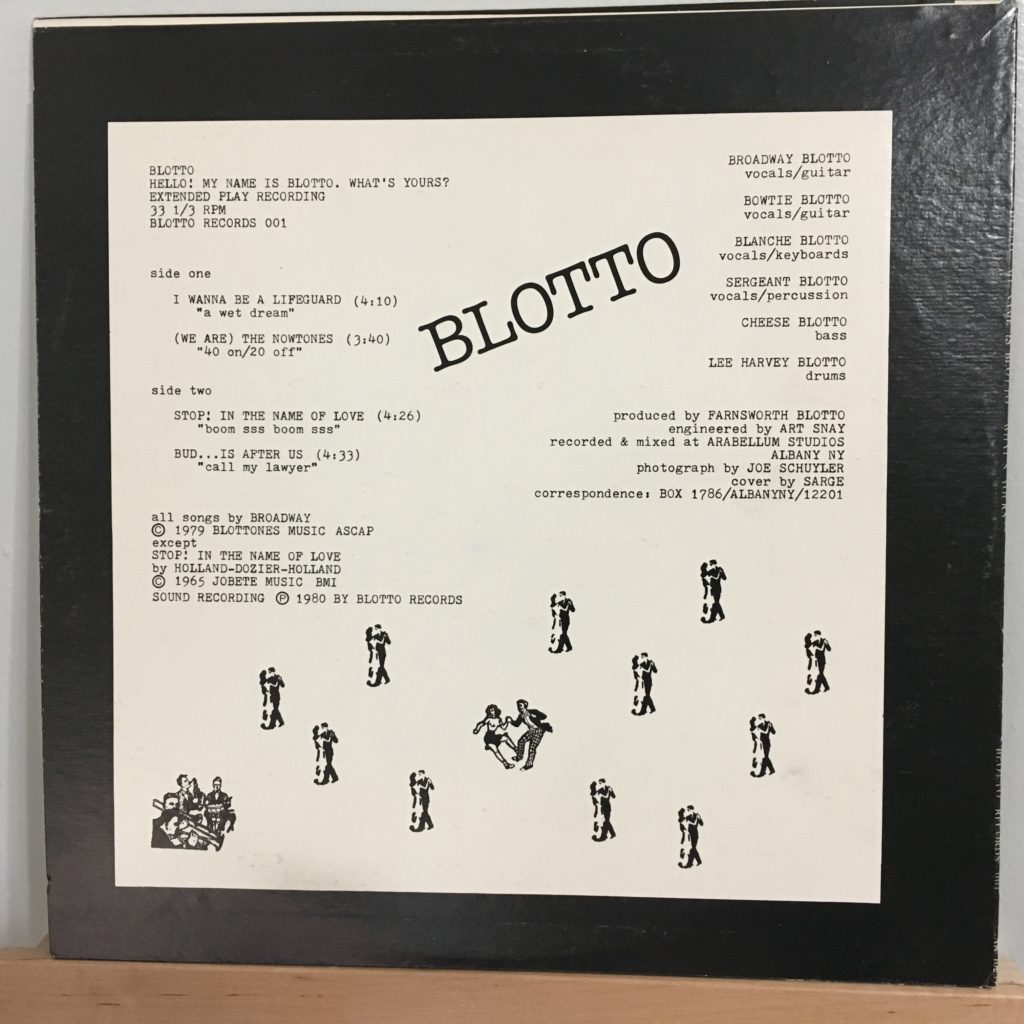 The flip side features my all-time favorite cover of "Stop! In the Name of Love," even though it mixed in a little bit of a Donna Summer approach, and then closes with "Bud . . . Is After Us," which the band's website describes as "a cautionary tale of choosing the wrong manager."
So, I'm not sure where I picked this up. Coulda been in Syracuse, coulda been in Albany/Schenectady., as I still frequently visited even though I never came back home for any extended period after moving to college. But in my second summer in Syracuse, this record played a ritual role in my life.
That was an amazing summer. For the second summer in a row, I was working for the weekly summer student paper, probably making the same $75 a week I had made the summer before. I also picked up a number of side jobs in printing production, and rounded out the summer doing production on a freshman photo directory that was called, in those much less sensitive times, "The Pig Book." As a result, that summer was known, then and forever, as "Pig Book Summer."
Some friends were living in a student apartment very near campus, in a big old duplex with an expansive front porch, and nearly every night that summer we gathered on that porch. There may have been alcohol. There may have been other things. There was definitely music. Yes, we were the obnoxious college kids who played music out on their porch every night. If there's a defense, we didn't have much by way of neighbors on that block; their house was mostly surrounded by empty dorms. Mostly. But make no mistake: we were obnoxious college kids who played music out on their porch every night.
And this EP was the first one we played to get the nightly party started. We found "The Nowtones" hilarious, every single time, especially as Syracuse, which had a thriving new music scene at the time, also had a thriving lounge act scene. Every night of that hot, humid Syracuse summer, we would gather, pull a record player out onto the porch, and lower the needle on "I Wanna Be A Lifeguard." It was the EP of the summer. (It was inevitably followed, by the way, by the entirety of National Lampoon's "Goodbye Pop," a brilliant act of parody that still resonates today.) Other music would follow, and by the time we got to a mandatory listening of "Eat a Peach" I was usually ready to saunter home with my copy of Blotto under my arm — and the next night, I'd be back again, and we'd do it again.