If you don't recognize the names Boyce & Hart — well, then you don't recognize a couple of '60s songwriting deities.
If you know The Monkees, then you know Boyce & Hart. Tommy Boyce and Bobby Hart got together in 1959 (after Boyce had already written a hit song for Fats Domino and co-written two hits with Curtis Lee). They wrote "Come A Little Bit Closer" for Jay and the Americans. They wrote "(I'm Not Your) Steppin' Stone" for Paul Revere and the Raiders. They wrote "Words" for The Leaves. They wrote about 300 more songs. Their songs sold 42 million records. They were huge.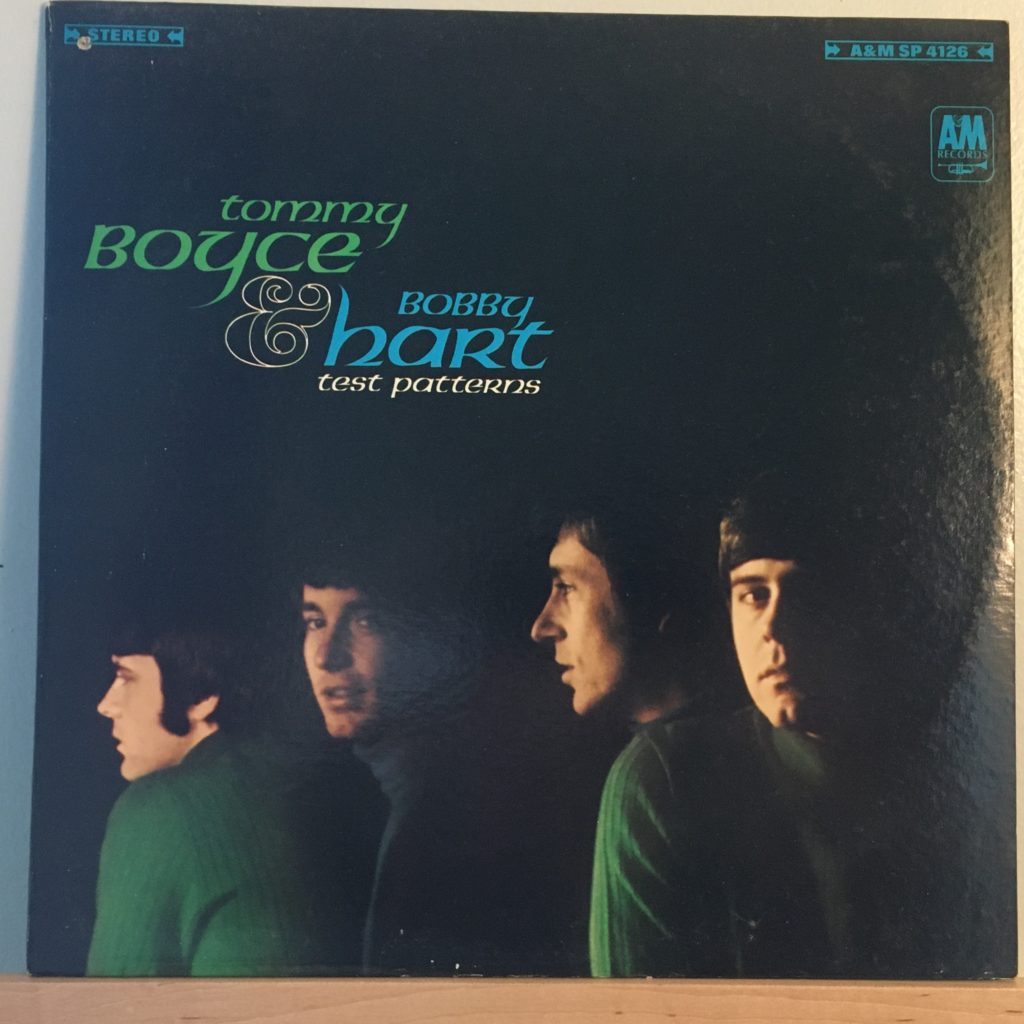 They were, of course, hugest with The Monkees. Boyce and Hart and their backing band were behind the first season of "The Monkees" TV show and the debut album. They wrote the theme song, and "Last Train to Clarksville." And "Words," and "Steppin' Stone," of course, and "Valleri," and "She," and "Tomorrow's Gonna Be Another Day." And so on. Hart co-wrote "Hurt So Bad," first by Little Anthony & The Imperials but probably made most famous by Linda Ronstadt. They wrote "The Dum Dum Ditty." They wrote it all.
In 1967, with a season of "The Monkees" behind them, they released their first album of their own, "Test Patterns." The name is apt, given they were having their greatest success with TV. It's . . . not great. "Out & About," the opening track, is pure pop-rock that could have been a hit for anyone, and as a single it just cracked the Top 40 in the US. "In the Night," later covered by Eric Burdon on his weird album of show tunes, is fine. The rest of the tracks are pretty forgettable, given they were written by two of the best hook-makers in the business. The closer track, "Life," is a big attempt at a blues that I appreciated when I first heard it but, it's just not their milieu.
I remember finding this record after I had the other two Boyce & Hart albums — in fact, I thought it was a later work for a long time. My copy came in shrink wrap and looked fantastic — but I put it on and it just played horribly from the day I got it. It's rough. I don't know why, but even now, on the best stylus I've ever owned, there are stretches that just sound horrible. So if I was disappointed by the record, I was also disappointed by the record. Know what I mean?