I have found more better blues records in the last year than I have in my entire life. It must have to do with the quality of the stores I'm getting to go to, and their willingness to carry the blues. It used to be, way back when I was first collecting, the blues section was an afterthought, given less attention than soundtracks even, and mostly what you'd find in there would be some B.B. King, a Leadbelly reissue (which would turn out to be more folk than blues), maybe a beat-up Elvin Bishop record (which confused me, because I thought he was pop, based on his big hit "Fooled Around and Fell in Love," which shows that I did not know a goddamn thing back then). But for the past few years I've been finding some amazing blues records (not even counting 180 gram reissues) – some great Ray Charles, John Lee Hooker, and more. I'm about to get to a couple of records that were practically given away at a Punk Rock Flea Market. On a trip to Siren Records in Doylestown at the start of this year, when things were not so hellish, I bought more blues records in one trip than ever. And then I found that MaTones in Collegeville also has a decent little blues selection, and damn if this 1966 gem didn't jump out at me on one of my visits there back around September.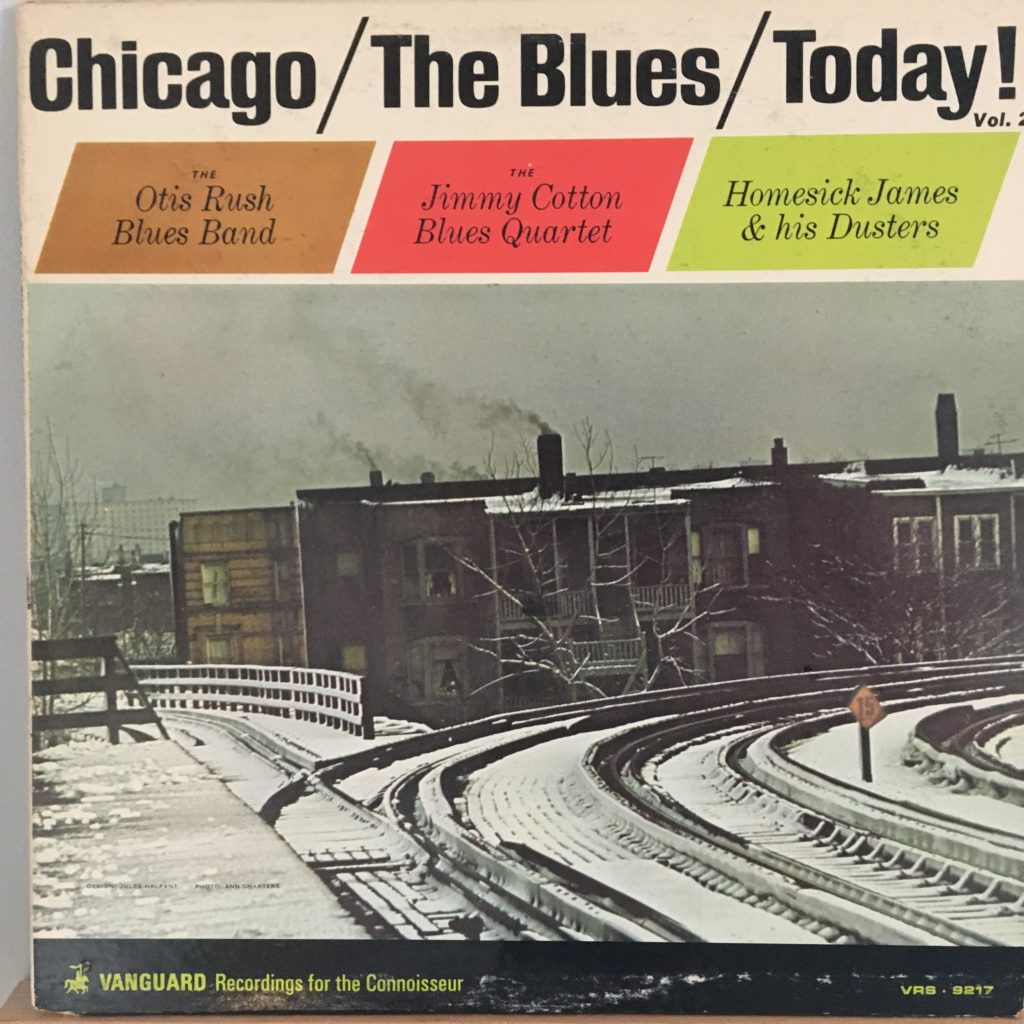 Just the cover has promise . . . odd for an image so bleak, but it definitely screams "Chicago," and I love some Chicago blues. And the disc itself, so much more than promise. It still blows my mind that James Cotton, one of the kings of the harmonica, was billed as Jimmy Cotton on these records, but here he is, the Jimmy Cotton Blues Quartet doing five songs including "Rocket 88." Five more amazing tracks from The Otis Rush Blues Band. And four tracks by a band I'd never heard of, Homesick James and His Dusters. By "his" Dusters, they mean Willie Dixon and Frank Kirkland – essentially the house band at Chess. I hadn't previously heard of Homesick James, so I don't know whether he really was homesick (in the way that Colorblind James really was colorblind). Turns out he was a slide guitarist who was in Elmore James's band for several years, and may have been Elmore's cousin. Like a good blues legend, nearly everything about his life is unverified, starting with his year of birth — somewhere between 1905 and 1924! Impressive range. He was in Chicago from the early '30s, or 1947, recorded possibly in the '30s but for sure around 1952, with a series of albums beginning around 1963. His "Gotta Move" was covered by the old Fleetwood Mac. He died in 2006, perhaps 96 years of age.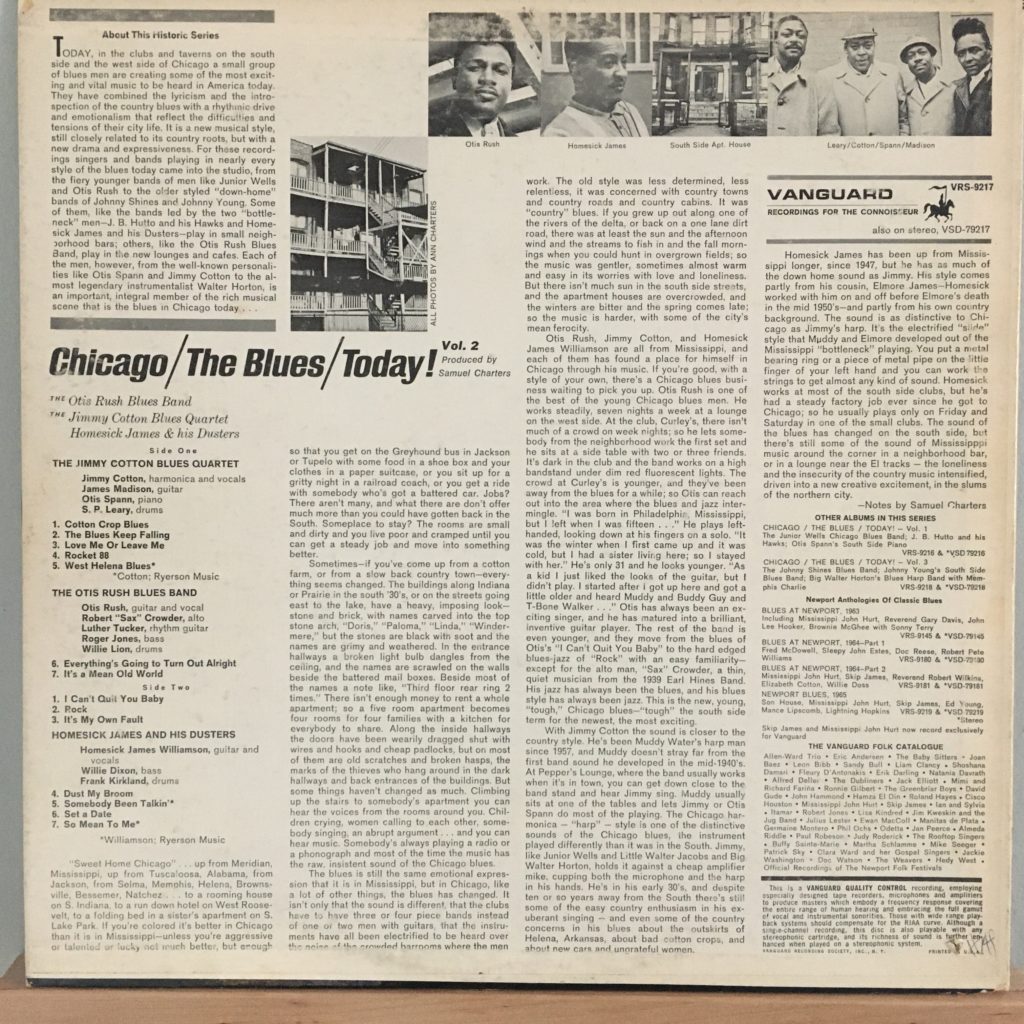 The back cover has some very real liner notes, by producer Samuel Charters, about how hard things were for Black Americans coming north – Chicago was hardly a promised land, and the effects of the diaspora were, and continue to be, devastating to families. This is a fantastic album, and like all my Vanguard releases seems to be of superior vinyl. I'm dying to find Vol. 1 now!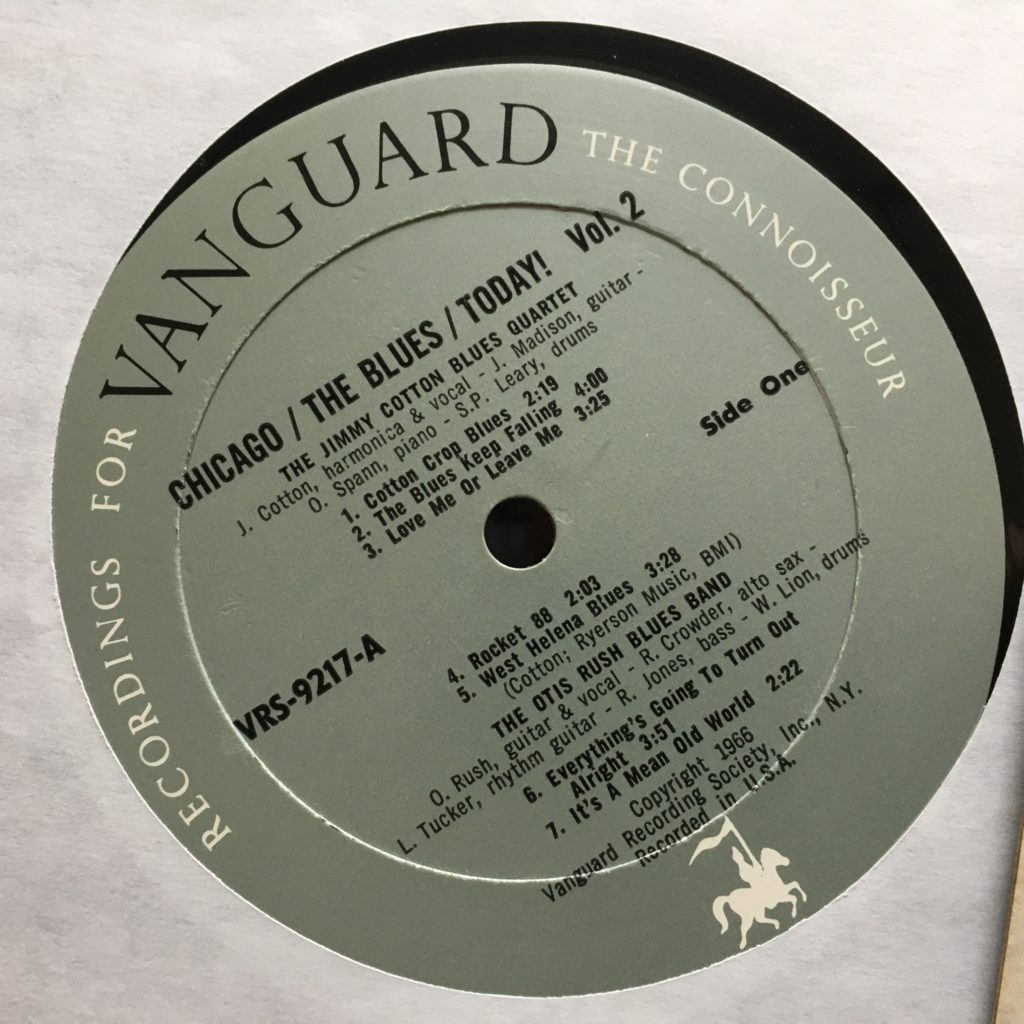 Given a set of choices of where to file this (Cotton? Rush? Homesick?) I've chosen to just slot it under Chicago, because when I go looking for it that's what I'm likely to look under. Chicago it is. And it'll be sitting right next to another great Vanguard collection, "The Best of the Chicago Blues."
Originally posted 11-2-2020