There's no denying that Chuck Berry was hugely important among the earliest rockers. (There's no denying he was several other things as well.) But he's really thought of as a singles artist, not an album artist — he did release albums, and plenty of them, but honestly I don't remember ever running across them in the used record bins. He had a big run in the '50s, and came back from a couple of years in prison (a little matter of sex with a 14-year-old waitress when he was a mere 33 years old – establishing a certain attitude for rock 'n' roll) to score some more hits while bands like The Beatles, the Rolling Stones and the Beach Boys were keeping his music alive. He hit a long dry spell until 1972's horribly regrettable "My Ding-A-Ling" gave him his first #1 on the Billboard US Hot 100 (he had several that topped the Billboard R&B chart though). And then he disappeared from the charts, but he was continuing to tour pretty aggressively, famously only using local backing bands that may or may not have known his music, and never bothering with rehearsal.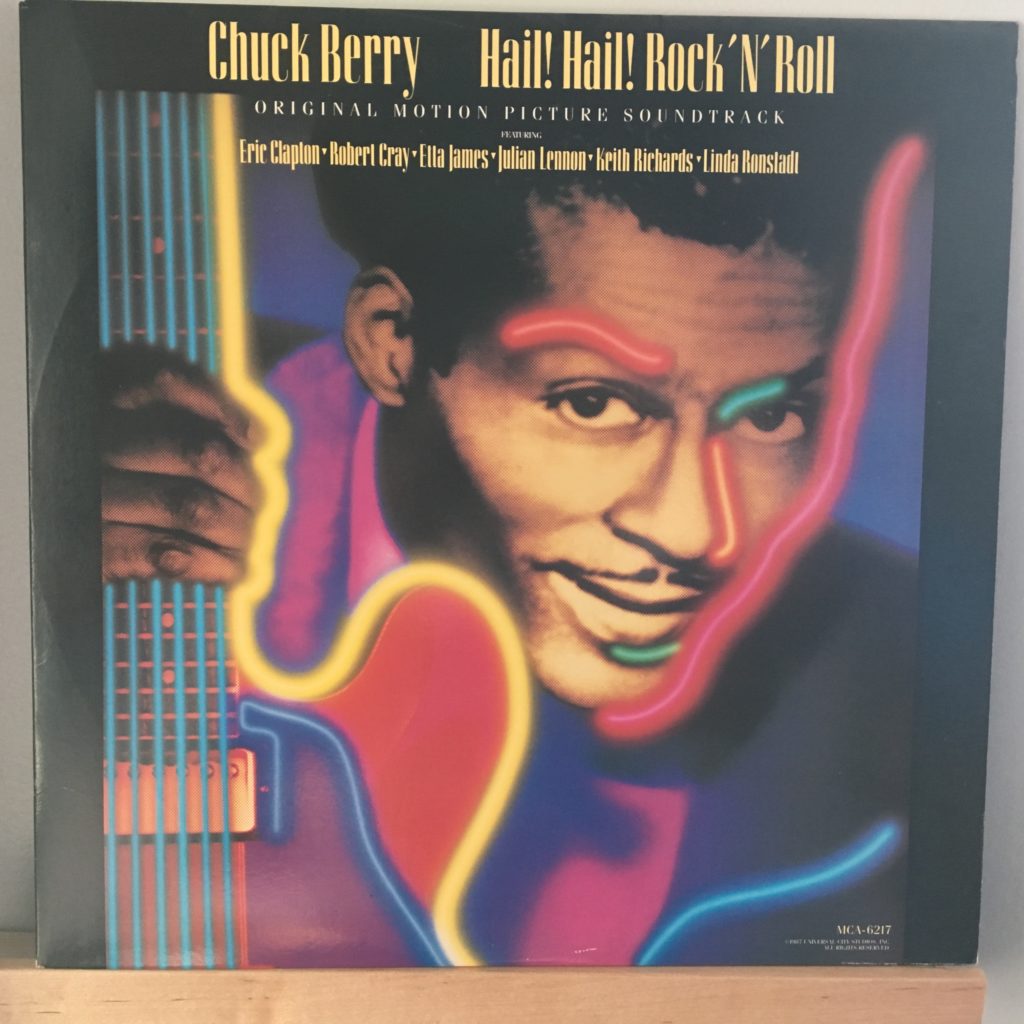 Then in 1986, Keith Richards decided Chuck Berry deserved something better, and put together an all-star band for a pair of concerts in honor of Berry's 60th birthday. Taylor Hackford filmed it, and the result was "Hail! Hail! Rock 'n' Roll," an affectionate documentary that mixes the story of Berry's life (as he tells it) with concert footage featuring Richards, Linda Ronstadt, Eric Clapton, Robert Cray, Steve Jordan, and more, and particularly long-time collaborator Johnnie Johnson. (How does he move those fingers across the keys like that?) The movie was released in 1987, along with this soundtrack album.
We saw the movie as soon as it came out, in the odd little theater in DeWitt, NY called "Mini One," which apparently was also known as "Cinema East 2." It was a small, inglorious theater, which I now learn was a prototype by the Carroll's Corporation for an automated theater that would require no projectionist. Being a small, single screen (next door to the much larger Cinema East), it was often programmed with small releases and things approaching art house films. So that was where we went to see "Hail! Hail!", twice, if I recall correctly. It came out in October 1987, and got pretty good reviews. Grabbed this soundtrack about the same time, and it definitely got play back in the day. Seemed exciting, and I particularly liked Linda Ronstadt's and Robert Cray's parts.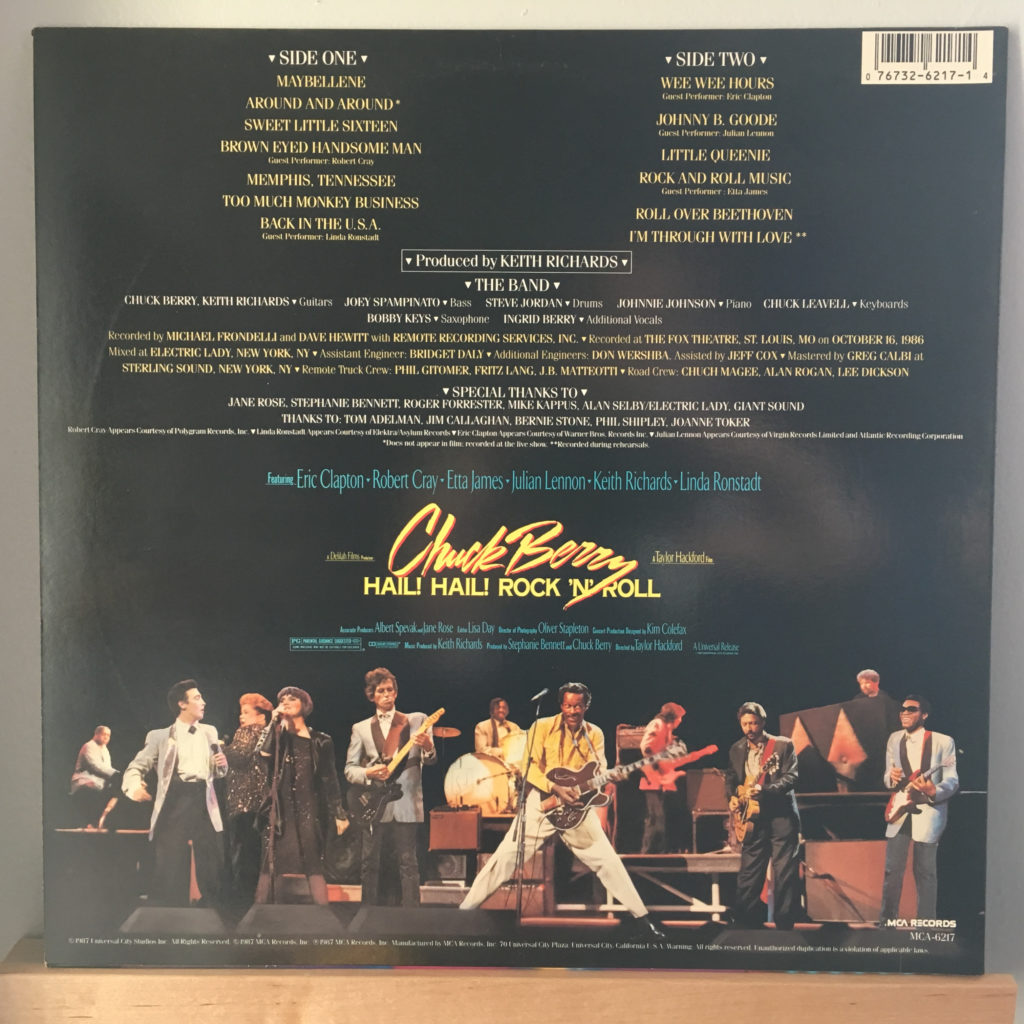 But here's the thing. The things. These are great songs but I don't really connect with them in any personal way. None of them has the impact that some Buddy Holly or Eddie Cochran songs from the same era have for me (not to mention the blues sides that later rock relied on so heavily). And all-star bands are usually a bit of a mess, with too many parts and too much to highlight. So it's fun, but that's it. If I listen to this every couple of years, that's a lot. (I do have another CD of actual Chuck Berry sides, though it doesn't get any more frequent play). But if you're gonna have some Chuck Berry in your collection, you oughta have this.
(Filing under Chuck Berry, rather than soundtracks – which makes me realize I'm going to have a spate of soundtracks at the end of all this if that's how I do it….)