In my early years, I paid no attention to Delaney & Bonnie — they weren't really a singles act in the days when Top 40 radio had all my attention; in my college years, their relationship to Eric Clapton would have been enough to keep me from investigating further. (I had nothing against Clapton, but everything against Clapton worship, which was at ridiculous highs among drunken white college boys in the late '70s and early '80s.) If I had remembered anything by them, it would have been "Never Ending Song of Love," a 1971 hit that I didn't care for.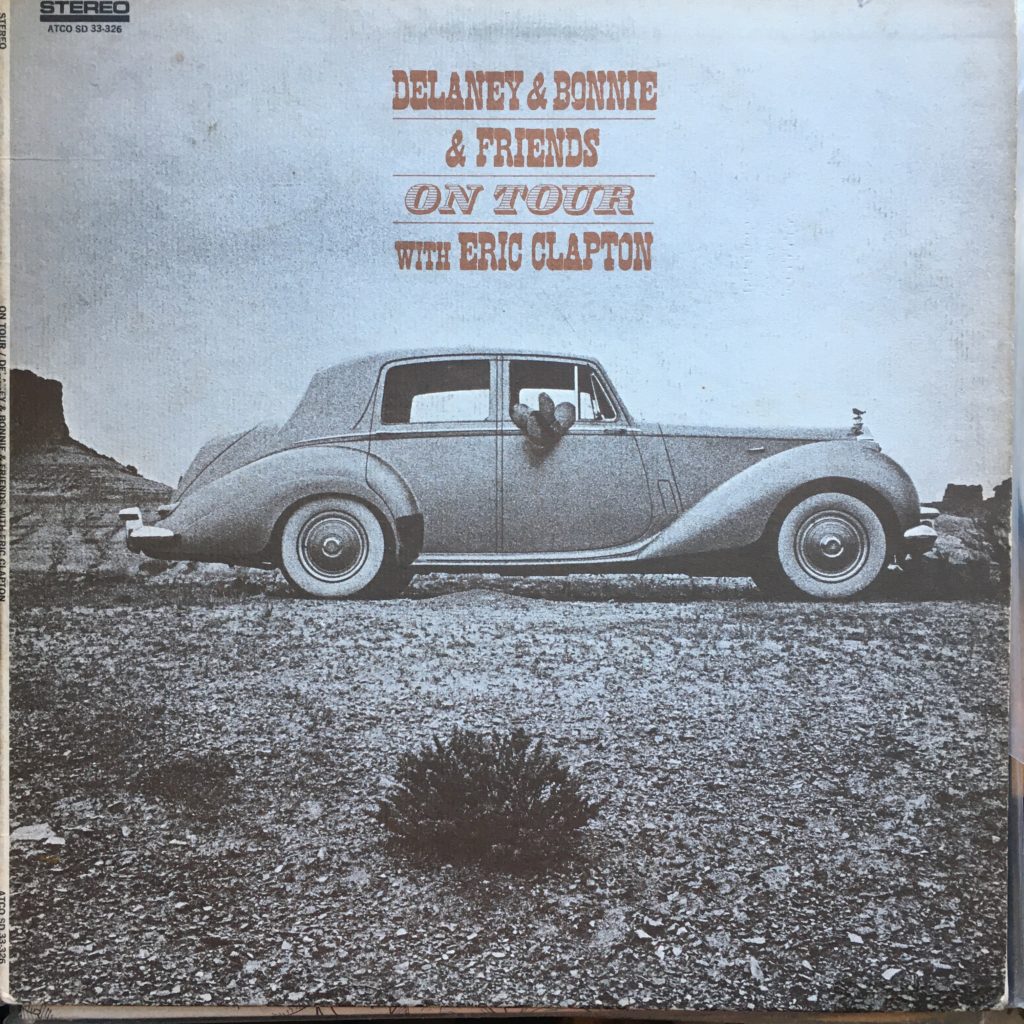 But in more recent years, having acquired a love for that excessive '70s big rock band sound, specifically for the stuff Joe Cocker and Leon Russell were doing, there's more room in my heart for this, and it's really squarely in my zone now. That's a good thing.
Beyond their names, I knew almost nothing of Delaney Bramlett and Bonnie Bramlett. Delaney was in the house band for the Shindig! TV series, which I'm also about to mention in an upcoming entry on Jackie DeShannon; Leon Russell was also in that band, and produced Delaney's first single. Bonnie sang with Albert King at age 14 and was the first white Ikette in the Ike & Tina Turner Review. The band Delaney & Bonnie & Friends had a shifting roster that included the Allman Brothers, Bobby Keys, Bobby Whitlock, Gram Parsons, George Harrison, and everyone who was in Derek & The Dominoes.
It seems that they were generally regarded as at their best live, and this release from 1970 is their only live album (and also their biggest selling). I bought this a couple of years ago, I think at Deep Groove here in Phoenixville, and it goes into the rotation anytime I'm going down a Joe Cocker / Leon Russell path, and that's fairly often. It's a great record of that type — there's a lot going on, it's a long way from perfect, but there's joy in the noise and everyone seems to be having fun that really comes across.
Just found out there is a vastly expanded four-disc version of this . . . and while I do want to hear more, I never know if I want that much more. Sometimes editing down is a good thing. Maybe this is enough.