Just about a year after "A New World Record," and really, only months after the singles from the album hit it big, ELO released "Out of the Blue" in October 1977. That was the autumn of my senior year in high school. It would be impossible to separate the incredible roiling experience of being a high school senior, of being on that verge of freedom, of discovery, of becoming — to separate that experience from the music that formed the soundtrack for that incredible age. So maybe this album just excited what was already an excitable boy's imagination, but, like its predecessor, everything about "Out of the Blue" hit me hard in my romantic self-conceptions.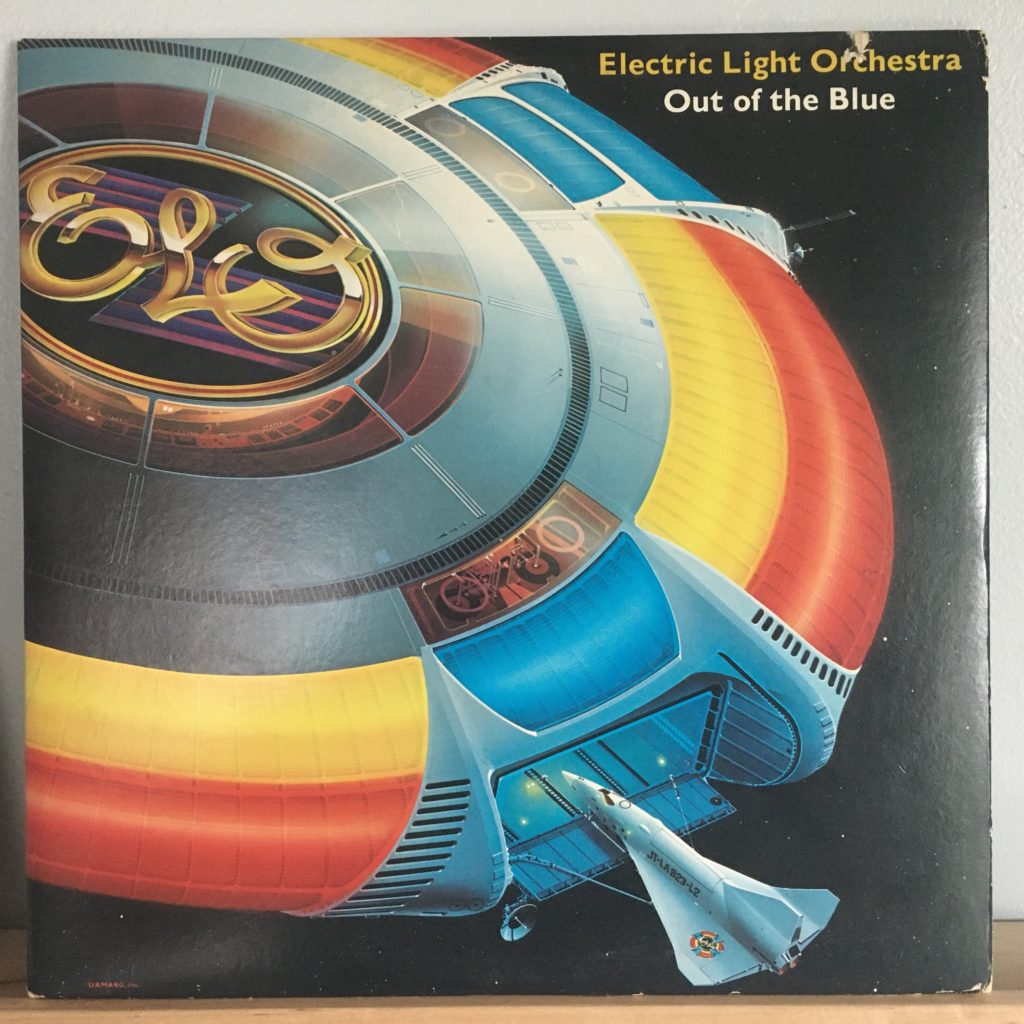 The idea that just months after a group came out with a major, excellent album like "A New World Record" it could then come out with not only a double album, but a sensational double album, a stunning double album, is just mind-blowing. There are just some artists who at some period of their lives are so prolific, and so wide-ranging, that it's remarkable.
I couldn't even say which of these songs I love the most. The first disc is pretty straight-up ELO, but peak ELO — "Turn To Stone," "Sweet Talkin' Woman," "Night In the City," "Steppin' Out," and everything in between. Just great.
Then you get to side 3, which is titled "Concerto for a Rainy Day" — a beautiful concept piece about summer weather and emotions, starting with "Standin' in the Rain" and ending with the fantastic "Mr. Blue Sky," essentially ELO's Abbey Road medley. Again, I loved the romance of all this, and still do. Even the fourth side is fine . . . as I was listening to it this week, I thought, well maybe I could do without the instrumental "The Whale." And then I realized, no, I could not. It's lovely, a nice change of pace from the rest of the record, and leads perfectly into "Birmingham Blues."
A very big record for me at a very big time of my life, my high school senior year. Despite its grand scale, it was always second to "A New World Record" for me — nothing could supplant that gem. But this is a very close #2, and similarly a record I never for a second thought about disavowing as I aged out of so much else.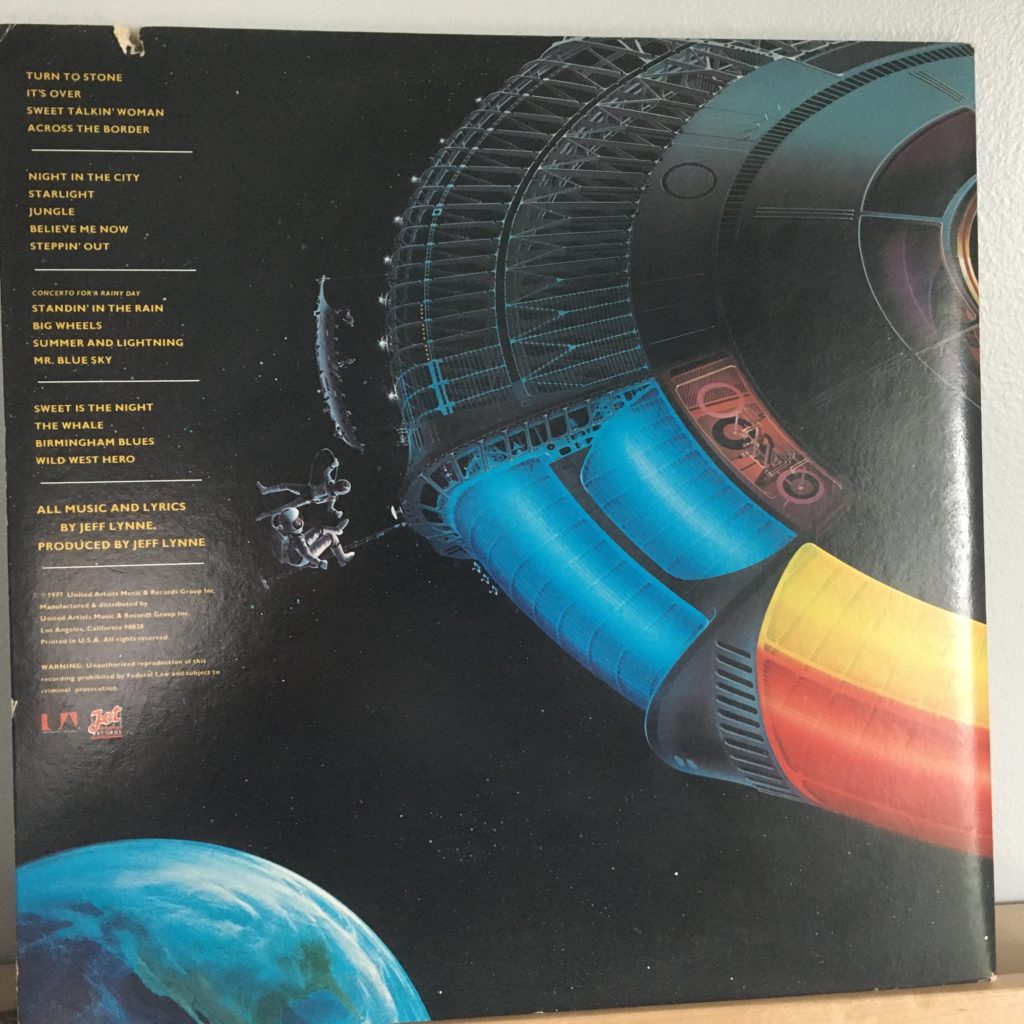 Sharp eyes will note that this was a cutout record, a practice where discontinued or overstock records were marked in a certain way (in this case a big ugly notch in the cover) to show they shouldn't be sold at list price. It turns out (thanks to the Wikipedia entry) that shortly after the record's release on the United Artists/Jet combined label, UA was sold to EMI and Jet went started distribution through CBS, resulting in cut-out copies being available shortly after the record's release (which doesn't help with the profits). (This is not my only copy of "Out of the Blue;" the other one came in my wife's dowry.)
This record came with so much stuff. There is the sci fi gatefold. There are the lyric sleeves. There is an odd little paperboard assemblage that makes a sort of an ELO space needle. If that weren't enough, there is a poster of the band. If that isn't enough, there's an insert offering ELO merchandise. (And if you wanna get mad at the patriarchy, note that women's T-shirts cost a mere 40 percent more than the men's.)