The '60s are hard to explain sometimes. There was all that excitement and revolutionary change, and at the same time, there was the embrace of weird "old-timey" stuff and non-ironic backsliding. And as the word of "freedom" spread, it quickly moved into "self-indulgence."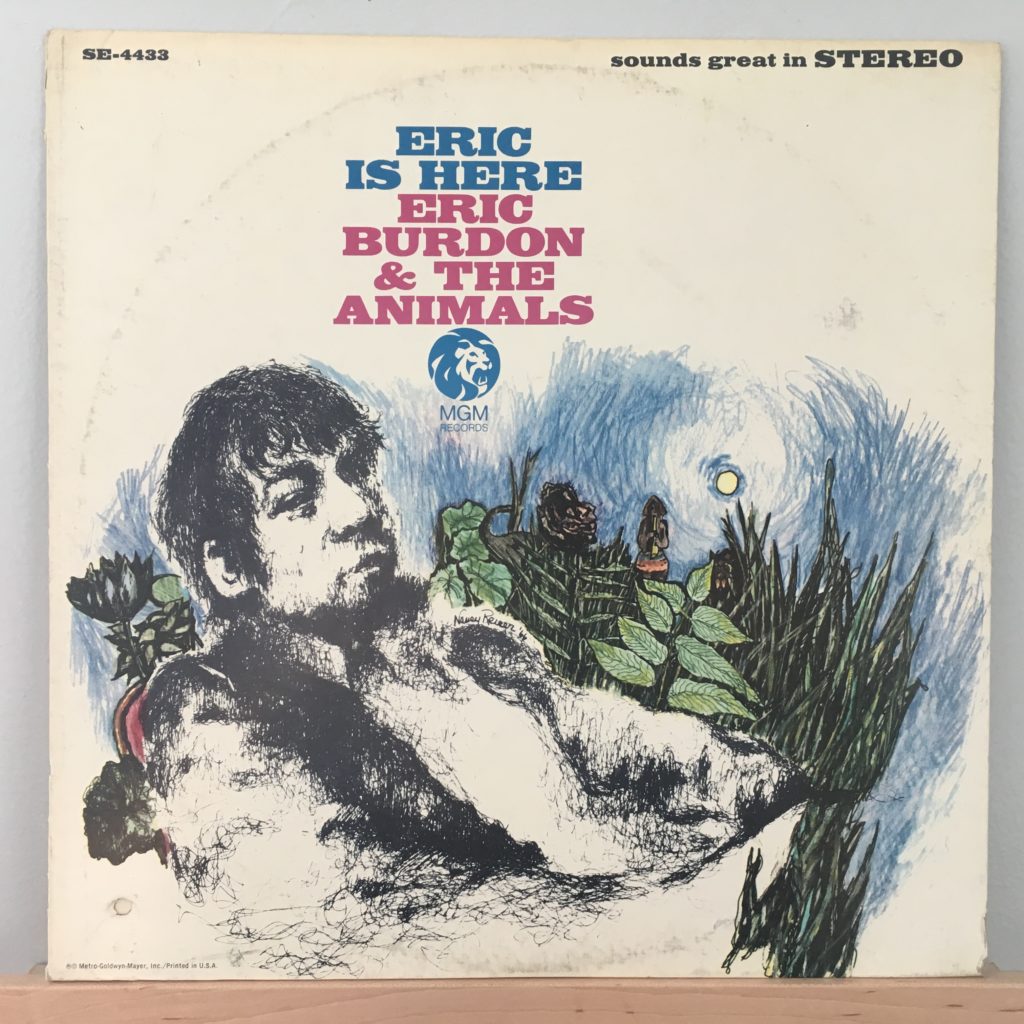 So what happens when one of the most committed champions of the blues and R&B moves to San Francisco, starts dropping acid and goes off the rails? You get the second incarnation of one of my favorite groups of all times, now known as Eric Burdon & The Animals.
After 1966's Animalism, what was left of the original group fell apart. Though the album was credited as "The Animals," the single for "See See Rider" was credited to "Eric Burdon and the Animals," and Eric Burdon had started working on a solo album, which would be called "Eric Is Here."
In fact, Eric is here. Eric and orchestras. Pretty much no Animals, either in personnel or spirit. To include the name of the Animals on the cover is branding, and nothing more.
So, you've been one of the leading R&B artists for a few years, giving incredible interpretations of some of the greatest songs out there, and creating a few classics of your own. Your band has kinda imploded. You've spent years on the road with little to show for it. It's almost the summer of love, music has gone insane. What are you gonna do?
Apparently the answer was: make an album of what are pretty much show tunes. Well, if not show tunes, pure pop songs that were meant to be sung with an orchestra, which in fact is what happens here. In place of any Animal other than new drummer Barry Jenkins, we have orchestras led by Benny Golson and Horace Ott, both of whom are credited with arrangements right on the album cover.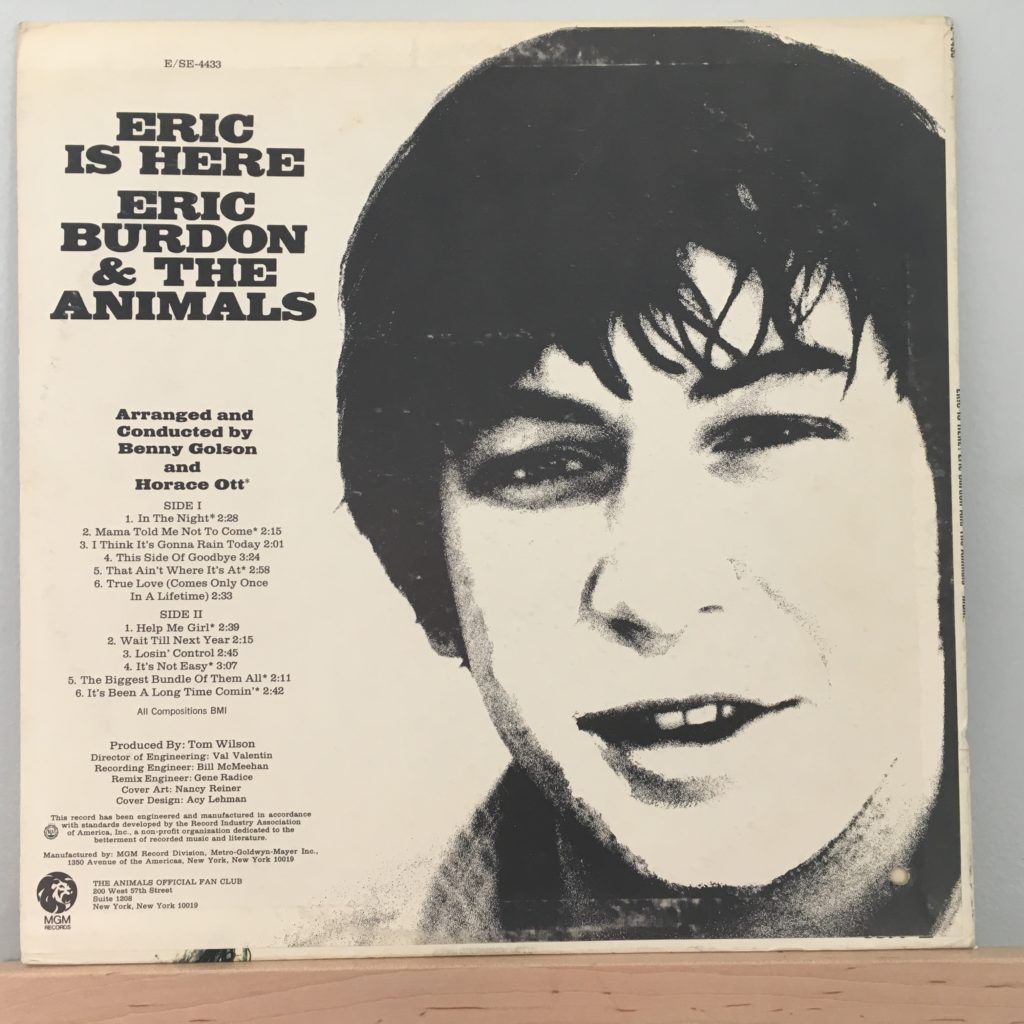 The Songs: No Blues In Sight
It starts off with a Boyce and Hart song, "In the Night." Do not get me wrong – I worship Boyce and Hart. They even wrote some bluesy stuff now and then. But John Lee Hooker they were not. Then, a pair of Randy Newman songs, including "Mama Told Me Not To Come," which pre-dated the Three Dog Night hit by three years, and "I Think It's Gonna Rain Today," which is just maudlin. Then a Goffin-King number, "This Side of Goodbye," which goes adrift of their previous offering for The Animals ("Don't Bring Me Down").
Then the flip side starts with "Help Me Girl," which also was a minor hit for The Outsiders, and another Randy Newman song called "Wait Till Next Year" that veers off into the novelty song lane. There's a song by the writers of "It's My Life," swamped in horns, and a bombastic Mann-Weil number, "It's Not Easy." This is super pop. The album closes with an okay song, "It's Been a Long Time Comin'," but first it takes us through a giant stinking hunk of cheese, something that is really a show tune. Or at least a movie theme. "The Biggest Bundle of Them All" was a song that Eric did in another version for a movie by the same name starring Robert Wagner and Raquel Welch. It is . . a movie theme song. The others are just pop and fine for what they are; for some reason, this one is unforgivable.
I Was Out Of My Mind
I remember when I bought this album. It was 1982, and like most 22-year-old drunken college students approaching their final year, I was out of my mind. However, I was way more out of my mind than most. In the midst of the madness, it seemed like a good idea to visit a friend at Georgetown University (for a Syracuse student, having a friend at Georgetown was something like Jets being friends with Sharks). Another Syracuse friend was making the short 10 or 11 hour drive to DC, so I rode shotgun in order to spend the weekend down there.
Somewhere in our wanders around Georgetown I found this album, and was incredibly excited — I had never seen it before, had never even heard of it. (In the days before the internet, there were no real references for figuring out an artist's catalog. You could not just look up The Animals' discography on Wikipedia. It was often hard to even figure out what order albums had been released in, as record companies were oddly lax about including copyright dates even through the 1960s.) It was in incredible shape, had a great cover, and when I got to play it, it sounded nothing like any other Animals record. "True Love" opens with a children's chorus, for cryin' out loud. Eric's voice sounded great, and he was handling material unlike anything I'd heard him do before. It was amazing.
I was out of my mind. I already told you that. Not that these aren't perfectly good songs. If Tom Jones had sung them, this would be fantastic. If The Monkees had sung them, this would be strong. If The Cowsills had sung them, this would have been their edgy punk opus. But this was Eric Flaming Burdon, king of the English Blues, and honestly, this can't have gone over well with fans. Anybody who had loved the hard-driving, edgy, bluesy power of The Animals would not have been on board for Eric wailing in front of a string orchestra. The band's previous albums, never the highest sellers, had at least cracked the top 50 (Animalization came in at no. 20). This peaked at no. 121. The annoying thing is I still like Eric's versions of these songs, but damn, this is not The Animals. And it really wasn't Eric Burdon, either, as he never did anything like it again.
As I said, the '60s were weird. But if you thought this was the weird part of Eric Burdon's career . . . just hang on.
The Cover Artist
I got curious because the Wikipedia entry for "Eric Is Here" actually identified the cover artist, Nancy Reiner, which is not often the case. It turns out that she was a girlfriend of the guy who was ostensibly managing The Animals around this time, Michael Jeffery, and through that association, became close friends with Jimi Hendrix. Her art is on the cover of Hendrix's "The Cry of Love." She had what can only be described as a horrific upbringing, and her life was sad. A half-brother who never got to meet her before she died tells her story, using her notes, at this website. (The Background Story is a good place to start.) It's a little disorganized, and a lot sad, but I'm glad that someone cared enough to try to tell her story.