"Love Is" is the last Animals album in my collection. It is also the last album by the "new" Animals, but bassist Danny McCullough and guitarist/pianist Vic Briggs had left the group. In their place, Zoot Mooney expanded his keyboard roles to include bass, and a kid named Andy Summers, later a member of The Soft Machine and then The Police, came in with him. Money and Summers had been with a psychedelic band named Dantalian's Chariot, a group I first heard of while researching this blog post, but whose music was heavily incorporated into this "Animals" album.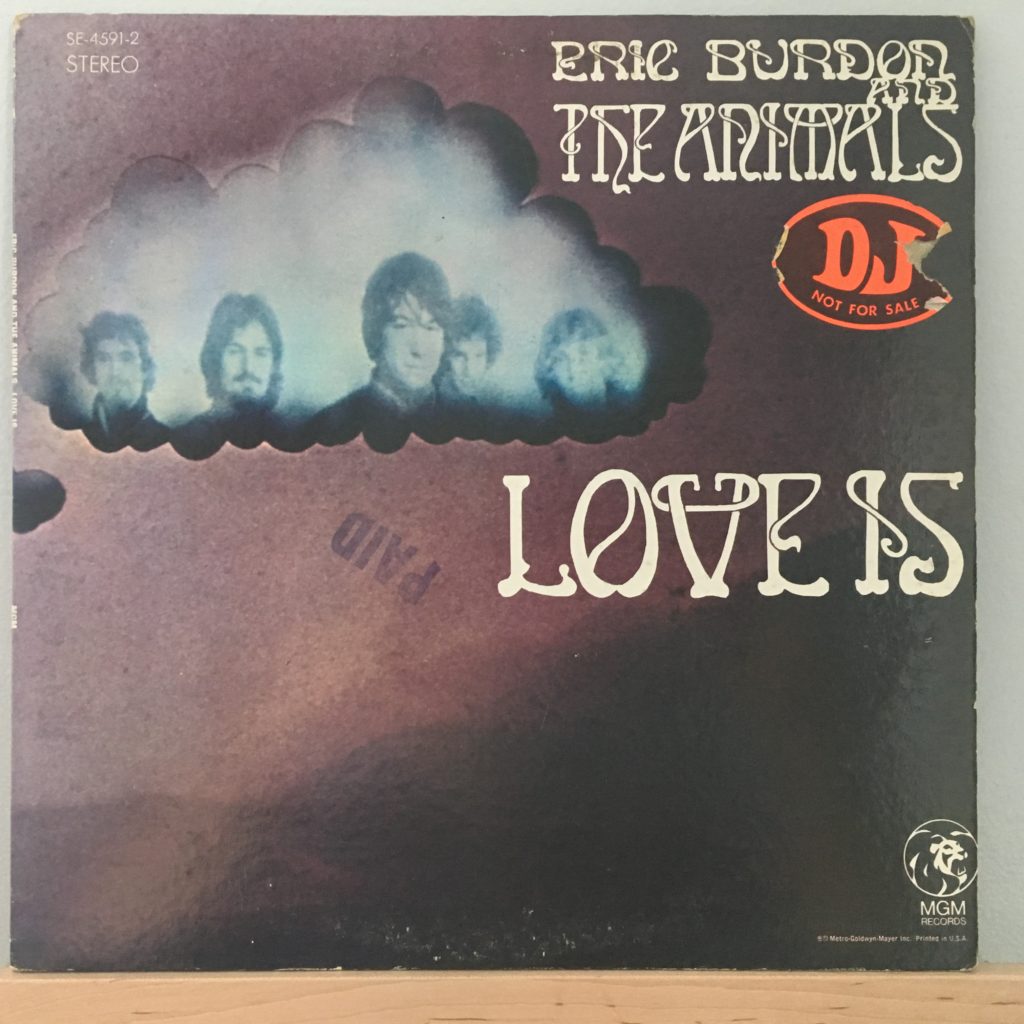 After poor chart performance of the previous two albums, it's surprising that the group would be given a double album — especially with a release just four months after their previous album, and eight months after the one before that. It's no secret from the last two blog posts that I found the Animals' "psychedelic" period unsatisfying. Lamenting tract housing and singing nursery rhymes was pretty much mandatory in 1968, but it still didn't necessarily make for great music. "Love Is," on the other hand, is 100 percent about the music — psychedelic, hard rocking, and great. Although Eric Burdon could write a good song, he only contributed one to this album. The rest are all covers.
It opens with an amazing cover of "River Deep, Mountain High," a Phil Spector-Jeff Barrie-Ellie Greenwich song written for Tina Turner. Despite its current status as a classic, its initial release did poorly, so poorly that Phil Spector stopped producing and started his decline into being Phil Spector. Eric Burdon's version came out (not as a single) before a 1969 reissue became a hit for Ike and Tina Turner. It is high-energy — really, over the top — start to finish (and that's a 7:23 journey), and one of Eric's finest covers ever. Had it been released as a single, it's easy to imagine this becoming a hit.
There are a couple of weaker tracks, "I'm An Animal" and Burdon's "I'm Dying (Or Am I?)". Then a cover of "Ring of Fire" that gets a treatment similar to "River Deep." Interestingly, that was the only single released from this double album. Then, a Traffic song called "Colored Rain," and an impassioned rendering of the BeeGees' "To Love Somebody" that, to this day remains my favorite cover of that song. Then a blues, "As The Years Go Passing By," a fitting close to the Animals' blues career.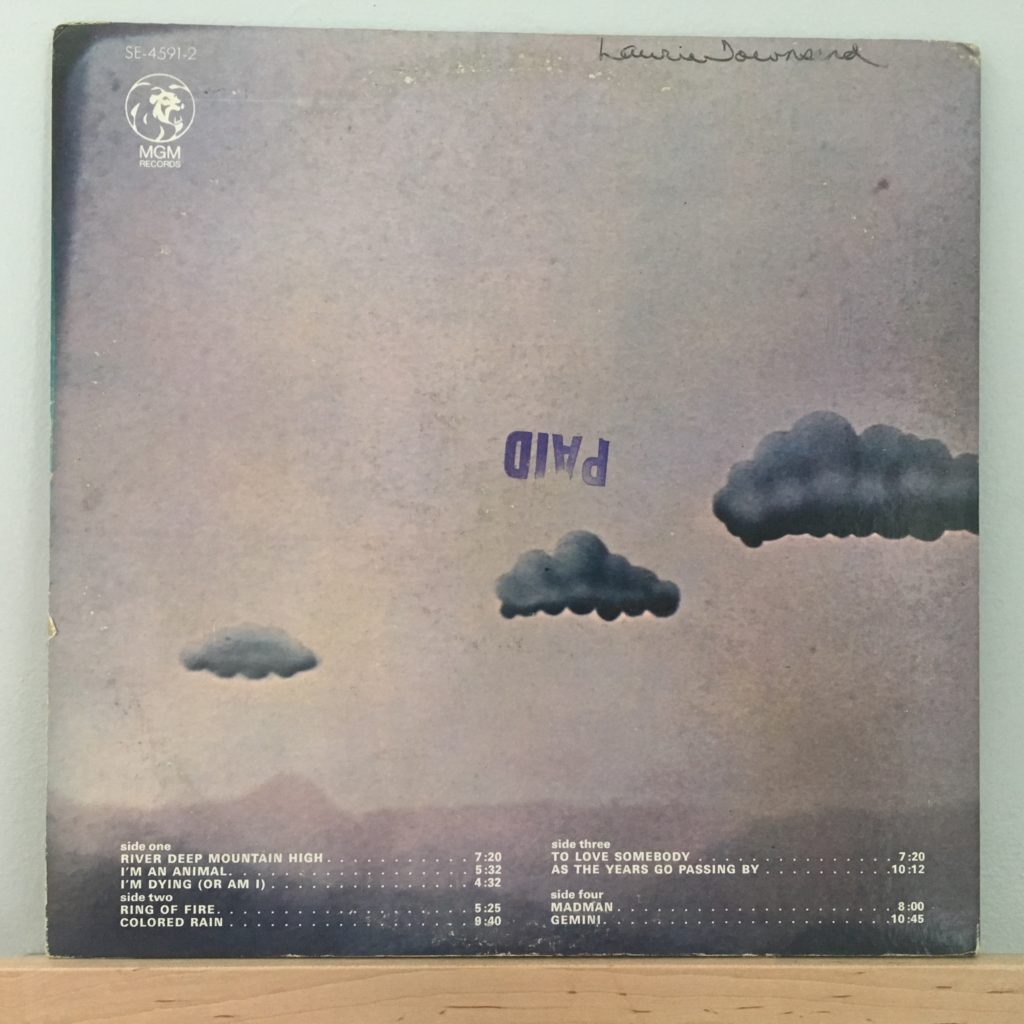 Side four. Side four is a single track, running 17:23, called "Gemini/Madman Running Through The Fields." Wikipedia informs me that it is a medley (well, that part may have been clear) of songs by Dantalion's Chariot, and it is some straight-up 1968 psychedelic nonsense, but it has its moments.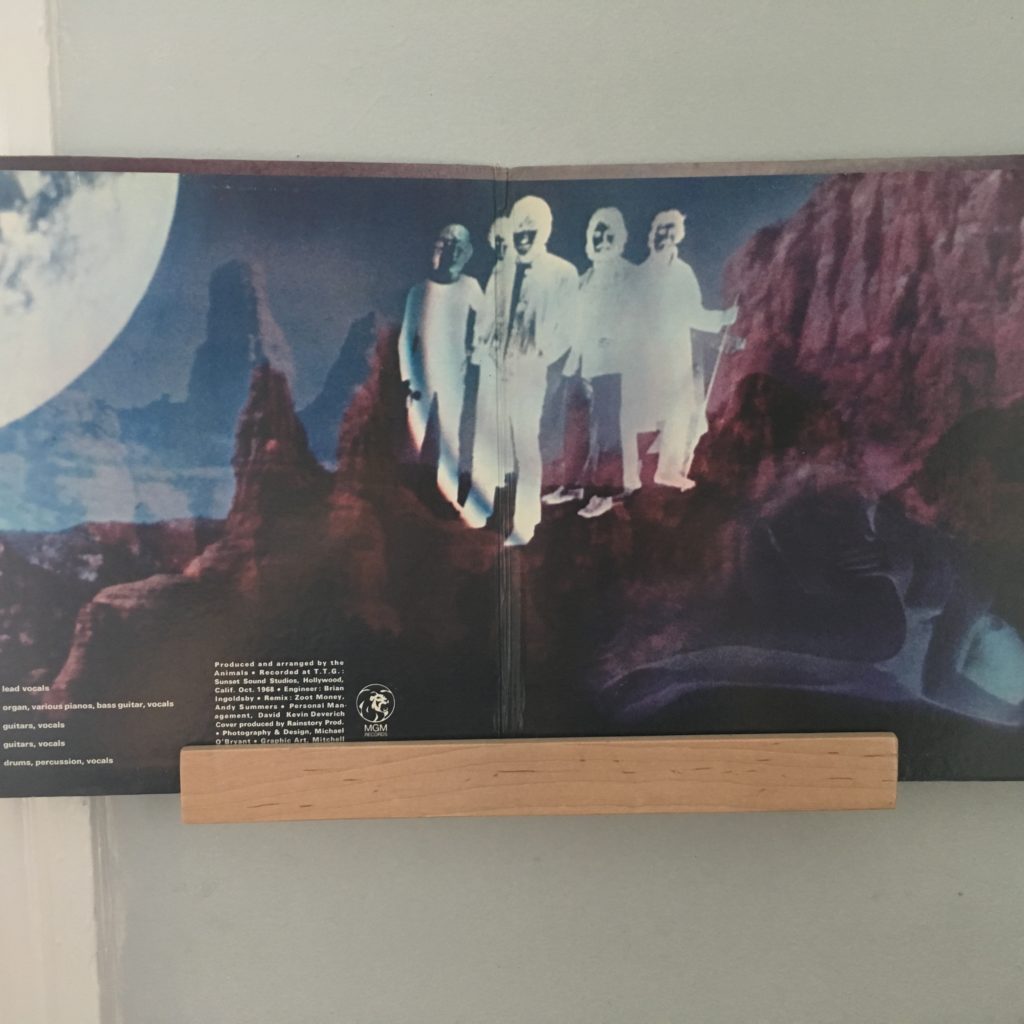 Like all the rest of my Animals albums, got this one somewhen between 1979 and 1981. This one's a bit unusual. My copy is still in a bag from Princeton Record Exchange, a record store that is still in business in Princeton, NJ. According to Wikipedia, the founder spent five years selling used records from his van at flea markets and college campuses, then opened a store in 1980. I don't know if this came from a sale at the campus (I seem to recall there were such things), or if I got it third-hand, but not only is it still in the Princeton bag, someone took the effort to show that whoever bought it had paid for it by stamping paid on the cover, both sides, and on both sides of the labels of both discs. I've never encountered that defacement of a used record before. It was also a DJ copy, technically not for sale, so the "paid" stamp is even worse. (There is a large number of "not for sale" promotional copies in my collection).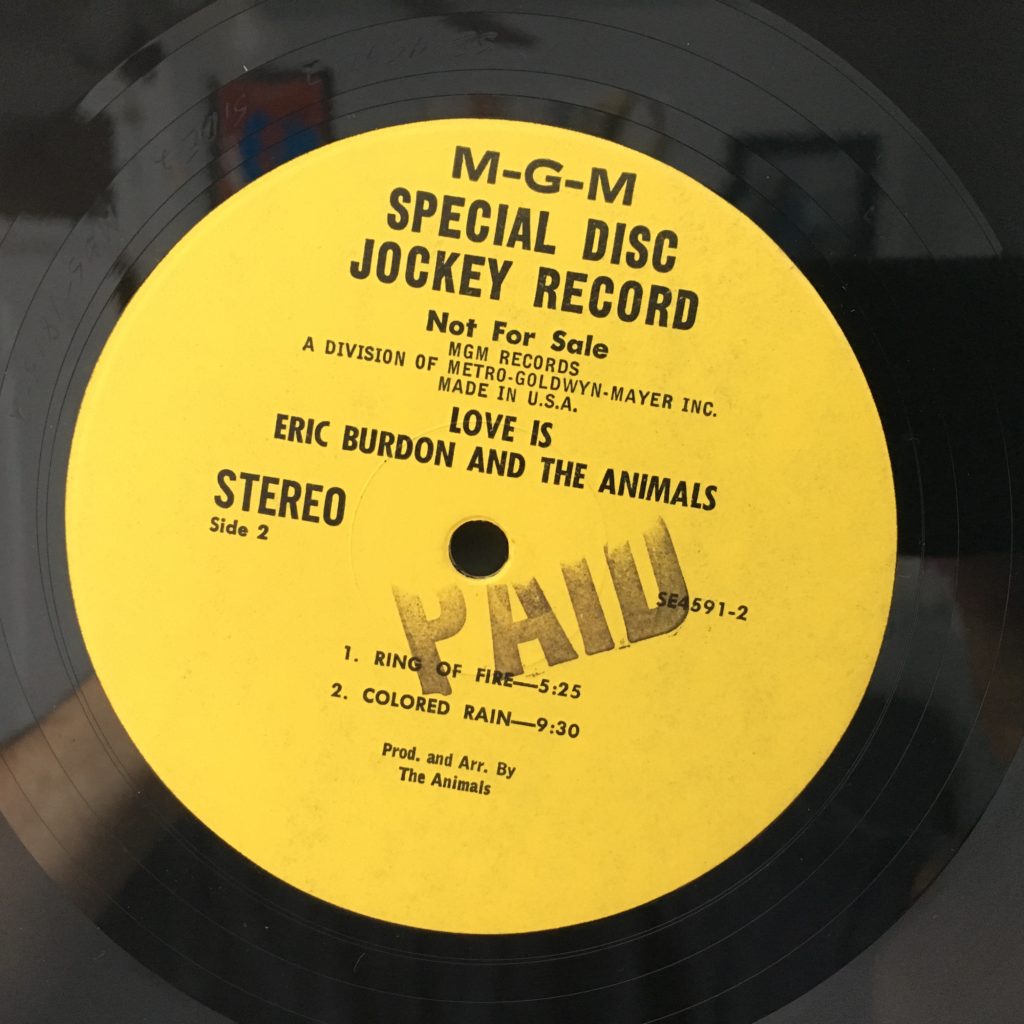 Somewhere along the way, Laurie Townsend owned this record, so shout out to Laurie. If you didn't like it, you really should give it another try.