I took a pass on the initial excitement around Eurythmics. While I liked the video imagery of "Sweet Dreams (Are Made of This)" and yes of course I thought Annie Lennox had an amazing look and voice, the song itself just didn't do much for me. It was absolutely ubiquitous in 1983, and made them huge stars. I didn't dislike Eurythmics, I just didn't feel the need to support them. I liked "Who's That Girl," a pretty straight-up pop song from the next album, "Touch," better. But I didn't buy that either.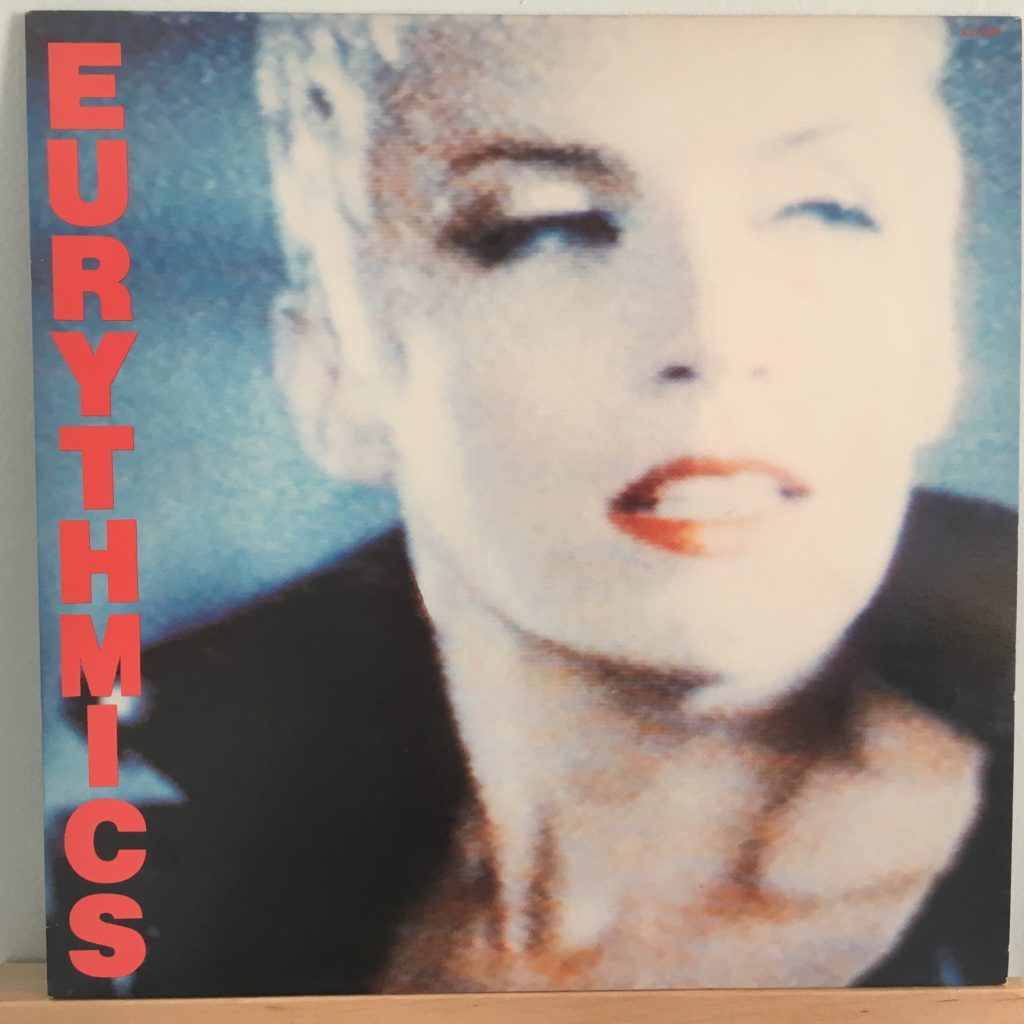 Then "Be Yourself Tonight" came out in 1985, with a big hit with "Would I Lie to You?" And I was suddenly quite taken with the sound. Reviews call it more commercial than their previous sounds, and I'd say that's so. Where their earlier, synthier stuff left me a little cold, this seemed to warm up, and was just more lively. It didn't hurt that they had three great guests on the album. Ordinarily I find stunt-casting to be a distraction, but they used Aretha Franklin, Stevie Wonder and Elvis Costello perfectly. It still suffers from some very '80s production, but for the most part the music comes through. It was apparently their biggest seller, and it convinced me I was a Eurythmics fan.
I bought this new when it came out in 1985. That was, for me, not a great year for memorable music, and I was flailing. It was the year that I bought my first CDs, but also a time when I pretty much gave up on commercial radio, and invested a lot of time and energy in getting to know classical music better. (Looking at records that were released that year, which I actually bought that year: Marc Almond was still going strong, but Squeeze put out the less than brilliant "Cosi Fan Tutti Frutti," and ABC the similar "How To Be A Zillionaire." Madonna's "Like A Virgin" came out that year and was big, but I don't think I've listened to that in 30 years. I bought Sade and Face to Face records, Bryan Ferry and Public Image Ltd. My biggest love from that year was the great assemblage of Kurt Weill's music, "Lost In the Stars." )
So in a year when most music sounded frankly horrible — two of the top albums that year were the Beverly Hills Cop soundtrack and the Miami Vice soundtrack (just ughhhh), this actually sounded kinda fresh. Yes, there was synth, but also horns (and a killer Stevie Wonder harmonica part). "Would I Lie to You" was a banging rocker, and "Sisters Are Doin' It For Themselves" seemed like feminist anthem for the time. I was particularly fond of "I Love You Like a Ball and Chain" and "Adrian," which featured Elvis's harmonies. This got a lot of play in the middle '80s, when I was still highly reliant on vinyl. I like it still, and it is definitely my favorite Eurythmics album, but I've gotta admit that when I'm thumbing through the stacks looking for something to play, this doesn't necessarily jump off the shelves.