Oh, I came to Faces very, very late. I mean, when I was in my teens, radio was all Rod Stewart all the time. "Maggie May" was a huge hit that it seemed never stopped playing, and yet I was always happy to hear it. Because Rod was releasing solo albums at the same time he was in Faces, understanding who did what is sometimes complicated, and it doesn't seem like Faces, which formed from the ashes of one of my all-time favorite bands, Small Faces, ever got the recognition, at least in the US, that Rod Stewart got on his own. Rod's first solo record came out in 1969; the first Faces record, "First Step," came out in 1970. Rod's third solo record, the platinum smash "Every Picture Tells A Story," came out in May 1971 and went to Number 1, just three months after Faces' second album, "Long Player," came out and went to No. 29. I was just beginning to listen to radio around that time, and all I heard were the Rod Stewart solo songs. In fact, looking it up now, it turns out that hardly any Faces singles were released in the US at all, and they didn't do much. So even though they were active when I was listening to the radio, I didn't really hear much of them.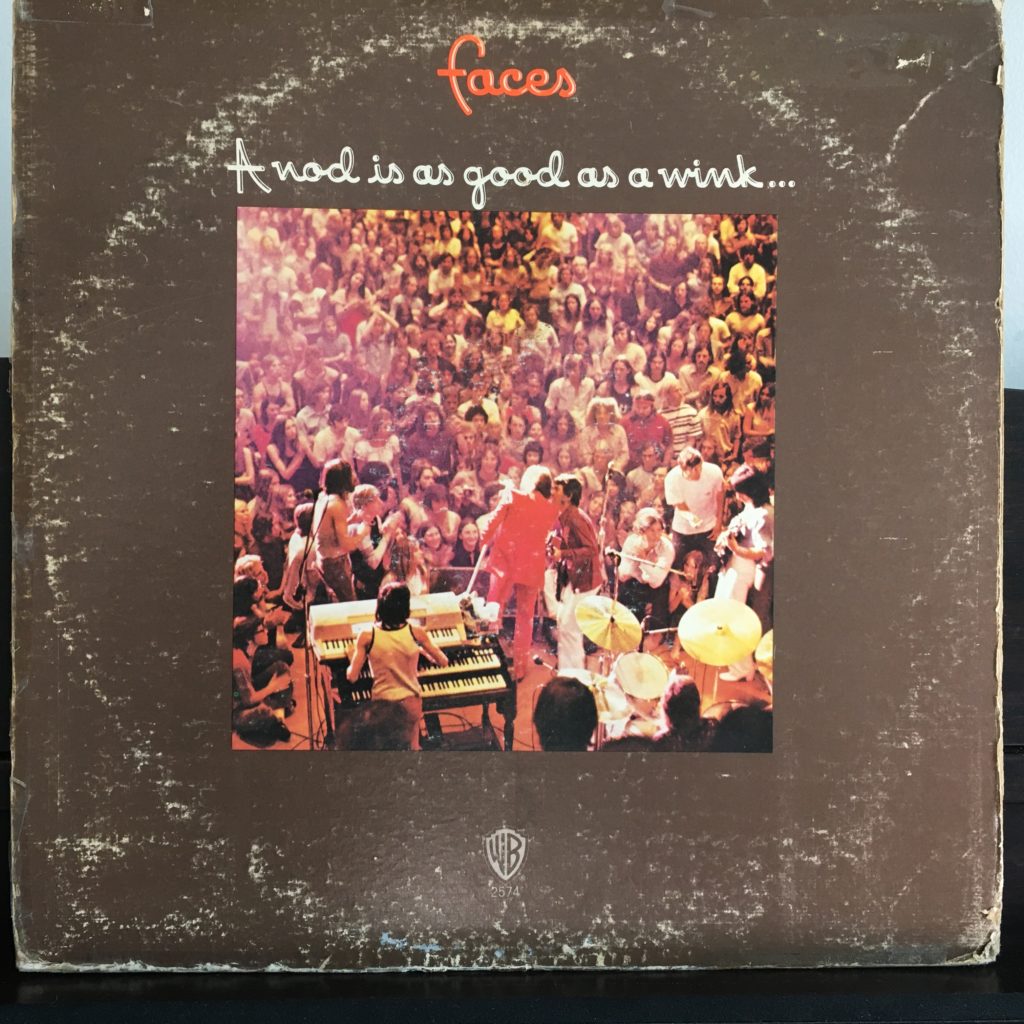 Later, say around 1979, I became a huge devotee of Small Faces. It started with the love my roommate and I had for all things British Invasion following our Beatles phase, the discovery of a 45 of "Itchycoo Park" bringing back a bit of a memory of that song, and then getting their first album and having our minds absolutely blown. Steve Marriott quickly ascended to the top of the list of my favorite rock vocalists, and the band amazed me with their great rock sensibility. Oddly, despite my love for Steve Marriott, I had zero to no interest in Humble Pie, his follow-up group, and despite my love for Ian McLagan, Ronnie Lane and Kenney Jones (who would soon join The Who), I didn't translate that into an interest in the band they would become when Ronnie Wood and Rod Stewart joined them to form Faces.
So the years went on, and in the mid-'80s I got copies of "Every Picture Tells A Story" and "The Best of Rod Stewart," loved them both a lot, but never paid any real attention to Faces.
I have long had a strong belief in paying for the music I possess. However, there was a time when money was way more than tight, my local public library had CDs, and I was looking for something new, but comfortable. This was during the last economic collapse, which caught me up pretty good. I think, in search of musical comfort food, I went on a deep '70s jag for a while. That was when I got very into the early Elton John material again. That was when I made several discs on '70s themes. That was when I discovered Faces.
At the library, I found a CD of "The Best of Faces: Good Boys…When They're Asleep" and was instantly hooked. This was just the rockingest of the rockingest, a loose, fun bar band sound like little else of its time. What had I been missing all those years?
I started playing Faces every day — they became my supper-making music in those days, and my kids, in middle and high school at the time, also got into them, so the band became a kind of bonding experience for us. Then I did some searching on whatever piracy program was prevalent at the time, and found not only the Faces discography, but several live performances that were just awesome, and also became part of our shared musical experience. So many bake sale muffins and failed chocolate chip cookies were made while playing Faces in our old kitchen – almost any time "Cindy Incidentally" or "Pool Hall Richard" comes on, I can smell the chocolate chips. It's a sweet memory.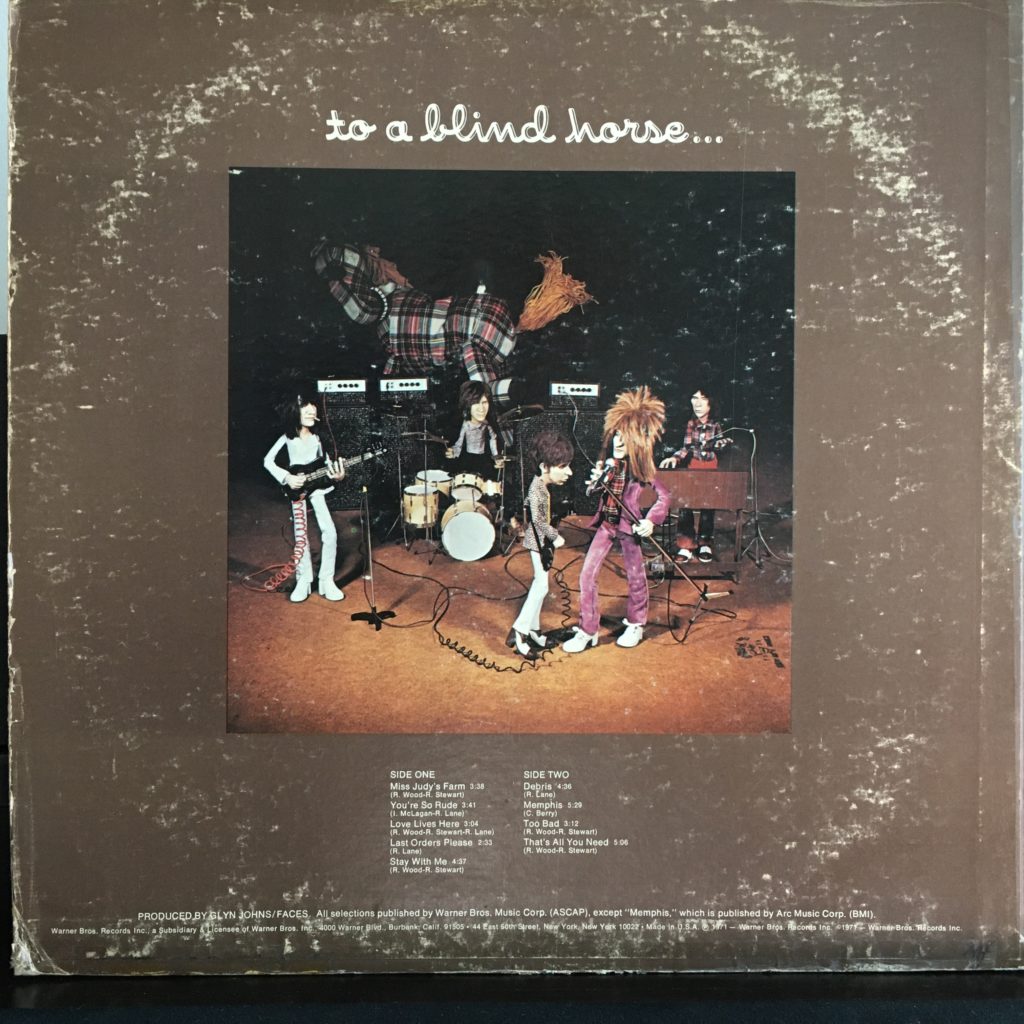 But I didn't have any Faces on vinyl, because I hadn't collected Faces when I was collecting vinyl. Unfortunately, I still don't have their first two albums, "First Step" or "Long Player." So their earliest record in my collection is their third, 1971's "A Nod Is As Good As a Wink … to a Blind Horse." (A very beat-up bargain bin copy at that, but it plays all right.) It was a pretty big hit in the US, reaching number 6. This is the album that produced "Miss Judy's Farm" and "You're So Rude," and more famously "Stay With Me" and "Too Bad." Just a solid, peak rock'n'roll album. Love it to pieces.
Do I regret that I discovered Faces about 35 years later than I could have? Not really. There's always something new to learn, something new to love, even when that something new is old. I've never been devoted to the latest new release — in fact, quite the opposite. I'm the old books, old movies, old records guy. So discovering things well after they've happened is just part of how I work. Other wonderful music filled all those years. Now I get to enjoy Faces like something fresh, and they have quickly moved into the absolute top of my list.