I talked last time about how I came very late to Faces, and yet now they are one of my all-time favorite bands. I had "Ooh La La" digitally about 10 years back, but only picked it up on vinyl a couple of years ago, here at Phoenixville's Deep Groove records.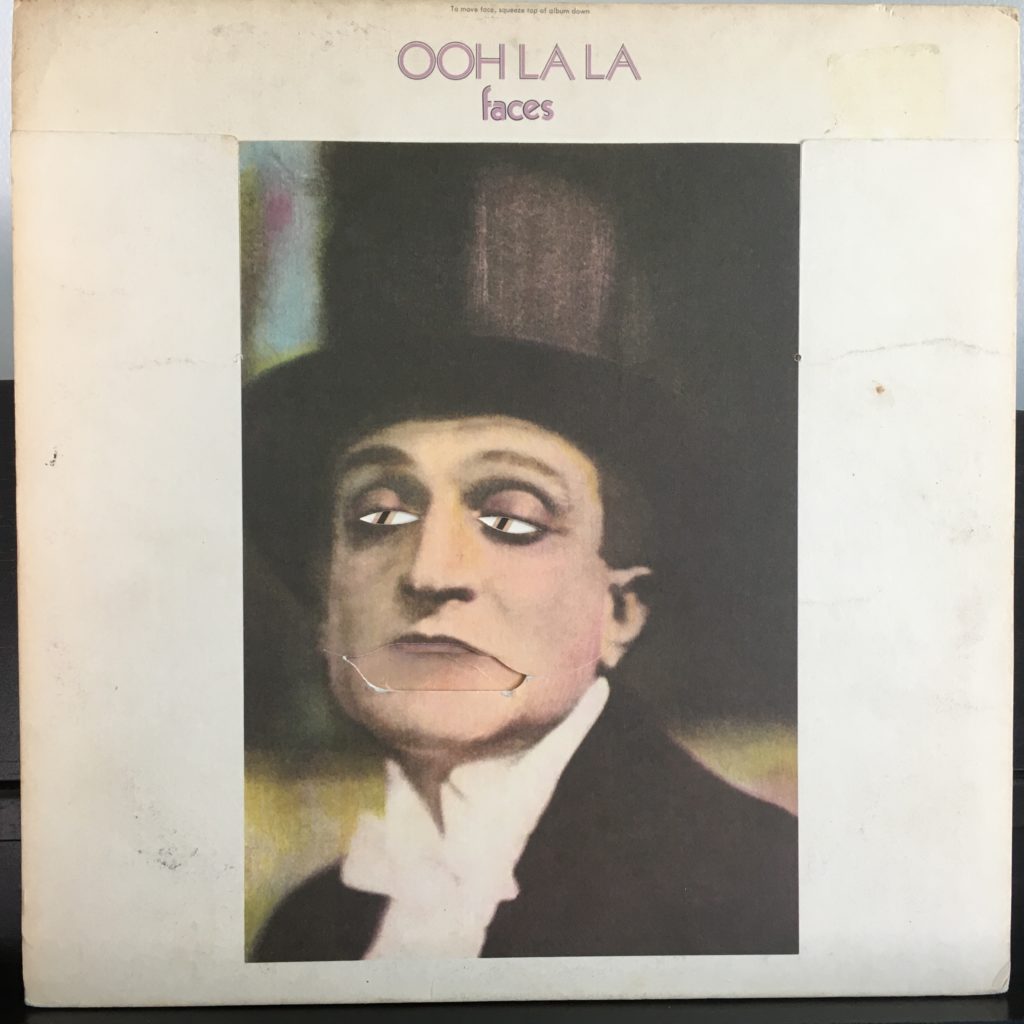 Sometimes records in the '60s and '70s just had to go out on a limb with the packaging tricks. Velvet Underground's banana, The Rolling Stones' zipper, Small Faces' folding round cover for "Ogden's Nut Gone Flake." This cover for "Ooh La La" features a cartoon of a leering(?) gent — when assembled correctly, if you give the record cover a squeeze, his eyes and leering smile move. But of course, every time you do that, there's a bit of wear and tear on the cover. I bought this just in the last year or two, and the cover had been well-played, so I just leave it untucked and imagine the effect.
I have always been that kind of stickler for my albums — and not at all for my 45s. There isn't an LP in my collection that isn't in its original jacket (if I got it that way), and while not everything I own has always been bagged, I can say that despite a lot of moves, my albums are in a close to the condition I got them in as is possible. So I can't bear to squeeze the record cover to enjoy the "Ooh La La" effect. Just can't do it.
This was Faces' fourth and last studio album, released in March 1973. It went to number one in the UK, number 21 in the US, despite Rod Stewart hating it. He shouldn't: while it has some weak tracks, it also has some greatness, including the title track (sung by Ronnie Wood) and "Cindy Incidentally," an Ian McLagan contribution that I just love. Perhaps it was that the band went ahead and mostly recorded it without him that grated. Understandable.
I've always felt a little bad for Ronnie Lane. He was the bassist and sometime vocalist who was in at the founding of both Small Faces and Faces, and later led his own bands and did solo work. He had a perfectly serviceable voice for rock 'n' roll, and would have made a fine frontman — but he had the misfortune to be in bands with two of the greatest rock singers of all time, Steve Marriott and Rod Stewart, and by comparison, his contributions suffer. It's Ronnie who does the opening phrases of Faces' cover of "Maybe I'm Amazed," (a non-LP single, but easily found in live form on YouTube) before Rod steps in and slays it.