This is a nice, laidback piece with a simple concept: an introduction to the denizens of Ducktown for the incoming president, whose name is Jimmy, which gives you some idea how old this is. Released in January 1977, it was timely at the time. They're tying together some old bits they had done for radio wrapped around segments with a TV movie show host, Ben Bland, and his PSAs and commercials.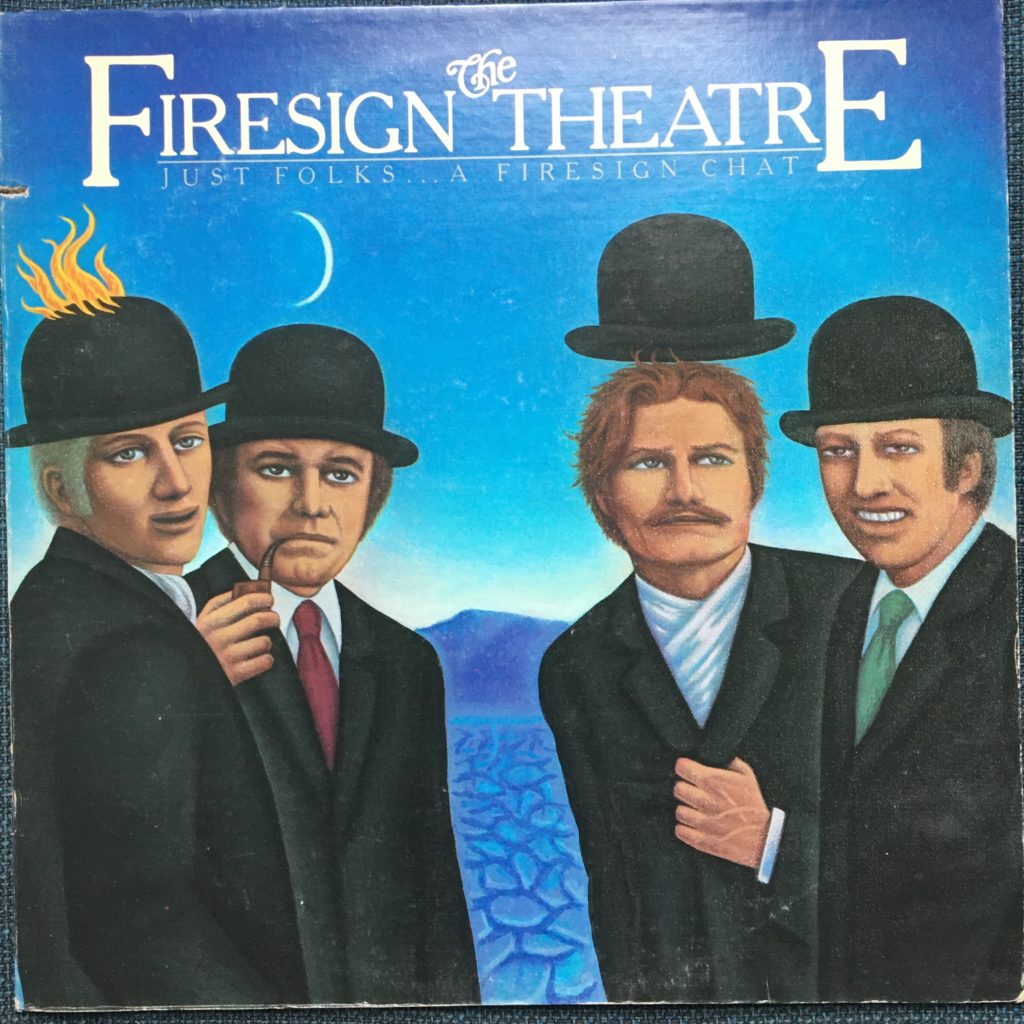 I bought this new in 1979, at the Spectrum Records, the student-run shop in a ramshackle old building on University Avenue, long since gone. I've mentioned Spectrum any number of times, so maybe now is as good a time as any to talk more about it.
It's hard to imagine now, but records were once so important an item of commerce and college survival that we had several outlets right on campus where you could get records. Spectrum Records was one — Spectrum had some other businesses as well. Technically (and thanks to the Daily Orange and a 1978 article by Lisa Kovitz for the details that were lost to my memory), it was part of an operation that was actually called Campus Conveniences at 823 University Avenue, established in October 1971. After a somewhat radical, student-strike-era effort to put the Marshall Street businesses out of business by going to student ownership and operation failed, the Student Association established Campus Conveniences as a non-profit, subsidized by the student fee.
Like a lot of the SU campus at that time, this was housed in an old wooden house. All kinds of faculty and program offices, student activities, and student housing were then housed in what had just been the homes of the neighborhood. You could say they were converted, but the conversion was often minimal — the building the Daily Orange newspaper was housed in at the time, 1101 E. Adams St., still had a full-sized bathtub in the bathroom. And no, thankfully, no one could use it, but only because there was a super nasty rolled up carpet stored in it for the entire 2-1/2 years I worked there.
Anyway, back to Spectrum, which was in a massive old house that also contained the student government offices. It had a little basic grocery called Spectrum Sundries ("it handles such items as soap, yogurt, magazines, film and cigarettes," and sold area concert tickets). Spectrum Supplies provided art and architecture supplies. Spectrum Travel Guides was a travel ticket agent, especially popular for Greyhound travel. CC also rented refrigerators, sold class rings, and ran the tiny "Blinker" snack bar across from Gifford Auditorium in HBC. But most importantly, and most visibly, they ran Spectrum Records. They carried a huge range of records, including selections by unheard-of groups like R.E.M. Because they had some subsidy, they discounted the record prices, so it was usually a bargain compared to the local chain Record Theater. In addition, the university-owned bookstore sold records (at pretty full price) at its main store and at a little branch store that was situated in a tunnel between our freshman dorm and another.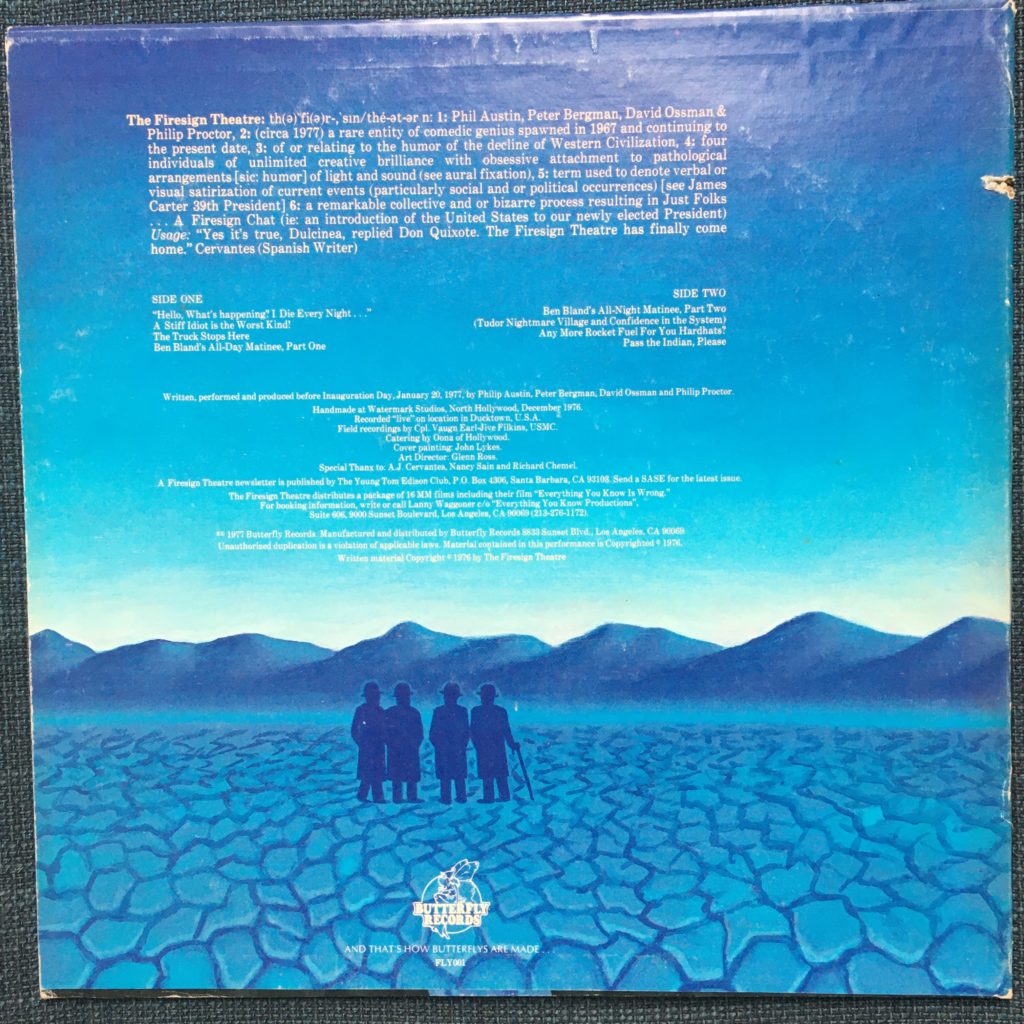 I played this over and over during that one semester (spring 1980) we lived in the Seneca Apartments, a once lovely apartment block that had been turned into student housing. It has an awful lot of quotes that run through my brain endlessly –
"The chronically sub-rich…."
Whaddaya say? "I say how, ya doin, and how's your dad?, how's your old man?"
When people ask me how I am, I usually say I'm pretty good because usually most of the time I'm. . . pretty good."
"I die every night!"
"Good lord, a stiff idiot is the worst kind!"
"Thank god we're an all-electric family."
"As a youngster, I myself loved the aroma of gasoline."
"This says subversive, not faulty!"
"I can recite all the verbs of the alphabet for ya . . . I ain't gonna do it now!"
"So for two-door, four-door or more-door apartments, let's go to Tudor Nightmare Village."
"Confidence In The System will keep them in power longer, longer, longer. . . in easy to swallow propaganda form, a new fast-acting thought control."
"He's a commentator, a well-known communist…" "Columnist…."
"Any more rocket fuel for you hard hats?"