I think anyone who thought about how to expand any of the Firesign Theatre's classic bits into something repeatable would pretty quickly settle on Nick Danger, their hardboiled detective, and the cast of characters from their noir spoof that appeared as the B side of "How Can You Be In Two Places At Once When You're Not Anywhere At All." Noir is a format that nearly spoofs itself from the start, and they showed they could add some great layers to it. It was also a natural for radio. In fact, Austin and Ossman had done the character in a life show, and it had been optioned for TV (to star George Hamilton) and a movie (to star Chevy Chase!). Then in 1978 the group put together a set of episodes for a possible syndicated radio series — when that was unsuccessful, they put the episodes out on this record, their first for Rhino Records.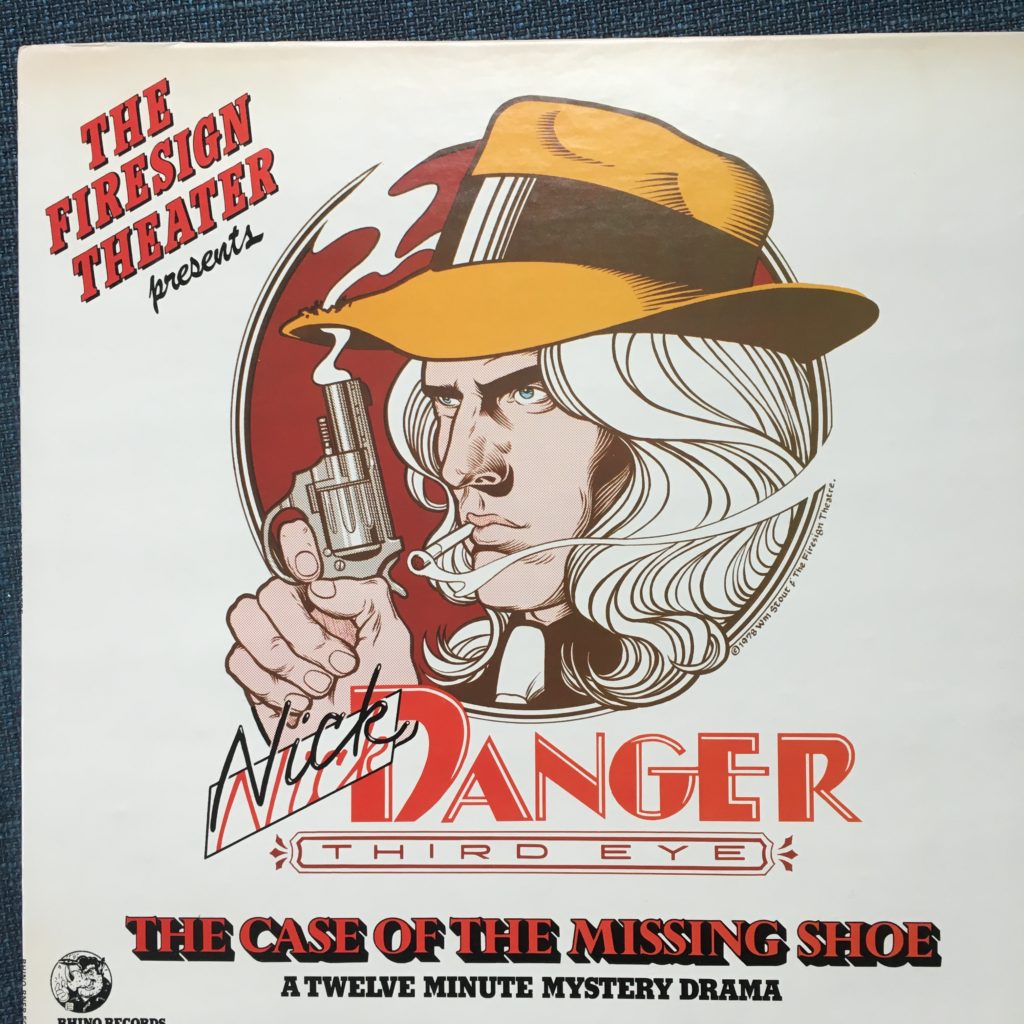 This was also the first Firesign Theatre record that I got to experience in real time — it came out and I bought it sometime in 1979. I'll admit, I was both excited and apprehensive. The original Nick Danger is a masterpiece, and I worried that they wouldn't be4 able to recapture the magic, and that they would have to lean on references to their own jokes to pull a story together.
I wasn't wrong. It's not terrible by any means — it definitely has its moments, including a lot of breaking the fourth wall, with Nick Danger talking directly to his writers, for example. But it's not great, either. It brings back other Nick Danger characters like Rocky Rococo, as well as Acme from "The Tale of the Giant Rat of Sumatra." It has moments, though, since it was developed for radio, much of its run time is given over to intros and outros. And it has some good commercial spoofs, including Ma Rainey's wholesome moleskin cookies: "Eat 'em, wipe 'em off, eat 'em again." But the whole story doesn't really come together, and since the whole thing runs 12 minutes, it's really just an EP. Still, I used to listen to it fairly often because . . . well, they're the Firesign Theatre, and they're important. Sometimes that's enough.