It had been my intent to go through my records in pretty much the same order I file them, meaning that some things — most soundtracks, classical, and comedy — would come at the very end., if I got to them at all.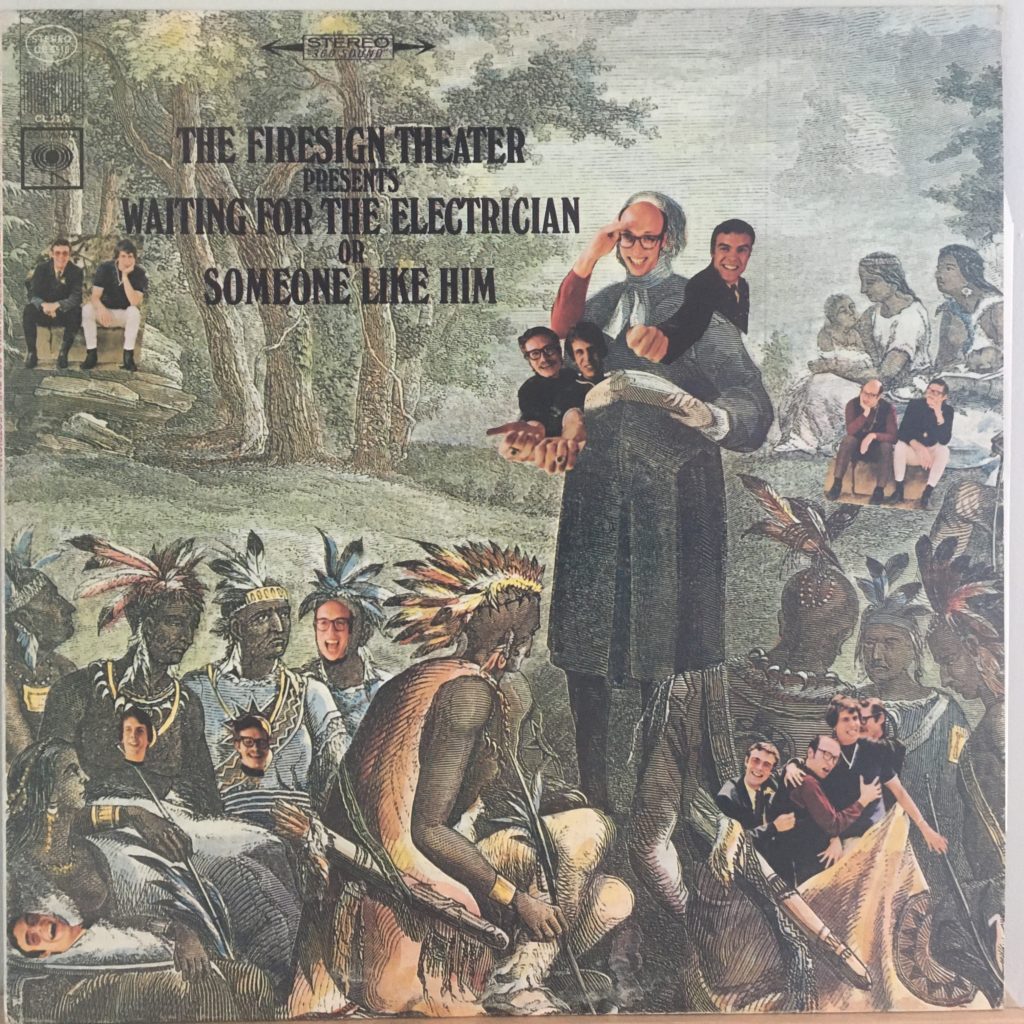 But alphabetically, we're at the place where Firesign Theatre goes, and I don't think it would be possible to overstate the importance of Firesign Theatre to who I am, how I think of myself, to how my mind works. So I think we're gonna have to buckle in for my Firesign Theatre collection, vast though it is.
Every day, a million random quotes from books, records and movies roll around in my brain, waiting to leak out. Something around 60% of those that leak out have their origin in Firesign Theatre. I'll say something to my kids that seems like a non sequitur, and if they ask what it's from, it's almost certainly from Firesign Theatre.
I owe my awareness that they even existed to my other Dan, the Dan from high school, the one who has been my best friend since ninth grade even if we rarely get to speak anymore. It was Dan who asked me to come along to a Country Joe and the Fish concert when I barely knew who they were. It was Dan who stood knocking on the stage door at Saratoga Performing Arts Center after a CSNY concert, hoping we could bluff our way backstage, claiming we had sandwiches for Stephen Stills. (Important point: we did, in fact, have sandwiches.) And it was Dan who used to wander the halls of our high school with a Firesign Theatre book (was it the "Firesign Theatre Big Mystery Joke Book"?) and who exhorted me to listen to them. Unlike most of his advice, I didn't wait years to take it, thank goodness. I bought my first Firesign Theatre record in the spring of 1978, the end of my senior year (at least far as I can remember). And then another, and another. This record, while not the first one I bought, was among them.
These are brilliant audio soundscapes, radio dreams that really couldn't work in any other medium. They move across genres, break across scenes, pull off impossible segueways, and carry you from one place to another in a delirious fashion.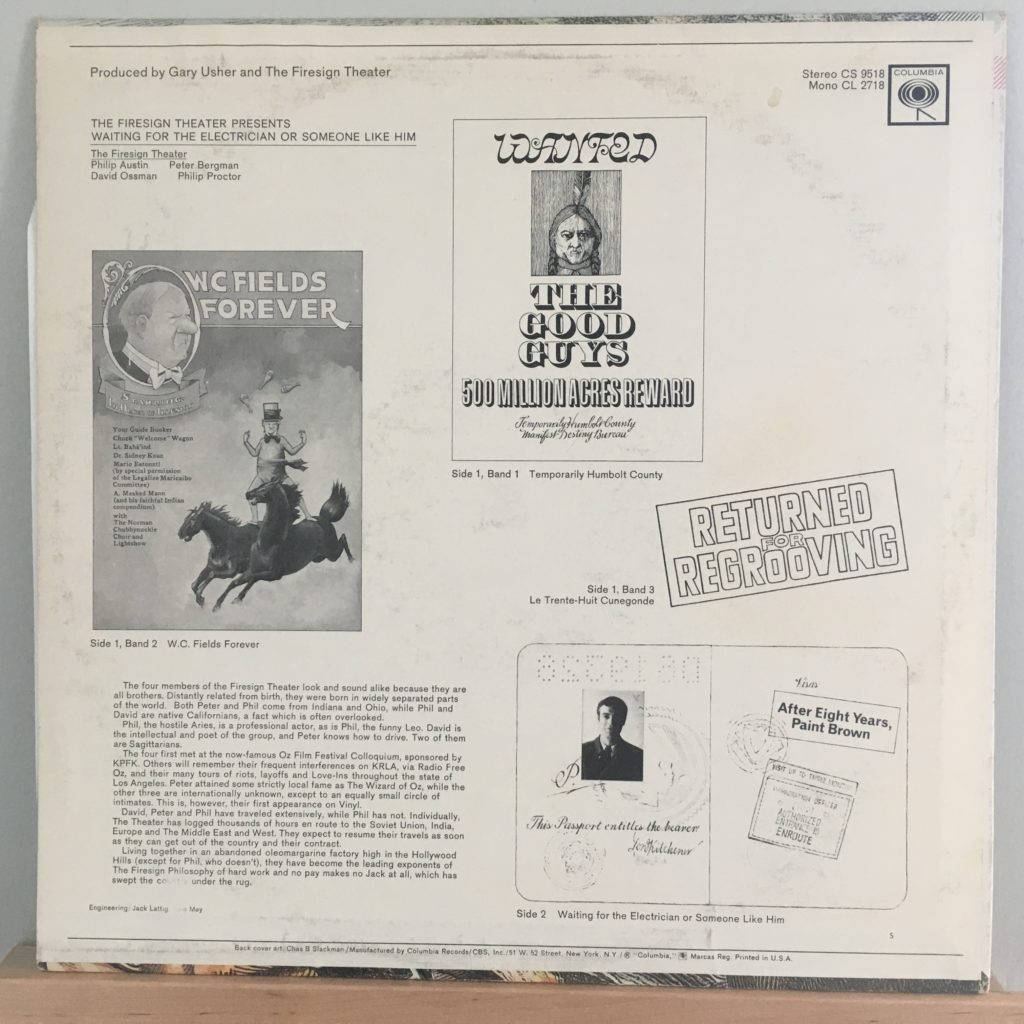 Waiting for the Electrician or Someone Like Him —
Their first album, this was released in 1968. I wish it were even slightly dated. The first side contains three vignettes, but they all flow together. "Temporarily Humboldt County," starts out as a biting, hilarious commentary on white settlement of North America. It begins from the perspective of two Native Americans, and discussion of what Firesign revealed in "The Firesign Theatre's Big Book of Plays" to be Hopi prophesy. Then come the invading missionaries, who ask the natives if they recognize the cross. "It's a cross. A symbol of the birth-quartering of the universe into active and passive principles." To which the priest replies, "God have mercy on their heathen souls." "What the Father means is, what is the cross made of? Gold! Have you got any?"
And so on . . . It segues into a blistering parody of hippie enlightenment culture ("W.C. Fields Forever") that leads to mandatory drug-taking, concern that someone's son (Malcolm X John Lennon) was a high school drop-in, and a bombing of the last pocket of unhip resistance with hardbound copies of "Naked Lunch" ("Le Trente-Huite Cunegonde"). And then it comes back around again.
So many lines from this are emblazoned in my memory forever. Without context, they mean nothing, but they come unbidden at the slightest provocation.
"I claim this stinking desert in the name of the Empire of Spain forever…"

"By the way, domine domine domine, you're all Catholics now…."

"It's a beaut!" "No, it's a mound." "And right purty, too."

"Nice paisley horsie! Give the nice horsie some sugar cubes!"

"Now you are going to stay there until you obtain true enlightenment."

"There was a passle of them theosophists at the other end of the bar, raising the devil. Had him about 10 feet off the floor…."

"But Senator baby, like, she was starving!" "Young man, that's her trip. Take him away for regrooving."

"We threw I Ching . . . out the window. We are now unanimous."
The second side is something else entirely, an odd international intrigue that starts out with someone innocently trying to cross the Turkish border, and finding it a challenge that leads to international intrigue and a revolution. It segues from that into a game show, "Beat the Reaper," in which contestants have to guess what deadly disease they've been injected with — so yes, they saw reality-show culture coming. That results in a plague spreading across the city.
"At this time of day, they all receive equal attention."

"In the beginning I wrote with an ink composed of parts of me own blood but however this would not make an acceptable carbon so I acquired an electric typewriter."
There is so much more.
I was always disappointed that Tony Hendra's otherwise excellent "Going Too Far," a chronicle of the rise of modern humor, completely dismisses Firesign Theatre with, I believe, a single sentence, as drug humor. There's certainly an element of '60s drug culture to it, but they make fun of that as well, and I can say that these albums remain not only hilarious, but deeply meaningful and (unfortunately) culturally relevant in ways that mere drug humor (like Cheech & Chong) simply does not.
There will be more and less for each of the Firesign Theatre records coming up. I have a lot of them, so I'll try not to make this too much of a slog. But it didn't seem right to relegate them to the end of the line when they mean so much to me.