I'll have to admit to a shocking lack of James Brown in my life until the late '80s. I mean, I knew he existed, and I must have known some of the songs, even though oldies radio — at least the kind that played in the print shops where I worked, helping to wear your soul down to the nub with the same overplayed trip from the '60s day after day, night after night — oldies radio didn't ever seem to feature James Brown. (Or, to be accurate, hardly any black artists. Compared to the diverse spectrum that had been top 40 radio where I grew up in the '70s, Syracuse oldies radio in the '80s was super-white. But hey, you can't hear "The Bristol Stomp" too many times, right?) But I did know vaguely what he did, and got the reference when Pigbag named a song "Papa's Got A Brand New Pigbag." Maybe it was his standout role in "The Blues Brothers," maybe it was something else in the zeigeist (I promise you, it wasn't a "Rocky" movie) that made me think one day that what I needed to diversify my collection was a James Brown CD. And, knowing nothing, I started with a collection, "The CD of JB."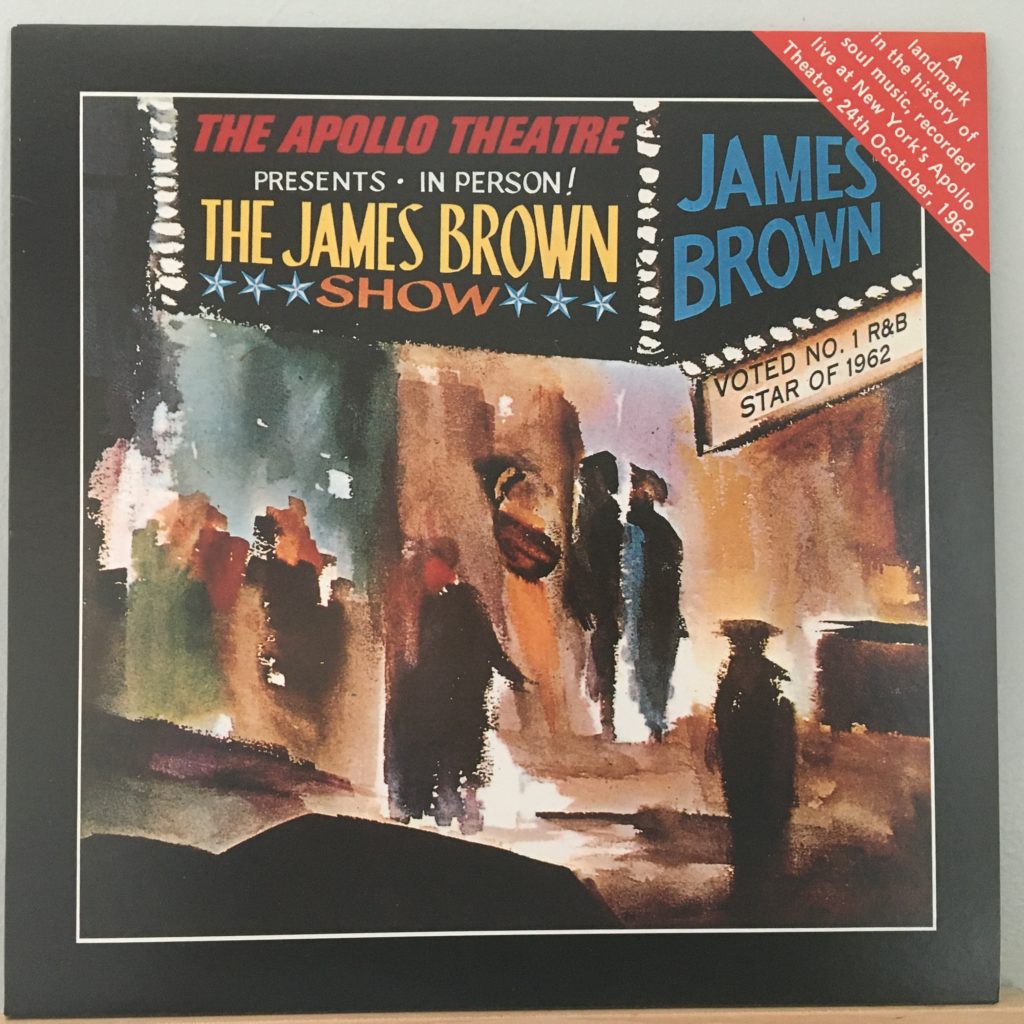 We put that CD on, and it hardly ever came off. It didn't hurt that it was one of the earliest CDs I bought, so my digital choices were few, but man . . . that disc went into heavy rotation. It's a great collection, and has great sound (not always the case with those early CDs). And wow, yes … James Brown.
It can't have been too much later than that that I got this album, featuring James Brown live at the Apollo Theatre back in 1962. The record itself is a Canadian reissue from 1986 — and it's entirely possible I bought this on our one trip to Toronto, or one of several trips to Ottawa. But in this case I just don't remember. This is an earlier, slightly more restrained JB … in no way a bad thing. The band is tight, but I can't help but wish live recording techniques had advanced to where they would be just a few years later, because the effect would be amazing.
Coming fairly late in my first LP era, when both technology and circumstances had me leaning on CDs, I must admit this album didn't get a lot of listens. It is good. Unlike a lot of artists, you can't say that James Brown's energy didn't translate in the studio — it definitely did. And the next album will cover that.
I don't believe I've ever seen Vol. II, by the way.