At the same sale where I bought my seminal Jefferson Airplane records, I got a copy of "Woodstock Two," which included two tracks by Jefferson Airplane, "Saturday Afternoon / Won't You Try" and "Eskimo Blue Day." It also featured three tracks by Crosby, Stills, Nash & Young. Those choices alone should have made it a favored record for me. I wasn't very into Hendrix at the time, who was represented by three tracks a casual fan wouldn't recognize, and I had no appreciation for Melanie or the Butterfield Blues Band. But I barely remember any of those tracks. What I most remember about that record was the sides with Mountain and Canned Heat, both of which left me with enough of a negative impression of the Woodstock Two album that I hardly ever played it. And, eventually, I sold it off as nothing I would ever want. I didn't know that 40 years later I'd be collecting Melanie records at every opportunity, or that I'd be much more appreciative of the unusual Hendrix than I was of the hits.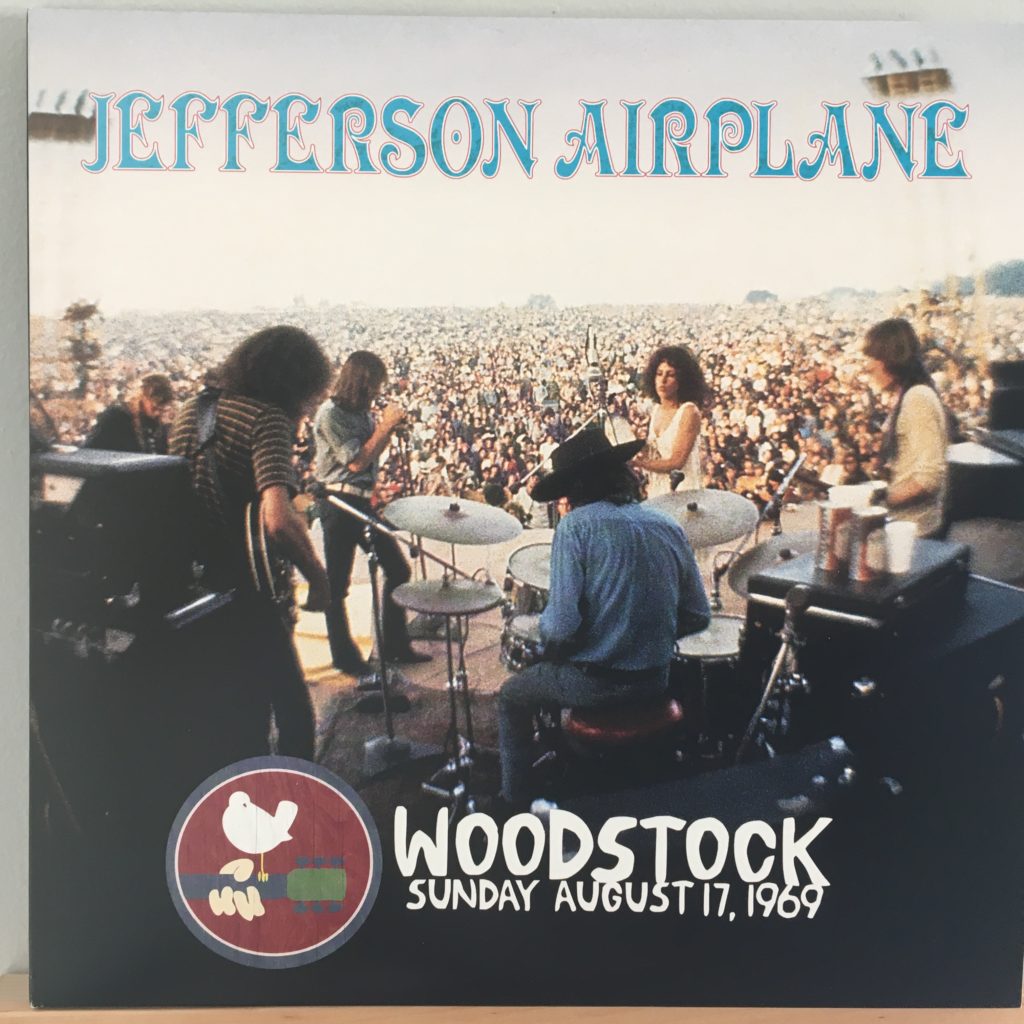 It was that kinda meh impression of that record, one of not very many that I sold off over the years, that informed my feelings when the releases of entire Woodstock sets started coming out a few years back. Do I love Jefferson Airplane to death? Yes. Do I have bootlegs of live shows from Family Dog and the entire Monterey set? Yes. Did I get excited about the entirety of Woodstock being available? I did not. Because, it was Woodstock. It was raining, there were endless drugs . . . how good could the sound have been? I listened to some CD rips of the same thing and it was, I guess, not exciting.
I ran across this last November when we made a group run to Siren Records in Doylestown, and while I had allowed myself a big mid-pandemic budget to celebrate having taken a risk and gone literally anywhere that wasn't a grocery store, I got a little bit of sticker shock at the asking price, which was around $65. While there, I texted my main dealer, who confirmed that's what they went for (I had no doubts, Siren not only doesn't gouge, they're sometimes crazy underpriced for some things that I love). But I still couldn't make the leap, and left without it. I mean, that would have been the most I have ever spent for an album other than The Beatles Collection.
So I came home and enjoyed my other records and started to second guess myself. Listened to the CD rips again, thought they were at least not bad, and as Christmas approached decided: I'm not going to live forever, and I would prefer to die owning this album. I don't often resort to online record sales, but I found a marginally cheaper source for it and decided this was at least one Christmas present to myself.
I know audiophiles argue back and forth, back and forth about whether CD or vinyl is superior and why. I have some records on both formats and there isn't necessarily consistency in which is the better form, but in this case: holy cow does the vinyl record sound better than the CD. It's vibrant, alive, and really nothing I would have expected of something recorded in a setting like Woodstock.
I can't stop playing this. Since I got it in 1979, I have consistently said that "Bless Its Pointed Little Head" is my favorite live album, ever. But . . . but . . . but, this may be better. It's certainly more. I'm not ready to declare yet, but when I've played this a few hundred more times by the end of the year, I may at least put it in a tie with Bless. The band is loose, fluid, amazing. Jamming without ever getting lost or boring, able to go with the flow. Even the "turn out the lights" part of Bless, one of those little moments of reality that makes it great, is echoed with Grace's musical call to be able to hear on one of the monitors, which she delivers with such style and subtlety. Despite having spent more than on any other album, I have zero regrets.