Sometimes I think I should really take these entries out of order (or in emotional/biographical order), because I shouldn't embark on the Jefferson Airplane discography without starting with the record that introduced me to them, and that was "The Worst of Jefferson Airplane." But, once they're posted, as people find them through searches or however they come to these little reminiscences, it seems like the order hardly matters, so I may as well stick with chronological order by release. But I'll say here that my love of the Jefferson Airplane began in that odd, lovely, first summer of living on my own, away from my hometown ,with a copy of "Worst Of" that I procured at the same Nottingham neighborhood garage sale in Syracuse that provided me with my earliest Country Joe and the Fish records, my Best of Eric Burdon & The Animals Vol. II, my Honky Château.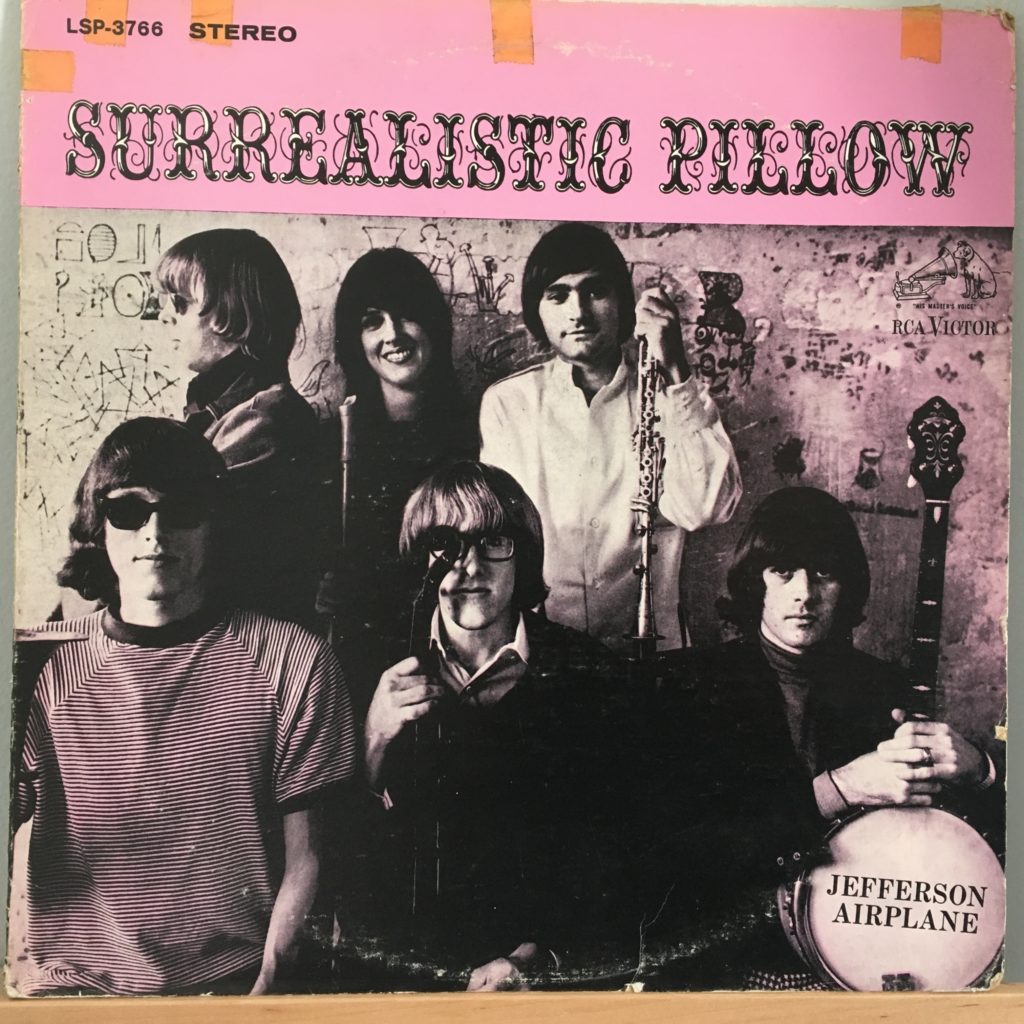 "Surrealistic Pillow" was the first album by the reconstituted Jefferson Airplane – they had put out one album before, but now with Grace Slick on vocals and Spence Dryden drumming, they hit on an incredible combination of psychedelic and folk, and a band full of songwriting, singing, and guitar-playing talent. They came out of the San Francisco jam band scene, and yet could write concise songs that could get radio play and not only make the charts, but be huge hits.
This album really sets the stage for everything the Airplane could do – the massive hits "Somebody to Love" and "White Rabbit," the beauty of "Today" and "Embryonic Journey," the rock of "3/5 of a Mile in 10 Seconds" and "Plastic Fantastic Lover." It's just excellent.
After discovering the wonders of the Airplane through "Worst Of," I very soon picked up "Surrealistic Pillow." Looking at my copy, I suspect it was a garage sale copy, or a thrift store – the cover had already come apart when I got it, held together with pre-yellowed cellophane tape. I never got a better copy though, because the vinyl is pristine, just pristine. So I must have had this more than 40 years, and while there are beautiful new 180 gram versions and such out there, I've never been able to justify a new copy because this one's just fine. Also: it's not the Airplane album I'm most likely to play. For many years, my go tos were Bless its Pointed Little Head, Volunteers, and Worst Of (one of the rare compilation albums that really seems to work as an album on its own).
I have a hard time describing why I love Jefferson Airplane so much. I care not one whit for Quicksilver Messenger Service. I would leap across the room to turn off the Grateful Dead were that socially possible (it never is, people take their Dead really fucking seriously). All from the same place, all in the same vein, all based on the same ideas . . . and yet there is something so much different in the Airplane. For starters, there are four vocalists, all working in different ways. The bulk of their well-known songs pair Marty Balin and Grace Slick – is there another group in rock that pairs male and female voices like this? Not singing duets, not exactly singing harmonies – sometimes doubling each other, sometimes letting one or the other go off on an adventure while the other carries the lead. Jack Casady's bass playing is just other, and Spence Dryden's drumming is so perfect that I'm not sure I ever even notice it's there. Paul Kantner and Jorma Kaukonen's guitars – sometimes screamingly psychedelic, sometimes so painfully simple, beautiful, emotive. The Airplane is just that band for me.
This past weekend, listening as we often do to Jorma Kaukonen's quarantine concert from the Fur Peace Ranch (you can find this particular concert here), he closed the show with Embryonic Journey, long one of my absolute favorite pieces by the Airplane, although of course it's just Jorma. And listening to it, I had to wonder if he was playing it on the same guitar (and amp) as the original recording, because, man, it sounded so right.