Well, this is the one that really launched Joe Jackson for me. June 1982 – just before my final year of college. "Steppin' Out" hit and hit huge, both on the radio and on MTV, where the video version of the song captured an imagined adult elegance that we all wanted to be a part of. Similar to Roxy Music's "Avalon" video, it drew a picture of sophistication that seemed impossible but also desirable.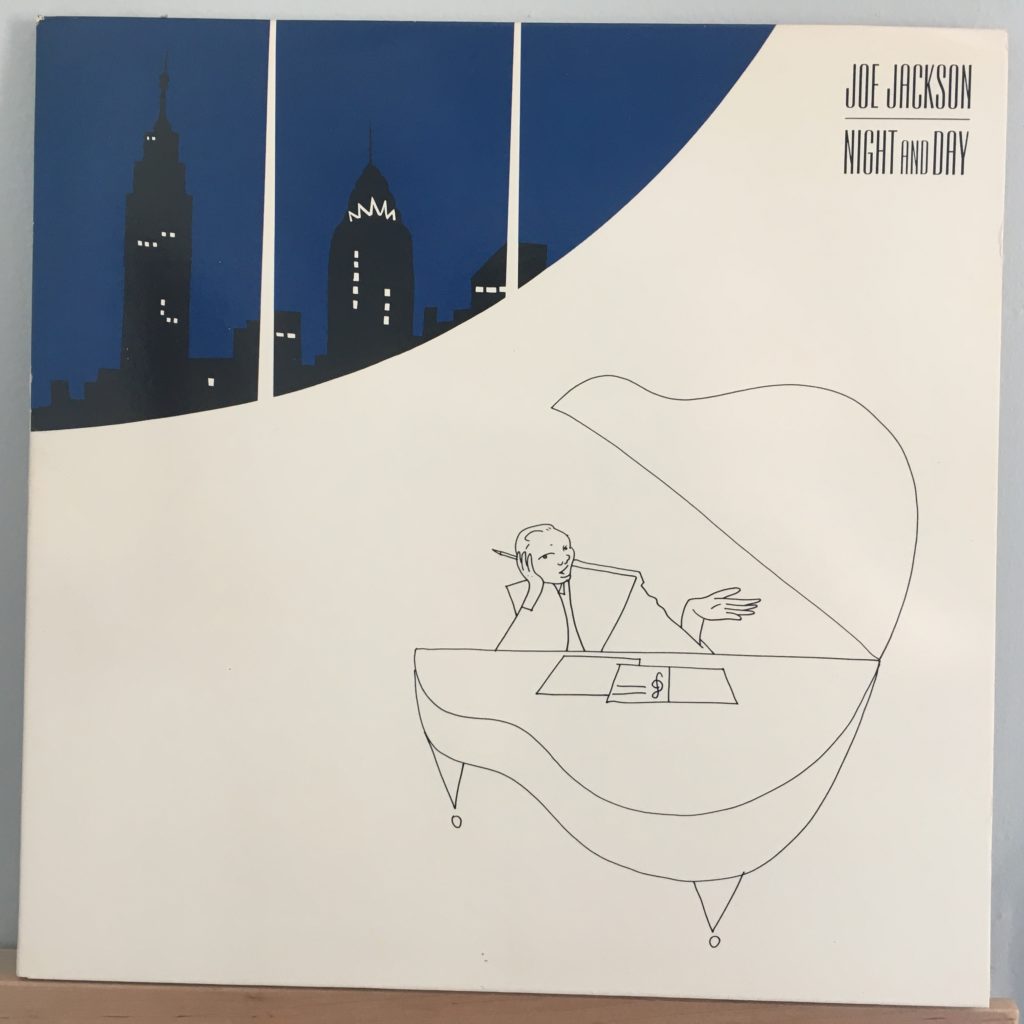 When we're young, we form these visions of what our lives will be like, or could be like . . . or maybe even what they will never be like. Sometimes those visions, those impressions come from what we've seen in television or films. We take what we've seen as a model, a blueprint for what we would like things to be like. For example: any number of times I've heard people say they wished, or hoped, or dreamed that when they grew up they would have cool dinner parties that broke out into entertainment, as happened often on "The Dick Van Dyke Show." Visual media feed us these cues. It looks like such elegant fun: we want it to be our lives.
I was 21 when the video for "Steppin' Out" came out, with its fantasy cosmopolitan elegance. It represented both something real and something imagined, something aspirational. While I would never imagine myself as one of the rich elites shown in the little play, I did imagine there would be moments of elegance and glamour, nights when we would dress up and step out and just be so damned beautiful and happy. We would be adults, free and easy and just living our lives (instead of college students grinding out those final credits and slouching toward something like graduation). That was what the "Steppin' Out" video seemed to represent – some sort of sophistication, some sort of adultness.
And: we had that. Within a few years, we would be attending the symphony, the opera. We dressed up to go out. My wife would be so beautiful that she literally caused a woman to gasp once when she saw her. We had a wonderful little life together. It was so beautiful. Still is.
So, that's what "Night and Day" means to me: sophistication. Adultness. Being so stupidly young and fresh and happy. It was glorious. Later, we would have parties that broke out into entertainment, we would have reunions that turned into singalong parties, we would have friends who could just pick up a guitar and sing for us. It's a good way to live.
I can't say that in recent years this has gotten a lot of play. After being a staple of my listening for more than 20 years, I gave Joe Jackson a bit of a breather generally. There are only so many hours in the day, and I've heard many of his records hundreds, thousands of times. But listening with somewhat fresh ears, I'm again remembering Joe's skill as a composer, the little elements in his writing that always catch my ear and also make me wonder that he had any popular success at all. This is a great album, and yet I think it's probably my fourth-favorite of his. More to come.