Karla Bonoff did a tour in support of "Restless Nights," and, quite enamored of her debut album, the Woman Who Would Become My Wife (WWWBMW? 3WBMW? Or maybe just Lee) and I went to a record-signing event held at the Record Theatre on Marshall Street in Syracuse somewhen in the fall of '79 or early in 1980, and saw Karla Bonoff there. I'm told that was something Lee didn't even realize was a thing . . . that you could just go and meet the artist and have her sign your record. (Why, then, do I not have a copy of the record she was promoting? No clue.) And then that night, we went to see her in concert in SU's Crouse Hall auditorium, a beautiful gothic wooden affair that is just meant for romantic concerts. (In fact, other than student performances, it's the only concert I ever remember seeing at Crouse.) And it was just wonderful. We definitely came away from that one with a glow between us.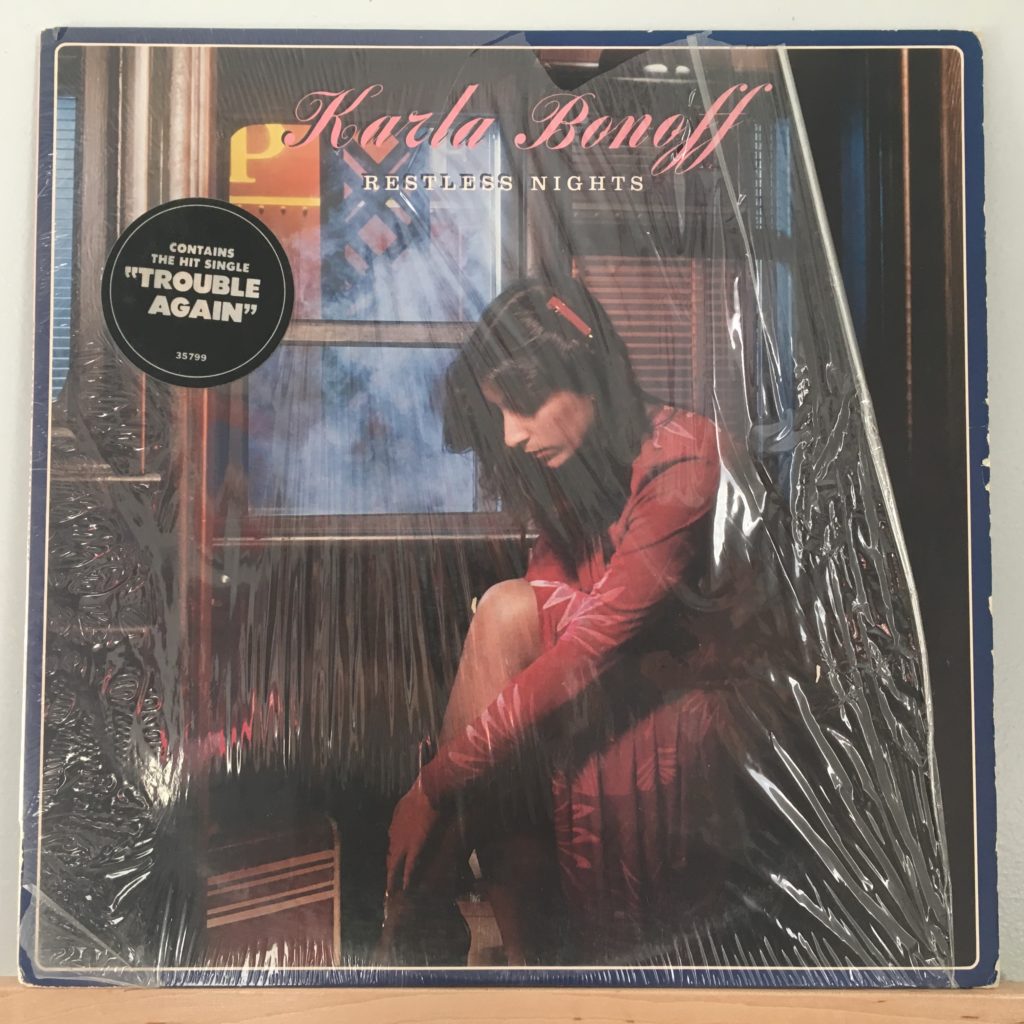 We didn't ever really date, exactly. We met before the school year even started, doing work study at the very first Empire State Games — New York's big statewide athletic event, like a mini-Olympics — and living in the same dorm with the work study group. Then it turned out we were living right next door to each other when freshman year started — yes, she's literally the girl next door. And so we spent a lot of time together, but without a lot of what you'd call dates (other than the endless movie series I dragged her to every weekend). I think the first real date we went on, the first thing that cost something like serious money, was a road production of "Grease" at the Landmark Theater downtown. Despite a timeline that pretty much proves that it wasn't, in our minds the Karla Bonoff concert had somehow become our next big date. In reality, we'd been together more than a year by the time that happened, but it felt like the night it all happened. Karla sat at the piano and sang her beautiful songs, and we came away feeling like — yes, this is it. This is love.
But for whatever reason, I never bought "Restless Nights," even though I loved her cover of "When You Walk In The Room." To be fair, I love most covers of "When You Walk in The Room," but this one has the added cred of Jackie DeShannon herself singing backing on her own song. Perhaps it was just the poor college student thing – buying this meant I couldn't buy something else, and my musical needs were great in those days. If I couldn't get it used for $3, I probably didn't get it at all.
So despite my continual rediscovery of Karla Bonoff, it was 2018 before I bought a copy of "Restless Nights," still in its shrinkwrap with promo sticker ("Contains the Hit Single 'Trouble Again'"), down at Shady Dog in Berwyn. And it's perfect for what it is, well worthy of a listen when I'm in that female singer-songwriter mood. The mood itself is very '70s, and so is this, and it's perfect in its own way. And I feel like a schmuck for never having bought it, after she went to all the trouble of making 3WBMW fall in love with me and all.