Well, the last couple of Marc Almond albums were dark as dark can be. But with the next one up in my collection, "Vermin in Ermine," Marc Almond and the Willing Sinners (with many of the same band members as Marc and the Mambas) deliver something that is somehow bright, jaunty, and yet, still dark.
I had to give this a listen to remember some of the songs, but most of them have stayed with me all these years. "You Have" is a breezy, lovely piece that sings sweetly of sadness:
"Oh you have the saddest eyes
I have ever seen
Secret sorrows of a heart
That breaks so easily
Don't let me catch you crying
Just hear the sad breeze sighing"
"The Boy Who Came Back" is a wistful, horn-filled tale of a "boy" who decided to abandon his family — sometimes it's best not to think too much about the lyrics. But, there's an oddly hopeful refrain:
"He turned and he said
"Well we always have time,
Time on our side
And there's time for this boy to turn back"
One single that's a bit more like the previous records was "Tenderness Is A Weakness," but even that is more melodical than what Marc was doing just a year or so before. The single for this was on the 10″ format, somewhat unusual. The "Tenderness" side runs at 45 RPM, but in order to fit three songs on the flip side, it runs at 33 RPM. It was on this record that I first heard "Love For Sale," and no other version has ever really conveyed seediness like this one.
The singles from this album stand out, although they're all pretty enjoyable tunes. Even "Ugly Head," with its weird refrain of "You're so ugly, ugly, ugly . . . Ugly head" tends to stick in your, um, head. There's little of the self-indulgence of the previous albums, and some brighter production values.
This album came out in October, 1984, at a very interesting time in our lives. Married just a year, we had decided to move out of our first non-college apartment and were going to be among the first people to live in apartments in Syracuse's Armory Square – except that there were delays and the apartment we were moving to wasn't ready in time. Forced out of our previous place, we had to spend a month living in a friend's apartment (hugely generous of him) while we scrambled for another place. We ended up in a neighborhood of old rehabbed Victorian buildings, in a lovely two-story apartment with off-street parking in a quiet neighborhood where we'd live for the next six years. This album, and in particular "You Have" and "The Boy Who Came Back" are among the earliest songs I associate with that apartment where we spent some of the sweetest years of our lives, figuring out who we were. I really can't hear the horns in either of those songs without being swept back to that sweet apartment.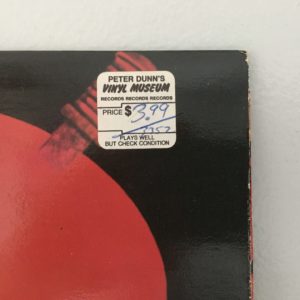 Peter Dunn's Vinyl Museum $3.99 – Plays well but check condition!
I have, for reasons I will never be able to (or need to) remember, two different versions of this, one from the UK and one from Canada. The one from Canada conveniently features a label for "Peter Dunn's Vinyl Museum," which almost certainly means I acquired it on the one trip we ever made to Toronto. It was February, cold and icy. We made a stop at a sensationally iced-over Niagara Falls on the way. The drive was miserable in a little Renault Fuego that didn't handle particularly well in snow but also had very little by way of heat. We stayed in a hotel that, unbeknownst to us, was ground zero for hockey fan hooliganism, something that became apparent as we saw other guests in Maple Leaf jerseys loading in cases of Brador. People stood outside the lobby doors calling out, "Buying tickets! Selling tickets!" A neighboring room was occupied by an older professor-type who actually thanked us the next morning for being such quiet neighbors. The rest of the floor, as I recall, deserved no thanks.
At some point in that weekend we hit up whatever record stores we could find, and one of them must have been Peter Dunn's, which I believe at the time was on Yonge Street (other locations show up in searches). Interesting to learn after all this time that Peter Dunn was originally from Syracuse, and that there was also a branch run by his brother in Clearwater, Florida. I can't remember what else I bought there (although I know I have at least one or two other records with a Peter Dunn's sticker), but apparently I bought this Canadian cut-out of "Vermin in Ermine." It's entirely possible, being the completist that I am, that I bought it simply because it was ever so slightly different from the UK version, in that Marc Almond's name was emblazoned on the cover, whereas the UK version seemed to expect that you would know who this was. There isn't any difference in the tracks or anything else. Maybe that was worth $3.99 Canadian to me then (which I think was about $2 American – the exchange rate was high in the '80s).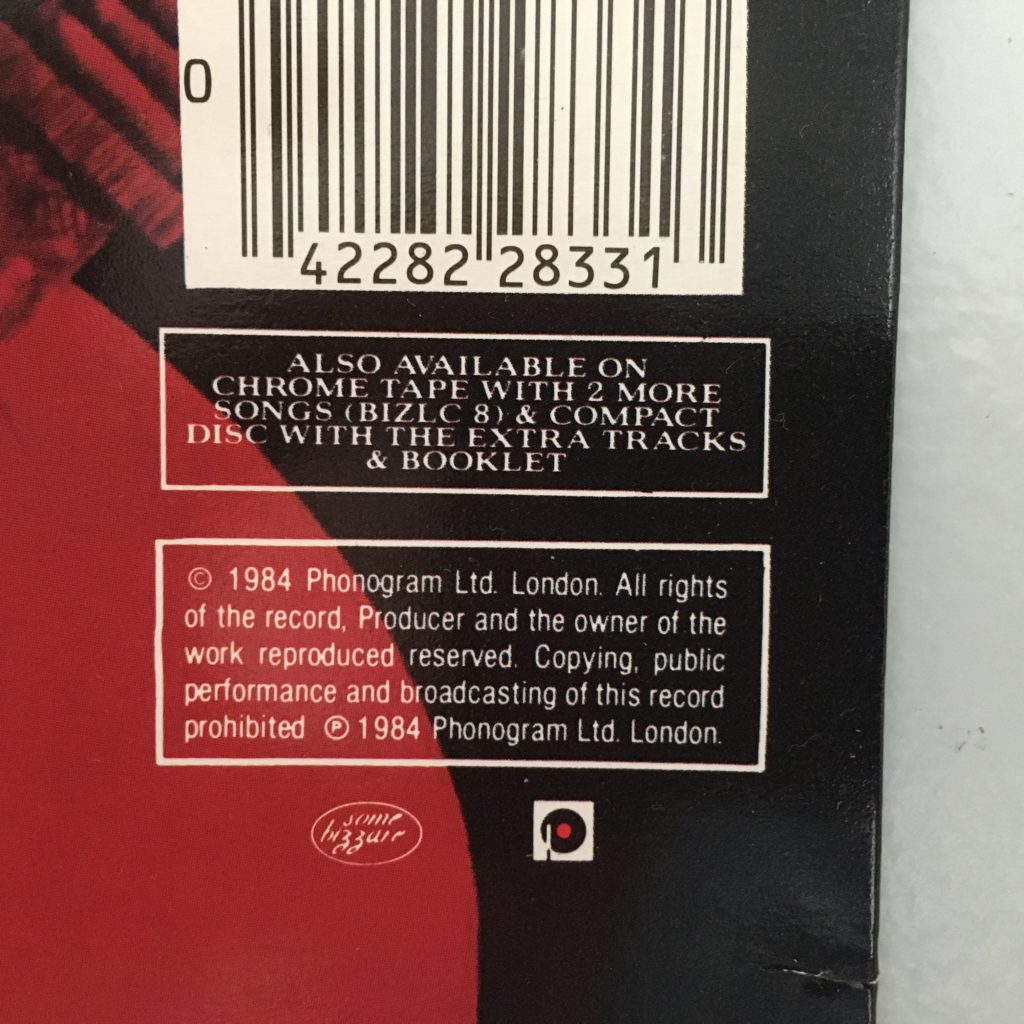 Warning: This album doesn't give you as many songs as either the cassette tape or compact disc.
While one copy of the album was smuggled across the border, the other copy and the singles appear to have been bought at Spectrum Records, the student cooperative store at Syracuse University where some anonymous buyer kindly fed my need for fairly obscure Marc Almond imports. The sticker says I paid $4.11 for "The Boy Who Came Back," which is considerably more than I paid for the album in Toronto.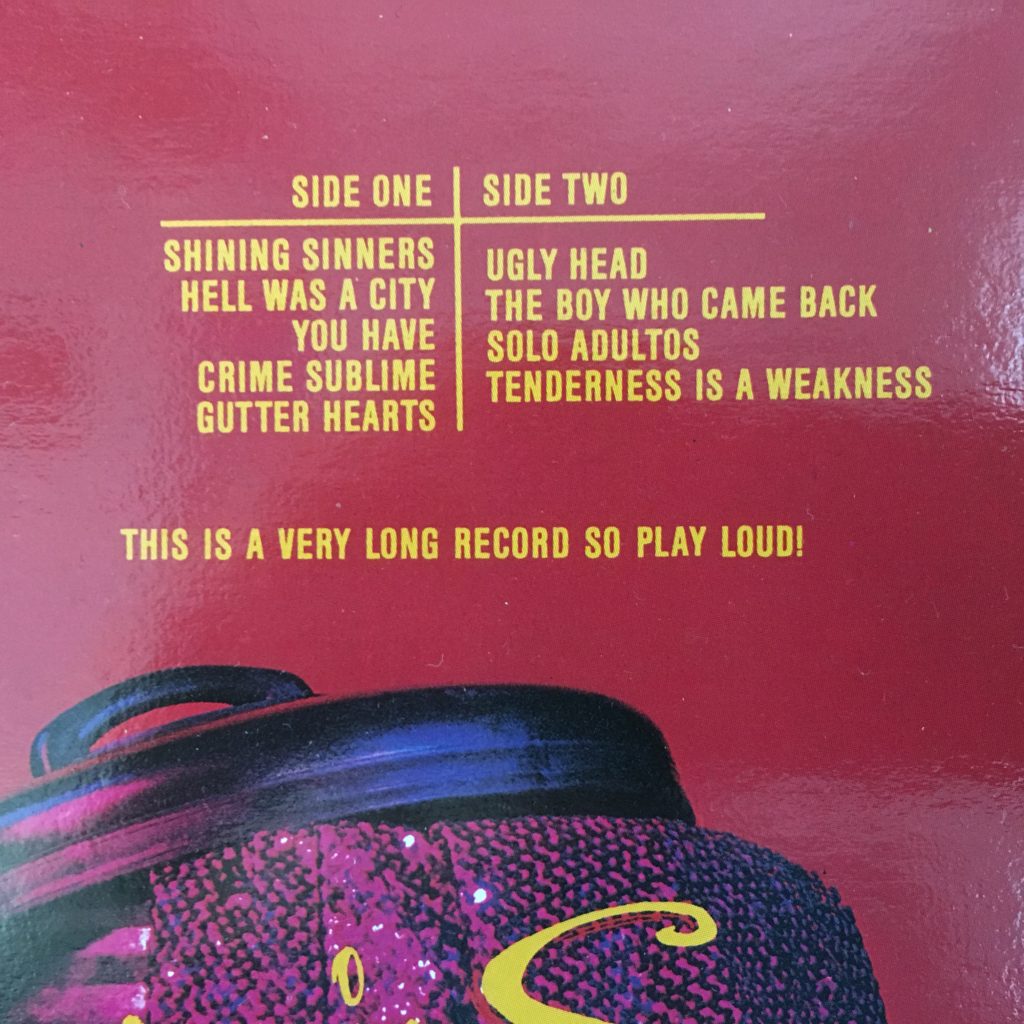 This is a very long record so play loud!