In a recent online discussion with some local fellow music afficionados, someone opined that for them, the soul music pyramid had Stax/Volt records at the top, followed by Philly soul, with Motown in third place. While some consider this blasphemy, I had to agree. It's not that I in any way dislike Motown or fail to appreciate the incredible artistry that was on that label — but something about it speaks to me less than Stax records do. Just how it is. And so, I don't have very much Motown in my collection. Among the little that I do have is this record, and honestly, it rarely gets played.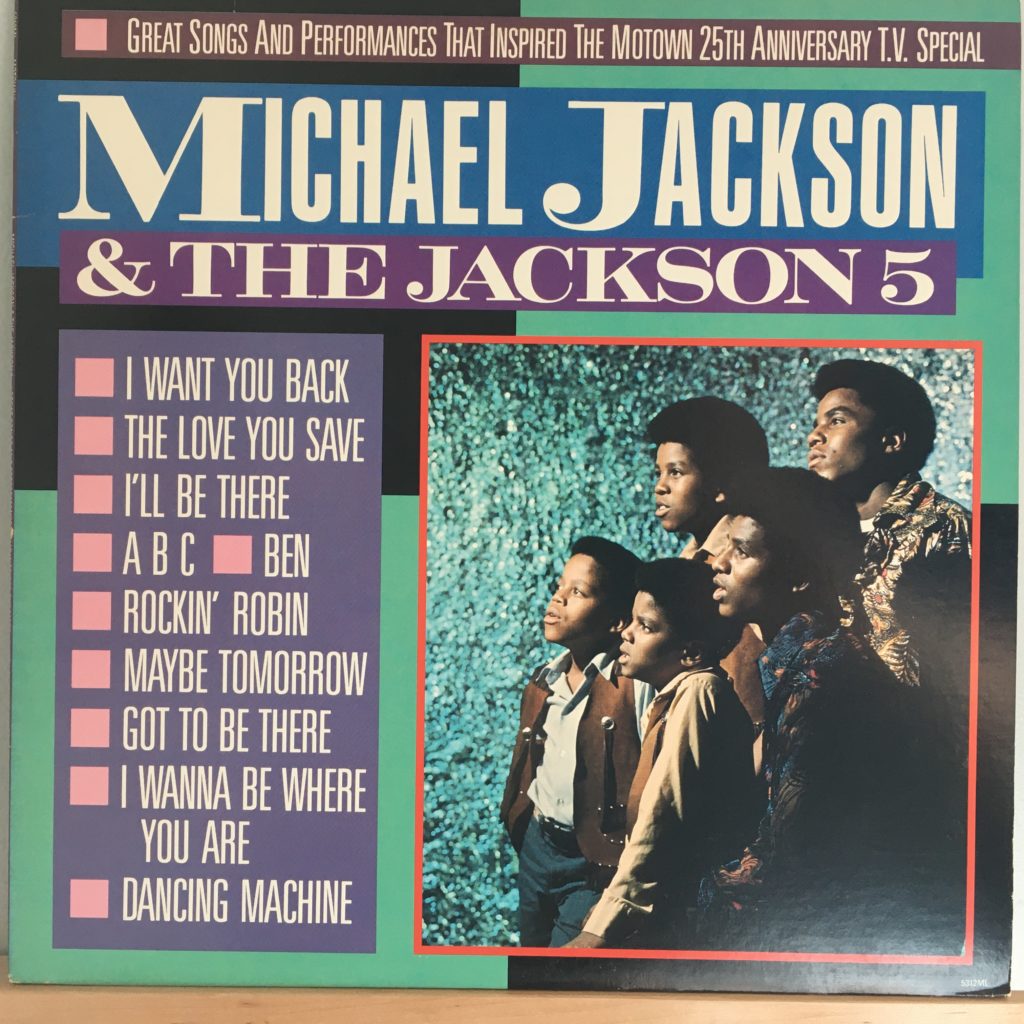 The full title of this, and several other albums in this series, is "Great Songs and Performances That Inspired the Motown 25th Anniversary T.V. Special." That special aired in 1983, when Motown, founded in 1959, was in its 25th year. The special featured some of Motown's biggest stars, and came out just after Michael Jackson's "Thriller" had been released. For the Jacksons, it was a reunion, and they performed four songs before turning the stage over to Michael for what was really a career-making solo performance. He did "Billie Jean" (the only non-Motown song performed on the special), and performed the moonwalk for the first time, and the world went nuts.
If you breathed air in 1983, you owned "Thriller." If you had hearing, you heard songs from "Thriller." Seven singles were released from a nine-song album. I remember walking down a street near Tompkins Square Park in New York City and hearing a kid who couldn't have been four screaming out loud the lyrics to "Billie Jean." This thing was a cultural phenomenon. Michael Jackson's previous solo album, "Off The Wall," had done well, but this record spent 37 weeks at number one, and reportedly remains the best-selling album of all time. I owned a copy of "Thriller" back then. Everyone did. It was mandatory. And for the time, it was a great album.
"Thriller" was still very fresh when I picked up this Jackson 5/Jacksons/Michael Jackson collection, probably in 1984 or so. It was more nostalgia than anything else — these are great songs (except "Rockin' Robin," a song I believe should be outlawed, no matter who's doing it), but it's not music I listen to a lot. Ultimately, I felt the same about "Thriller." Because it was so oversaturated, I jettisoned it at some point. I was simply never going to be sitting in my home and thinking, "I have not heard Billie Jean enough." I held on to this one, although I rarely play it.