I've talked a lot about the various combinations and iterations that the early Beatles albums took, different songs under different titles on different sides of the Atlantic. The Beatles exploded in America with their performance on the Ed Sullivan Show in February, 1964. At that point, they'd really put out two studio albums. In June 1964 (July in the UK, oddly reversing how things had worked), they put out their third.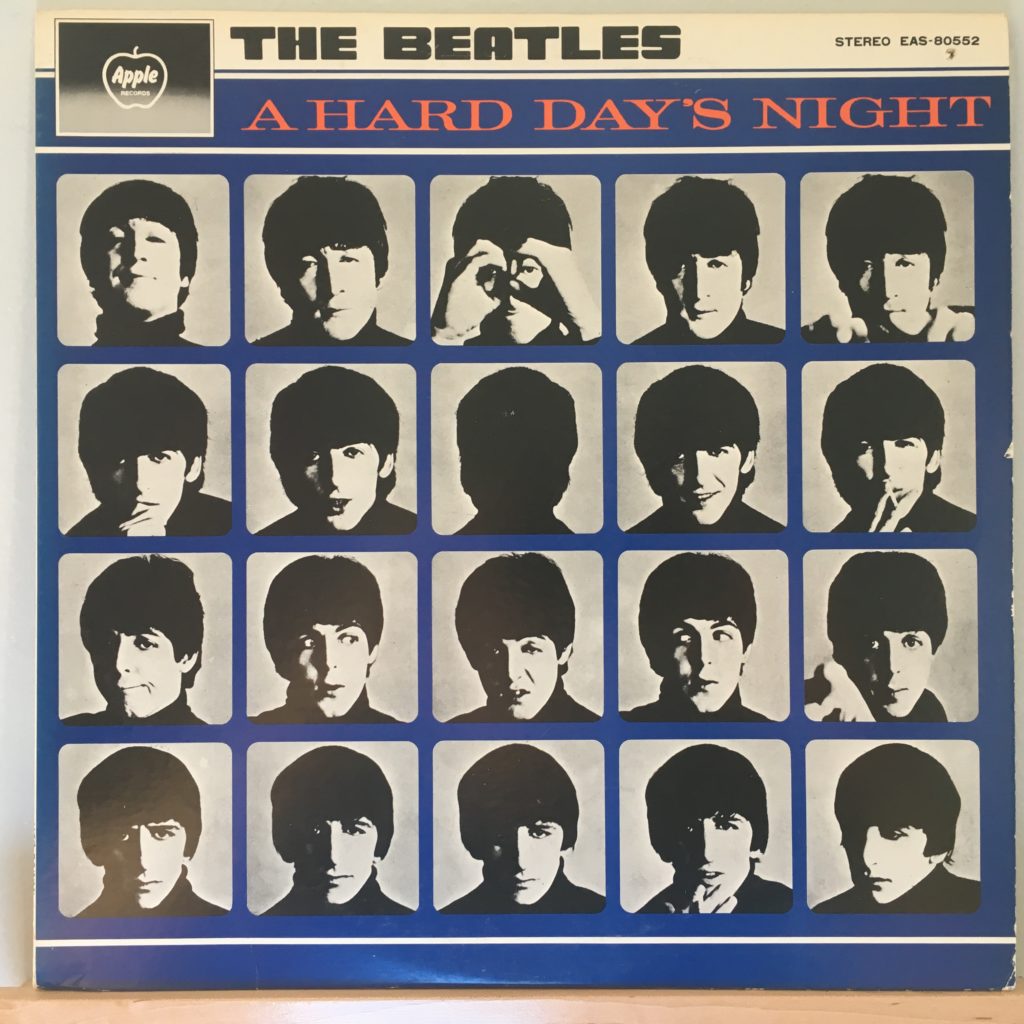 Imagine for a moment: "A Hard Day's Night" is their third album. There are no more rhythm & blues covers — this is 100% original material. In fact, it's 100% Lennon and McCartney material (George gets to sing lead on one, but didn't write any). These songs were all written for the groundbreaking movie of the same name, the movie that would essentially define The Beatles' mystique.
Once again, my snobbery against the US releases means that I never owned the copy of "A Hard Day's Night" that most Americans would have known. That release is all the songs that were featured in the film, plus "I'll Cry Instead," and four orchestral instrumental versions arranged and conducted by George Martin.
The UK version's first side held the songs that were actually included in the movie: "A Hard Day's Night," "I Should Have Known Better," "If I Fell," "I'm Happy Just to Dance With You," "And I Love Her," "Tell Me Why," and "Can't Buy Me Love."
If any other band could have come up with those seven songs in their entire career, they'd have been legendary. The Beatles did them for half an album.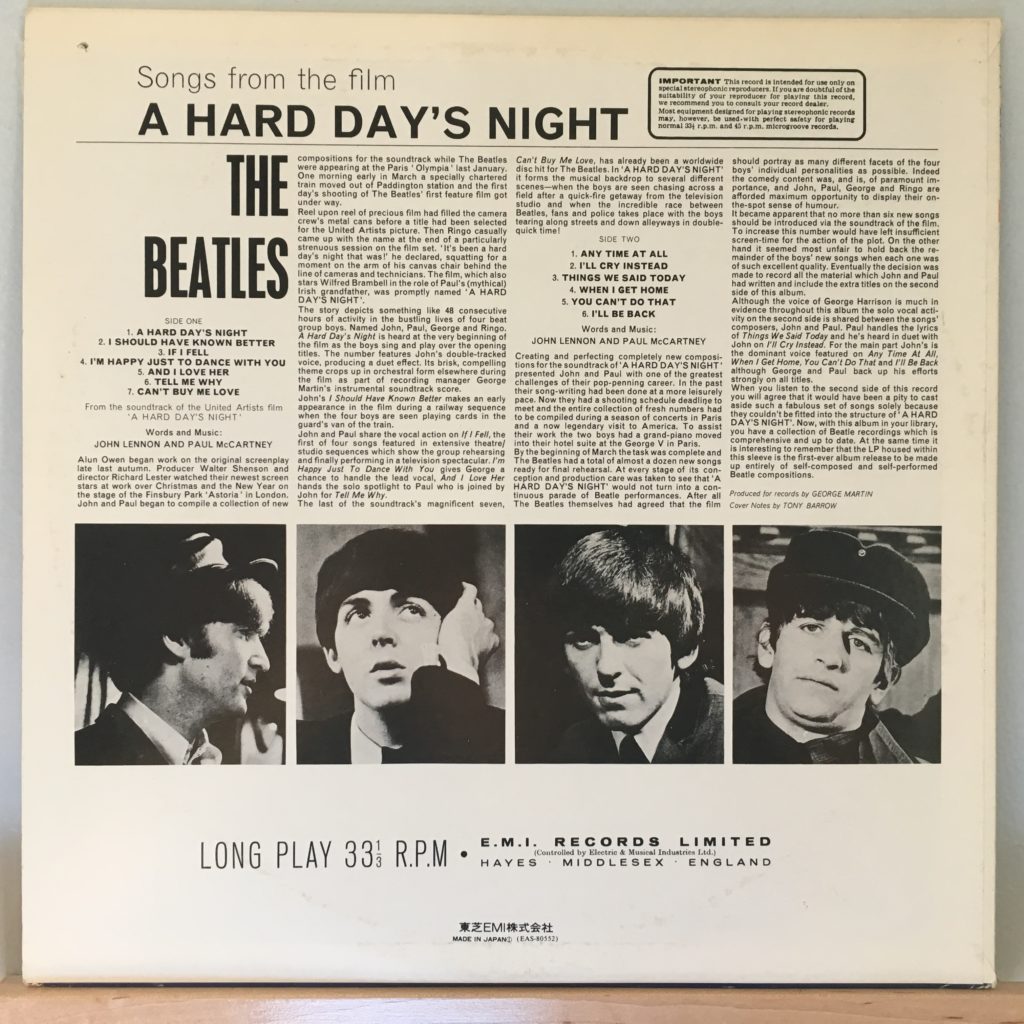 Side 2 were the songs that didn't make the album: "Any Time At All," "I'll Cry Instead," "Things We Said Today," "When I Get Home," "You Can't Do That," and "I'll Be Back." Every single one a great rock 'n' roll song.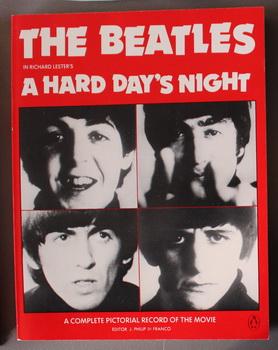 Now, we were just coming to know The Beatles around 1979. The movie had come out in 1964, and while it was probably periodically re-released and shown here and there, I had never seen it. It's possible it had been on TV at some point. It's probably hard for anyone today to understand or remember, but it used to be you couldn't just watch what you wanted to anytime you wanted to. This is before videotape rentals, even. If you wanted to see a movie, you either had to find it in a theater (unlikely), or wait until it was on TV. In order to sate my need to see this legendary movie, I had (still have) a large-format paperback filled with stills and the script from the movie — you could follow along and sort of piece together what happened. That was the best we could do. But somewhere around the height of our Beatlemania, we got to see "A Hard Day's Night" on screen. Can't remember if it was on campus or, possibly, at the Everson Museum (where I know we saw some form of documentary/concert film, though I couldn't tell you what it was).
Well.
Have you seen "A Hard Day's Night"? It's hard to imagine that the boys who could do no wrong as far as creating pop music was concerned could also do no wrong so far as creating an incredible pop music movie was concerned. It is warm, witty, fun, musical, exciting . . . it's The Beatles. It's also an amazing time capsule, and one could be forgiven for looking into it and wishing one were part of that world. It was mind-blowing. (I may say that about The Beatles, a lot. I mean it.) Everything about it is perfect.
While I love every song on it, this has never been one of my favorite Beatles albums. That an album can be this good and maybe not make my top three of the early Beatles albums, in my estimation, just says something about the quality of what they were putting out in 1964, '65 and '66. There's nothing to compare to it. So yeah, it's great. But I never played it a huge amount.
I bought this copy at Desert Shore Records for $5.00, probably around 1979 or 1980. Oddly, it's a Japanese pressing. The front and back covers are normal and in English, but the insert includes copious liner notes in Japanese. It's also pristine sounding.