Here's another example of knowing The Beatles before I really knew The Beatles. Although I was pretty insulated from radio and music generally until I was about 12, I spent my teen years as an avid devotee of Top 40 radio, and so here and there and now and then I was exposed to nearly all The Beatles' hits. So, certainly, I had heard the song "Magical Mystery Tour," and probably even had an understanding that there was something like a film associated with it. (Something like one.)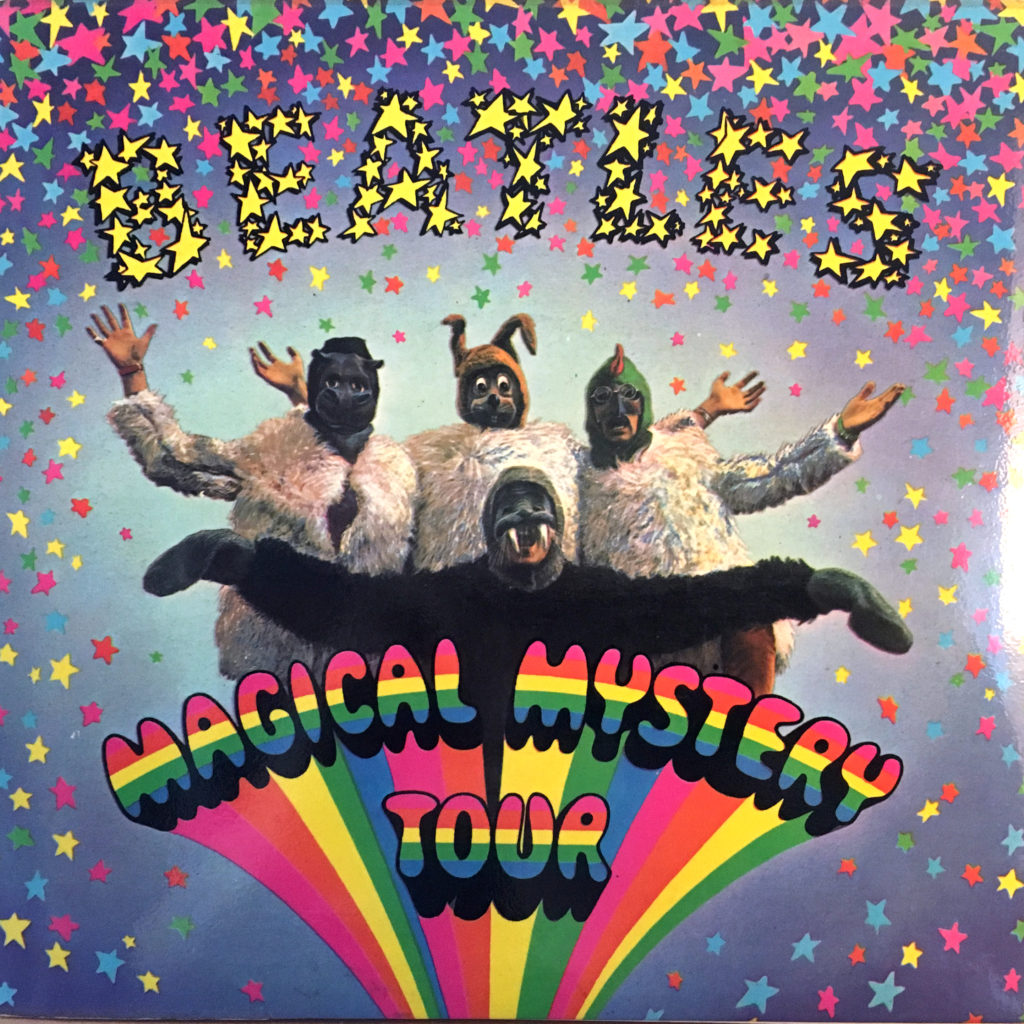 But my real memory of "Magical Mystery Tour" has more to do with an amusement park ride. In Lake George, New York, stood a charming old-fashioned regional amusement park called Storytown U.S.A. Storytown was a delightfully simple little place, opened in 1954 by Charley and Margaret Wood. It was a land where Mother Goose tales came to life, sort of — it featured buildings and tableaus based on nursery rhymes. For example, there was a giant shoe that little kids could walk into (for the old woman who lived in a shoe). There was a Humpty Dumpty perched on a wall. There were swan boats, and Mary with her little live lamb(s). You couldn't believe how sweet all this was, or how magical for a tiny tot. There was also, a little later, a wild west entertainment called Ghost Town, and a Jungle Land, which was essentially a train ride through an Adirondack swamp. There were little trains to ride, and an overhead tram. As the park grew, it added traditional amusement park rides, including roller coasters. By the time I was a teen, it was an amusement park for all ages, and we would marvel at how tiny the attractions were that had captivated us as children — how we could barely fit inside the whale's mouth, for instance — and then go on to the bumper cars and Ferris wheel and have ourselves a good old teenaged time.
One of the rides was a standard midway scrambler ride, but it was inside a geodesic dome. You would wait in line outside, and then once inside and strapped into the scrambler's seats, the lights would go out, and as the ride started to spin, the music would start to blare. The ride was called "Magical Mystery Tour," and that's the song that was played, super loud, as strobe lights splashed across the the dome, creating a literally dizzying experience. In the dark, the strobes revealed staccato flashes of what was going on, adding to the already disorienting experience of the scrambler. You'd be trying to figure out where the wall was, and find yourself inches from another group of screaming teens coming right at you. If it was supposed to be like a trip, well – it was quite amazing. And oddly romantic, if you were with a girl you fancied . . . just being together in the dark seemed like some kind of promise, like there could be moments in the dark again sometime.
So to me, that's what "Magical Mystery Tour" means.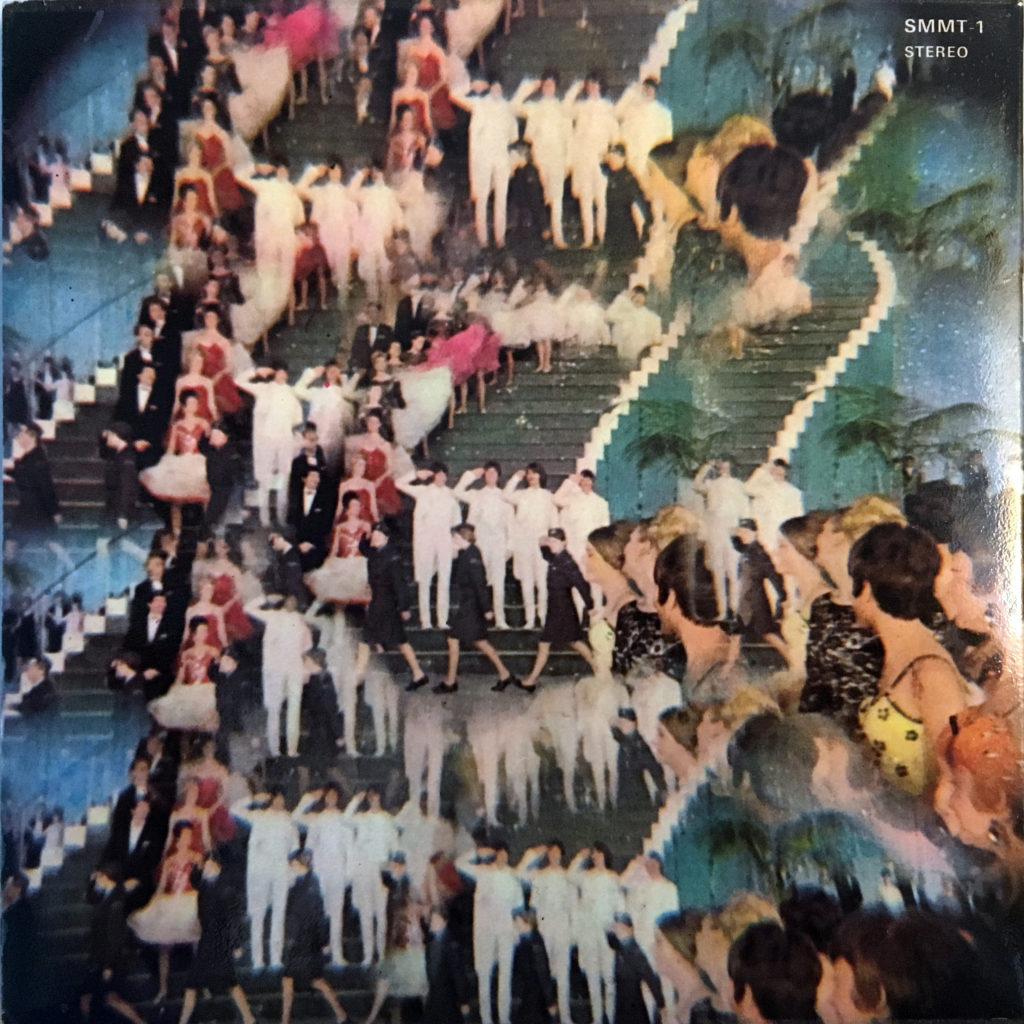 The made-for-TV movie that most of the songs on the "Magical Mystery Tour" album were written for is a famous mess. Psychedelics and a production budget haven't ever produced an awful lot of worthwhile entertainment. The songs are a mix of rock, Beatles romanticism, experimentalism, and retro influences. Taken on their own, they are all fine, but it's not easy to think of this as an album, really.
I have two versions of this. One is a highly prized reissue of the original UK release on the Parlophone label, a 7" two-disc EP set with a full printed booklet including the story of the television special and the song lyrics. There simply aren't many recording artifacts quite like this, so it's a delight. It includes only the songs that were in the special: "Magical Mystery Tour," "Your Mother Should Know," "I Am The Walrus," "The Fool On the Hill," "Flying," and "Blue Jay Way." I'm not entirely sure when I bought this, though as with my other Beatles imports it probably came from Record Theater in Syracuse. Their import section wasn't huge, but it was Beatles-centric, which worked out just fine for little old me.
The other is the American release, which features none of the booklet features but does add five more songs to make up a complete album: "Hello Goodbye," "Strawberry Fields Forever," "Penny Lane," "Baby You're a Rich Man," and "All You Need Is Love." And as much of a UK-release snob as I am, none of those songs were released on albums in the UK — they were all singles, so the only way to get them when it came time to fill out my Beatles discography was to buy the American release.
Just as a postscript, some of the best parts of Storytown U.S.A. still exist. Over time, it changed its name to Great Escape, and is now a Six Flags park, but some of the charming old parts (as well as some rescued from the Land of Make-Believe in Jay, NY) still exist. Although they've added super technical scarycoasters and a massive water park, they still have things as simple as rides in Cinderella's carriage, and the swan boats.