"Meet The Beatles!" was released Jan. 20, 1964. That was just 20 days before their appearance on "The Ed Sullivan Show." The Vee-Jay album "Introducing… The Beatles (Vee-Jay's version of "Please Please Me")" was released Jan. 10. Since Capitol didn't have the rights to the "Please Please Me" songs (yet), what they put out as "Meet" was a combination of the "I Want To Hold Your Hand" singles (which had "I Saw Her Standing There" as the American B side, and "This Boy" on the UK). Then it picks up nine songs and the cover photo from "With The Beatles."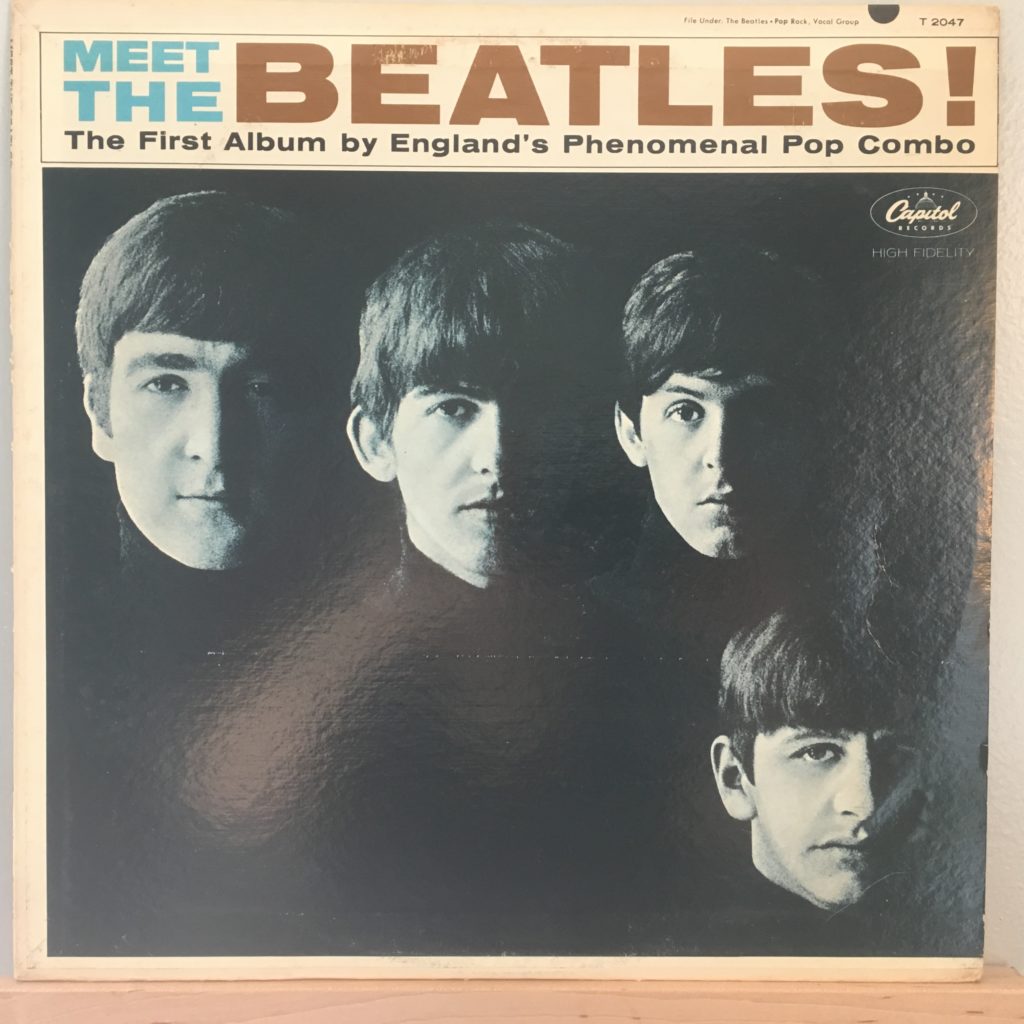 Have I mentioned my snobbery against the US releases? Coming into my understanding of The Beatles in the late '70s and very early '80s, I had amounts of righteous anger that Capitol Records, their US label, had seen fit to cut up and repackage the early albums: different tracks appeared on different releases than in the UK, some of the albums had different titles, some of the albums with the same titles didn't include all the songs – for a collector, it was a real mess. Some of that had to do with the rights Vee-Jay Records held to "Please Please Me," which kept that album's tracks out of Capitol's hands until a lawsuit settlement in October 1964. But that wasn't the end of Capitol's mucking about, and for a fan of The Beatles themselves, and their artistic choices . . . well, Capitol Records, why could American audiences not hear "Doctor Robert" on "Rubber Soul"? Hmm?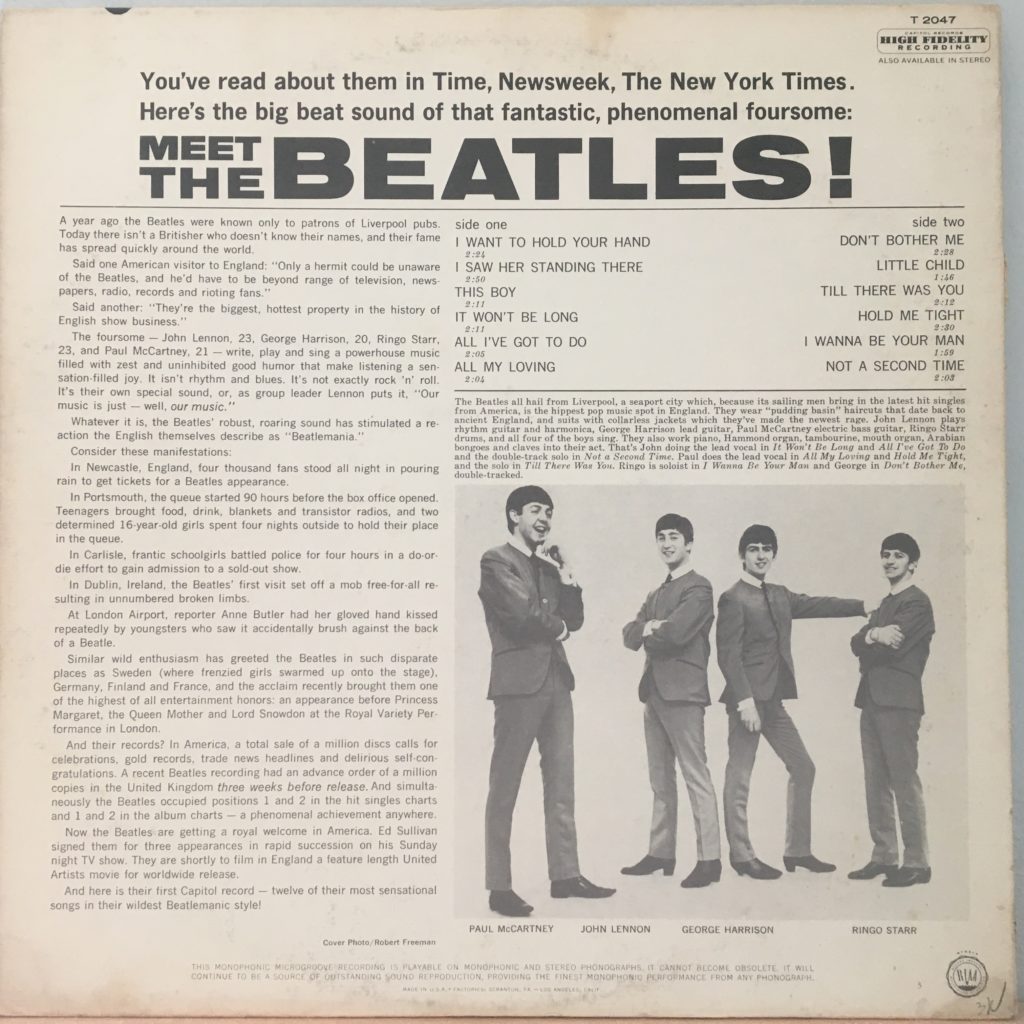 Because of aforementioned snobbery, and having essentially no interest in the American releases, and because I had all these songs elsewhere, and because original copies were expensive, I never owned a copy of "Meet" until 2015. We had just moved to the town where it's all happening, Phoenixville, PA, and were in a serious downsizing situation. I had a bunch of boxes of 1980s comic books that I really had no use for — I'd sold off anything of value, and what remained was mostly indie books and Marvel superhero stuff that didn't have much value. But there were several boxes of them, and they were taking up space. So I cast about looking for someone who might take them so at least they weren't destroyed, and I took them to a book and record dealer out in some wilds to the west of us where I'd never been before. His assessment of their value was not a surprise to me, but he offered more if I'd take it in trade. I was not then actively expanding my vinyl collection (downsizing, as I said), and most of what he had wasn't of such interest to me that I'd be able to just quickly clean up and walk on out with things I actually wanted. But I really wanted not to carry those boxes back home. So I looked at his prominent, high-ticket items, and there was a copy of "Meet The Beatles." I knew I didn't own it. He had a couple of other pretty rare original Ray Charles albums, and one or two other things, and so I walked out with those. I'm fairly sure I got a terrible deal. But, I got me a Scranton pressing of "Meet The Beatles." I've played it a couple of times, and the sound is fine, too.
My favorite part of it, though, may be the sleeve advertising other offerings from Capitol. I have always loved these mini advertisements for other albums on the labels, whether they appear on the sleeve or right on the jacket. For the most part, their generic, cross-genre approach just seems to me to say, "We don't understand our audience. Here's some stuff that as a Beatles fan you cannot possibly be interested in." That The Lettermen are part of an entire genre that is about to be washed under the tsunami of rock is at least something that they couldn't have known. But, judging by the liner notes on the back cover, which detail Beatlemania across the pond, they had to know that the audience for this disc was not looking for Vic Damone or Tennessee Ernie Ford. "Hey, 12-year-old girls who have completely lost your shit over the Fab Four — give Ferlin Husky a try!" But, every single record company took this approach — a generic sleeve they could use in any record they put out, advertising stuff just because it was on their same label. Today, although there are still some exceptions, it seems odd to even care what label put out the music you loved, but yeah, it was real thing. You had labels you liked and respected because of the artists they put out and the way they packaged them, and you had others that were just so lame it couldn't be believed and you might be a little embarrassed to have any of their records in your collection. (That I possess several Bell releases of The Partridge Family catalog has long required a heavy amount of "I don't care what anyone else thinks;" that Bell also released Tony Orlando and Dawn and Barry Manilow sank their coolness deep into the earth, as far as teenaged me was concerned.)