I started working on The Beatles entries thinking that I didn't own their very first album, "Please Please Me," released in the UK (not the US) on March 22, 1963. I also don't own a copy of their first US release, "Introducing… The Beatles," which came out on Vee-Jay Records on January 10, 1964, only 10 days before the US-only "Meet The Beatles!" was released. Why didn't I own these? Well, in the days when I was an active collector, that Vee-Jay record was unattainable, and while I was able to get imports of some of the other early UK albums, I never ran across a re-issue of "Please Please Me," as far as I can remember.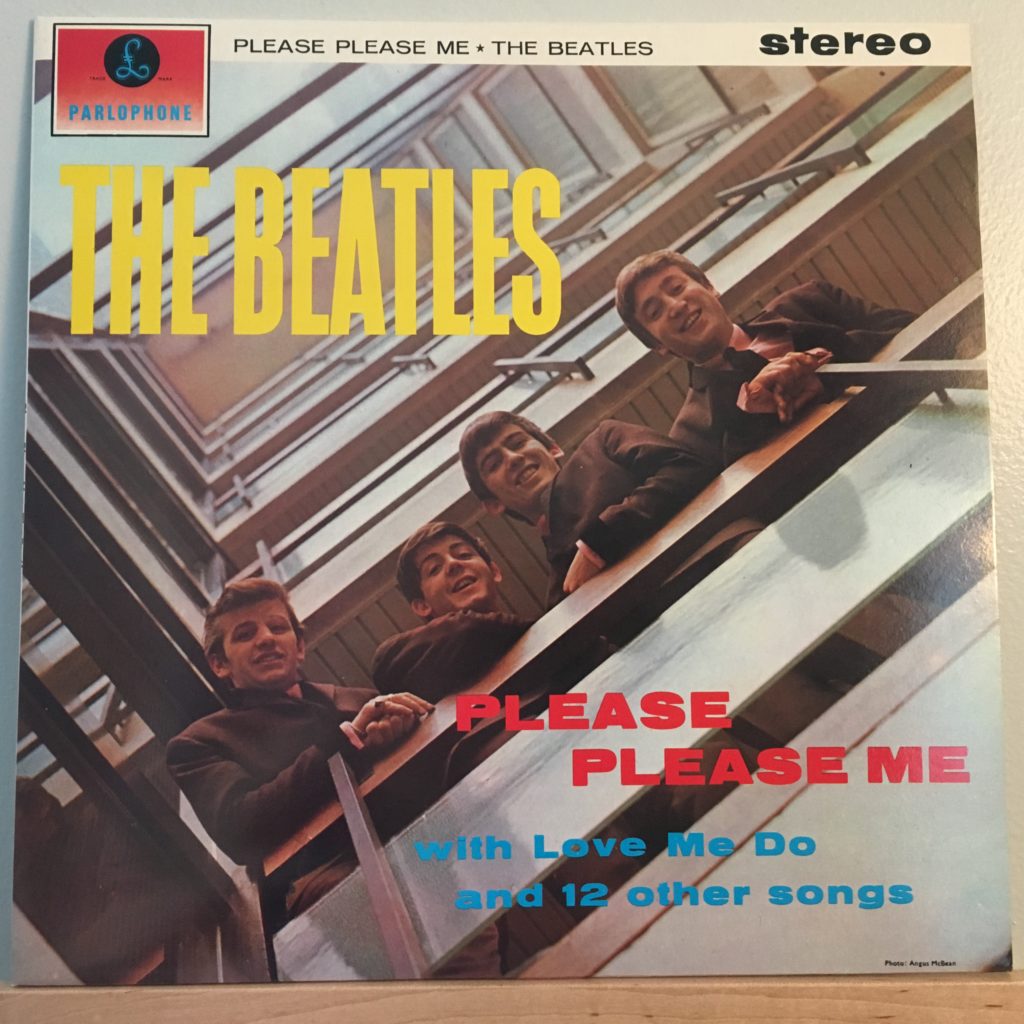 But I'm also an idiot, because of course I have a copy of "Please Please Me," because I have The Beatles Collection, the Parlophone box set that was first released in 1978. I got my copy sometime in the mid-80s, at a time when I certainly had better things to spend well more than $100 on (I saw one in a local store earlier this year for $450) but — it filled my need to have the original UK versions of all these albums, something that had eluded me. I bought this box set, and then painstakingly committed the entire Beatles discography, in as close to the proper order as possible, to cassette tape, and put these discs back in their box. If I wanted to hear Beatles, I played the normal, often beat-up albums on my shelf, or I played the tapes made from these pristine discs, but I didn't dip back into this box. To this day, the discs in the box set have been played maybe five times, tops.
So yeah, I have this. But I didn't own it at the peak of my Beatlemania and I didn't own its American equivalents, either. My roommate Danny, however . . . Well, he didn't own them either. But he did own a version of the "Please Please Me" album.
The Beatles were on EMI-Parlophone in the UK; that label had a US subsidiary, Capitol Records, which initially had exactly zero interest in releasing anything by The Beatles. A deal was struck with Chicago jazz and blues label Vee-Jay, which prepared an album called "Introducing… The Beatles." It was delayed while Capitol changed its mind, and in the end the Vee-Jay record wasn't released until days before Capitol's "Meet the Beatles!" came out. Vee-Jay tried to capitalize on what little they had by reissuing that first album in various covers with various titles. "Songs, Pictures and Stories of the Fabulous Beatles" was a reissue of the American "Introducing The Beatles." One blog calls it a desperate cash grab by Vee-Jay, and says that they didn't even bother reprinting the record labels, so they say "Introducing the Beatles." The cover promised that inside would be the "complete story of their favorite male and female singer, their favorite foods, types of girls, sport, hobby, songs, colors, real name, birthplace, birthdays, height, education, color of hair & eyes." The liner notes do not disappoint. It wasn't even the only time Vee-Jay repackaged this record.
So, we had it in our dorm rooms, and we played it, though probably never as much as some of the later albums, or the compilations. It opens with "I Saw Her Standing There," an amazing song with which to introduce an entirely new group to the world. The other originals shine while the covers mostly weigh things down. I've got nothing against Goffin-King's "Chains," but The Beatles add nothing to it. I have plenty against "A Taste of Honey," and didn't need to hear McCartney singing it. The best cover is the closer, "Twist and Shout," which they made their own.
Once my roommate had taken his records and decamped for another coast, I didn't feel any urgent need (or ability) to replace those missing songs, until the box set came along and gave me a reasonably priced opportunity to own "Please Please Me." It is the stereo version, so purists will frown, but what are ya gonna do.