Unlike anything that was going on in the record biz in the '70s, becoming a Beatles fan meant realizing that their albums were released one way in the UK, then (for reasons never revealed) cut up, repackaged, retitled, and released in a very different way in the US. The idea of an album as a cohesive, inviolable, well-thought-through whole hadn't really been invented yet (for pop music, anyway), so the record companies routinely felt free to just rearrange things for their read of local tastes. This already came up in the Animals discography. With The Beatles, it was especially egregious on their first several albums, for a number of reasons.
Last time we talked about "Please Please Me," their very first album from March 1963. It wasn't released in the US, although most of the songs turned up on the American debut album "Introducing . . . The Beatles" in January 1963 on Vee-Jay records.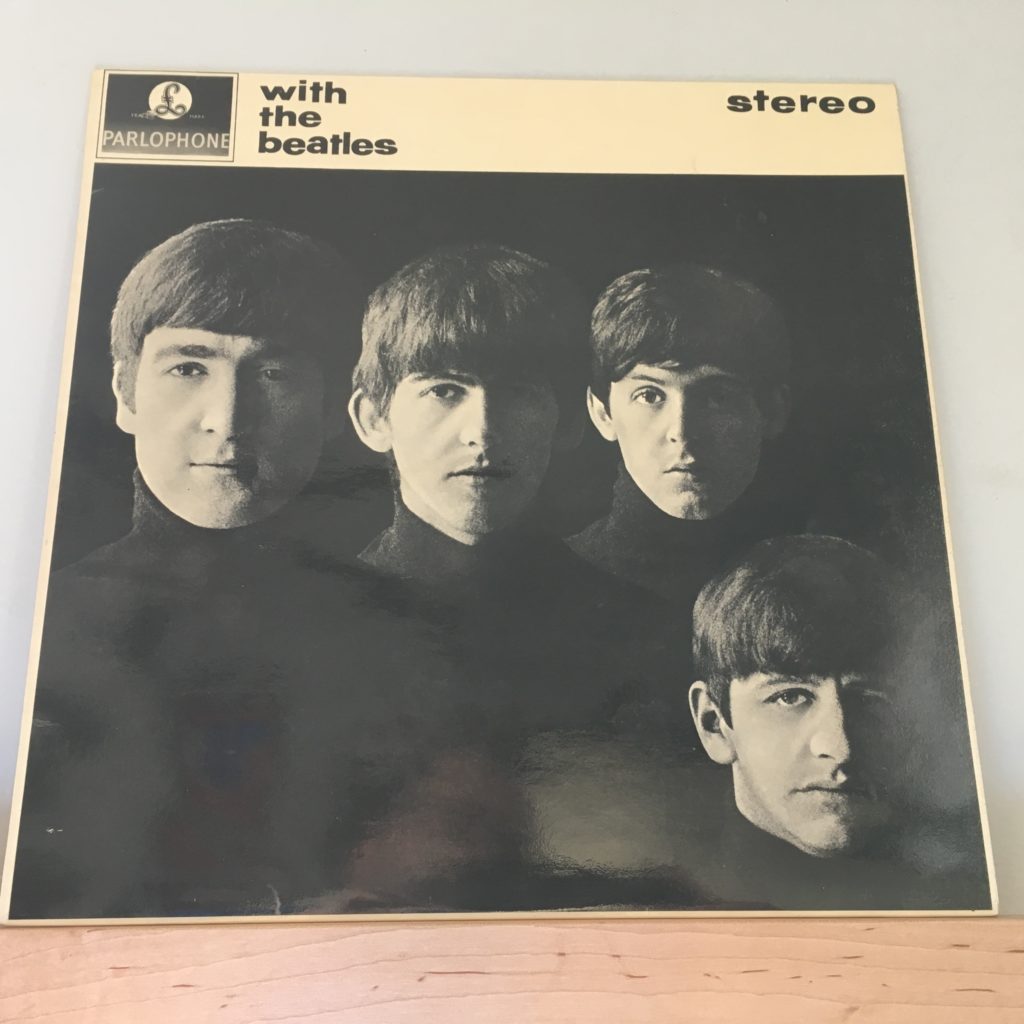 This time we're featuring their second UK release, "With The Beatles," issued on Nov. 22, 1963, which was a day something else much bigger was going on in the US. This album was also never released in the US (although it was in Canada, under an altered title). The tracks on this would be spread out over "Meet The Beatles" and "The Beatles' Second Album," which I would never buy just on principle because it is the lamest album name ever and I think Capitol Records was just insulting our intelligence.
Eight of the 14 tracks are by The Beatles (one by George Harrison, the rest by Lennon and McCartney). The covers are mostly good, including the sensational "Money (That's What I Want)," which it seemed like The Beatles owned after this version. There is, however, a supremely lame cover of "Till There Was You" from "The Music Man" that could easily have been lost in a fire without the world being any worse off.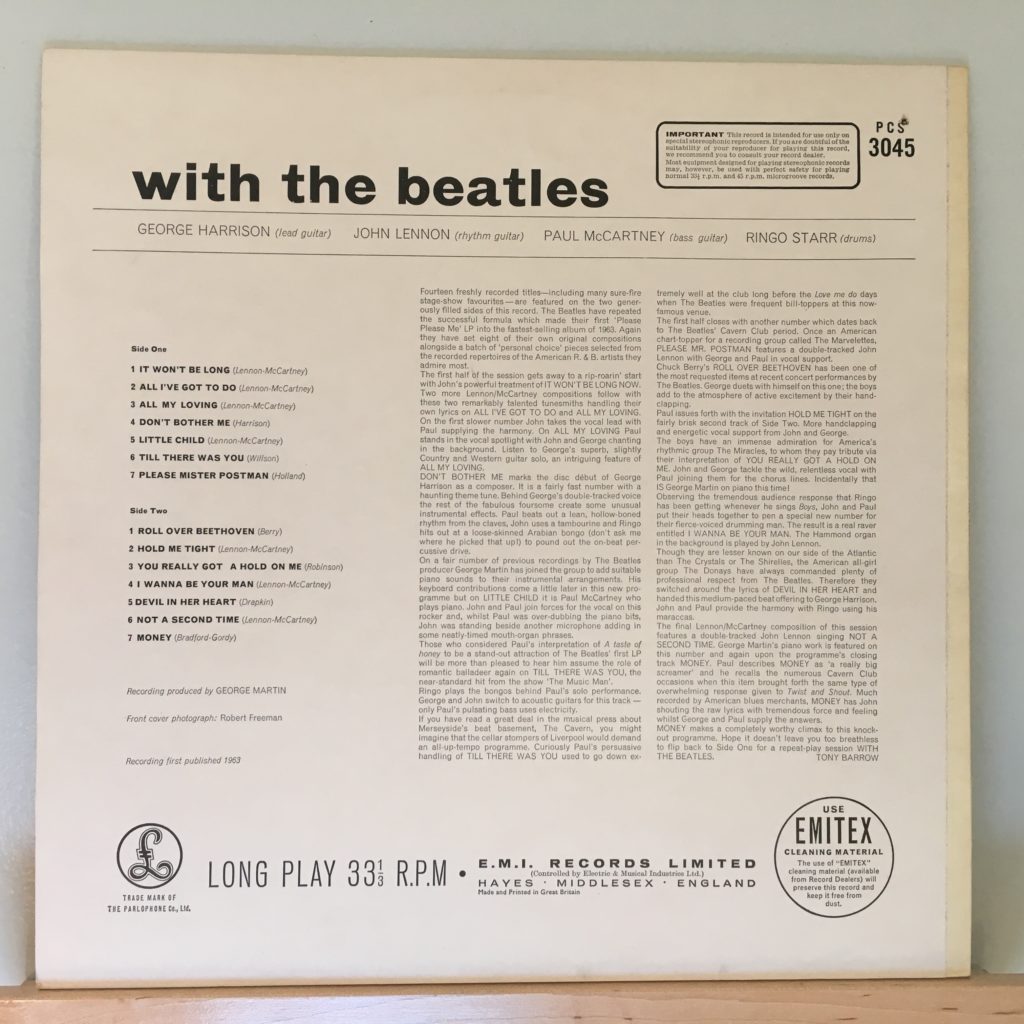 This album starts out strong with "It Won't Be Long" and then just keeps on rolling until Paul starts singing the show tune — "All I've Got To Do," "All My Loving," "Don't Bother Me," "Little Child," that brief sojourn into musical theater, followed by "Please Mr. Postman." The second side rocks even harder, starting with "Roll Over Beethoven," then "Hold Me Tight," Smokey Robinson's "You Really Got a Hold on Me," "I Wanna Be Your Man," "Devil In Her Heart," "Not A Second Time," and then closing with an absolute rave-up version of "Money (That's What I Want)."
Our Beatles, Our Cavern Club
Momentary aside — did you have that local band that meant more to you than oxygen? That created an excitement in your youth that nothing else would ever quite match, that you got to see possibly dozens of times, and never got tired of? For us, living in Syracuse in the late '70s, that band was The Flashcubes, which continued on as Screen Test. The Flashcubes were high energy, sharp power pop/rock 'n' roll, the band that everybody thought could be the next big thing – and given some of the groups they shared bills with, like The Romantics, they certainly could have been. (Check out this write-up at the PowerPop Hall of Fame and you'll see I'm not alone in my opinion.) Gary Frenay and Artie Lenin are amazing tunesmiths, and they've been part of the Syracuse music scene all these years. We loved, loved, loved pogoing to their songs.
But they also did a few covers, including some Beatles numbers that they often used to close out their shows. "Money (That's What I Want)" was one, and just about the same time I was really getting into The Beatles, The Flashcubes would often end a night of incredible rocking and vigorous jumping up and down (that's how I dance — don't judge) with an absolute rave-up version of "Money." Teens and 20somethings packed into a small, crowded space, a rocking band absolutely booming, hot and sweaty and incredibly excited – and listening to the Flashcubes whomp that song, you could easily imagine you were in the Cavern Club (not even 20 years before!!), part of the select few who were in on the excitement. We would pour out of The Jabberwocky (our Cavern Club) half deaf, out of oxygen, those last notes ringing in our ears, and stagger down the hill, sweaty, young and incredibly happy. They were our Beatles, they were going to be huge, and we were there, we were going to be the ones who knew them when. (It didn't play out like that, but make no mistake, it easily could have — they had/have the goods.)
So for me, "Money" is one of those songs. And when I heard (and hear) The Beatles version, what I really hear is The Flashcubes' version, and what I really hear is what it was to be 19, in love, and having the time of my life.
The one true label, and some bad typography
While I can no longer swear to it, I would guess that I bought this where I bought some other of my Beatles imports — the old Record Theatre on Marshall Street in Syracuse. Record Theatre was a small Rochester-based record chain. When I needed a brand new album (or, as in this case, an import), Record Theatre was where I ended up. I would say that I bought far, far fewer records there than at Desertshore or Spectrum, and yet probably spent nearly as much time browsing there. In later years, when they would move from Marshall Street proper into Marshall Square Mall, they would become one of my go-to CD suppliers.
Maybe this album wasn't a sign of impending, world-shattering genius, but it is really a cut above the other records of that time that were mining the same vein. Whether it's The Beatles themselves, George Martin's production, or some combination, this is a really, really solid record.
But if someone could please, please explain to me why the typography is so horribly off the baseline? Presstype isn't enough of an excuse. A jittery headliner isn't enough of an excuse. It almost looks … handcut? Like someone had to cut type on a rubylith (in which case, they did an amazing job, and it still sucks). It appears this way on other albums as well — were they trying to look jaunty? It doesn't look jaunty. It looks . . . sloppy.
I should probably reveal that one of the first things I learned to play on the piano (which I took up just two years ago) was "I Wanna Be Your Man." And by "learned to play," I mean if I hit the keys you would probably guess I'm attempting "I Wanna Be Your Man," and trying to learn that early, simple Beatles song gave me some appreciation for how even their simple songs aren't always simple.