This is a very 1965 strong follow-up to their debut, with the great "You Tell Me Why," and the dirgelike "Sad Little Girl," along with "Don't Talk To Strangers." It ends on the rhythmic "In Good Time." a solid pop rock album throughout.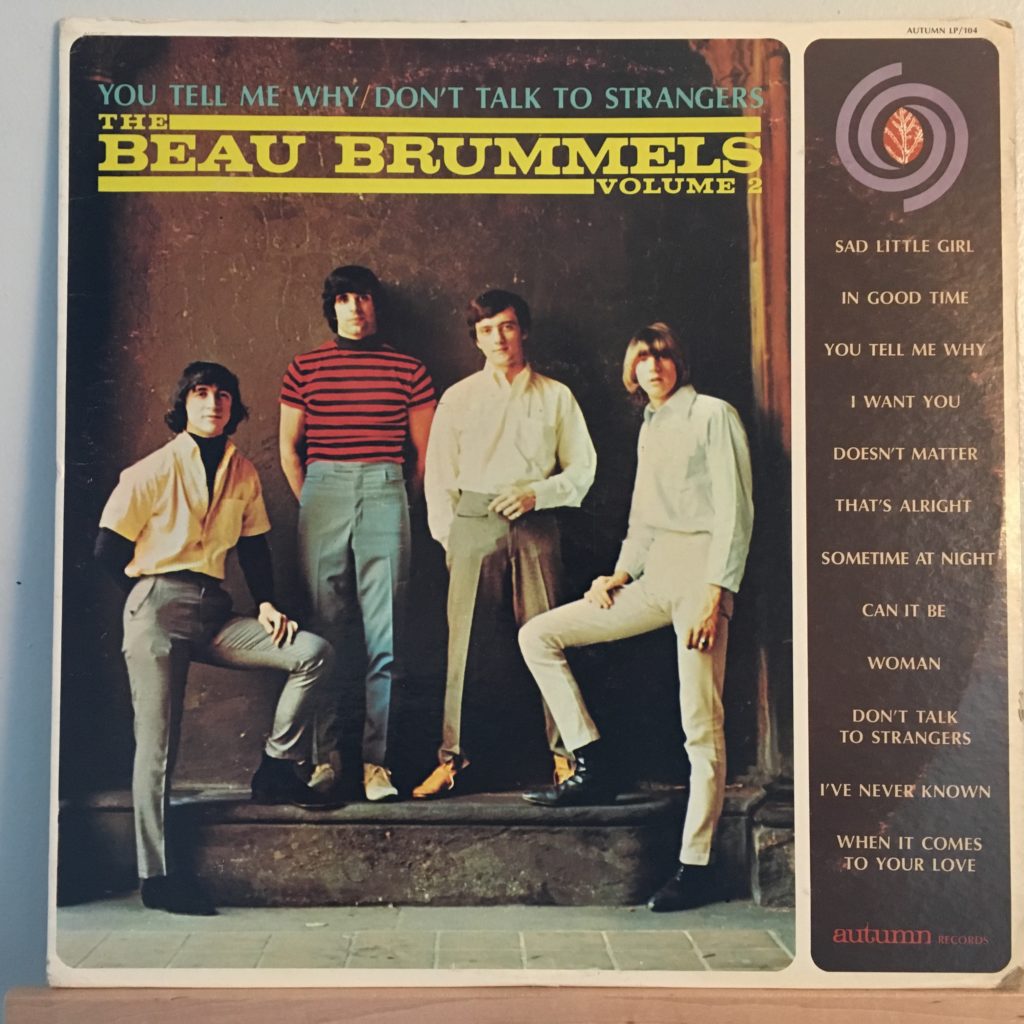 My memories of the Beau Brummels are that I started getting into them during a post-Beatles "anything British Invasion" period that lasted a year or two. It was really more than just the British Invasion – I was into anything in that pop/rock/power-pop vein. And when I say that lasted a year or two, I mean it lasted until today, and beyond. At the time, that meant I was bringing home every used record I could find by The Animals, The Kinks, Herman's Hermits, The Zombies, The Hollies . . . and the wave of American acts that capitalized on that sound, including The Beau Brummels.
I'm not exactly sure when I picked The Beau Brummels up, but I associate them with our first off-campus apartment. That would have been 1980-1981, when we moved catercorner from our last dorm room into a modern off-campus apartment block that was laid out like a motel — a low, two-story affair of studio apartments heated and cooled with incredibly expensive to run wall units. It would have been a tight space for two people, but we were pretty used to each other, and both spent long, long hours away from the apartment (he at the architecture studio. me at newspaper production). Thin walls, low ceilings — suboptimal for rocking, to be sure. Because there were so many foreign students living there, we dubbed it "The Embassy." When I play these albums, I always think of that cramped little room.
There was a lot of Beau Brummels in that fall of 1980. Along with The Left Banke and the Zombies, they're the sound of that autumn to me, and for me those bands are permanently associated with autumn.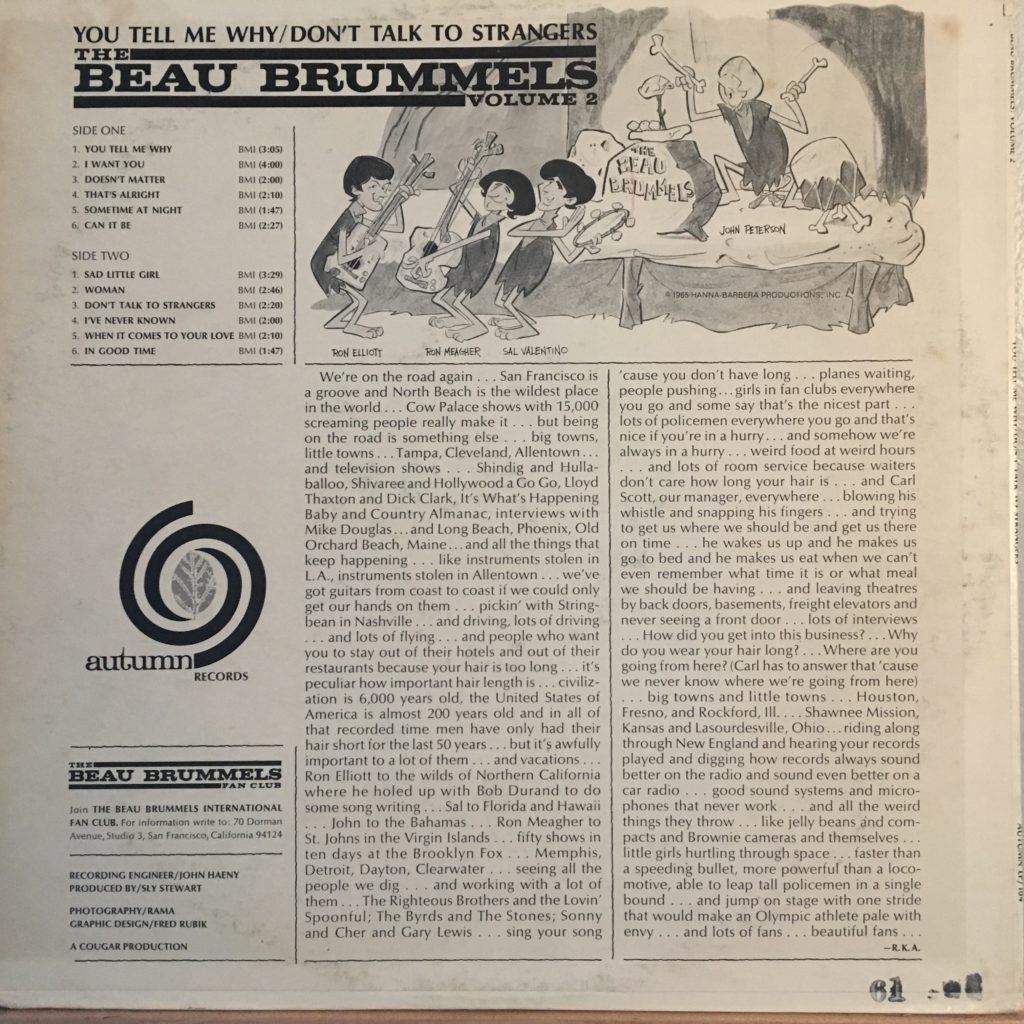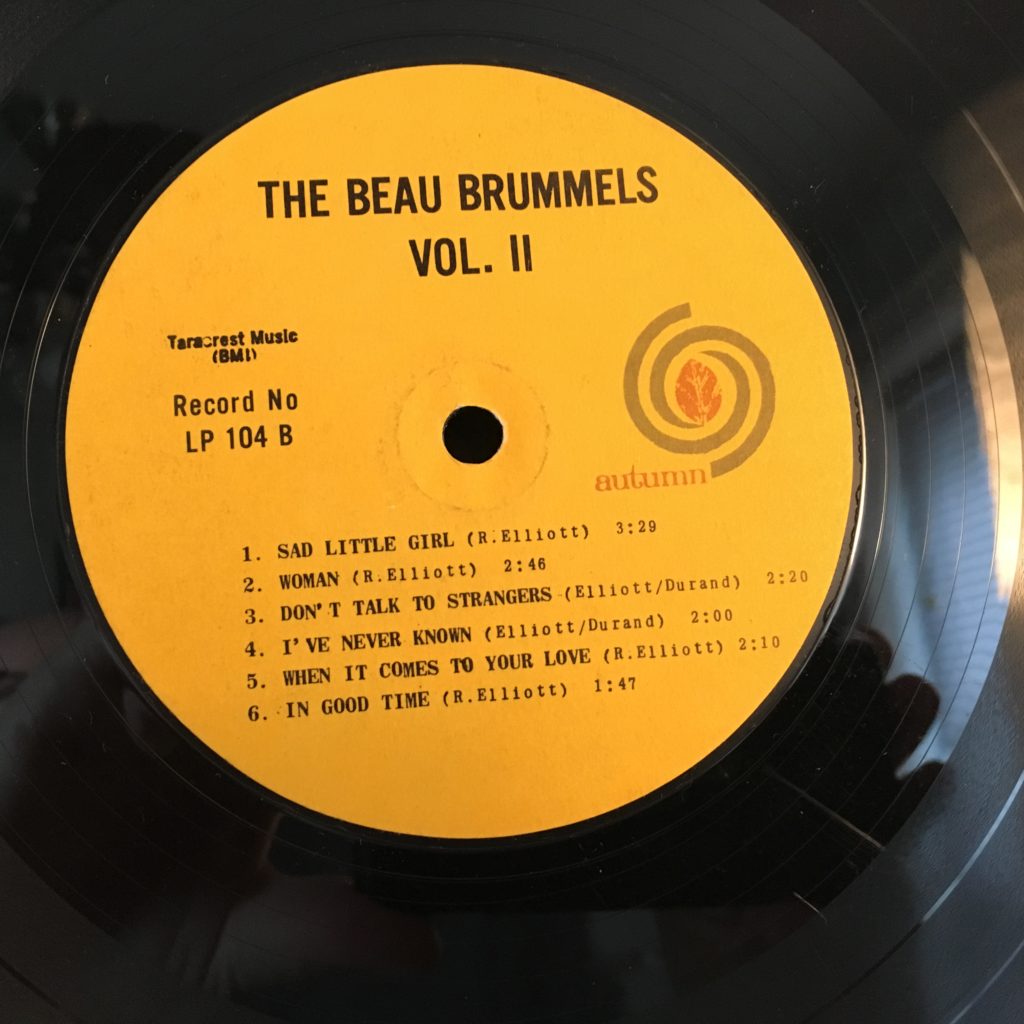 Sometimes when you get used records, they're not entirely in their original form. In this case, the sleeve for Volume 2 is a promo sleeve from something that was issued on Buddha Records, including an odd history of recording all the way back to Thomas Edison. It ends with the introduction of quadraphonic sound in 1969. I like it, but it isn't what the album was originally packaged in.