Not the first and not the last alphabetical challenge. Not the first and not the last new entry to my collection that presents said alphabetical challenge. This is Vanguard's incredible 2-disc "The Best of The Chicago Blues," which I didn't know existed until I found it at Siren Records in Doylestown a couple of weeks ago (for a pittance, i tell you!).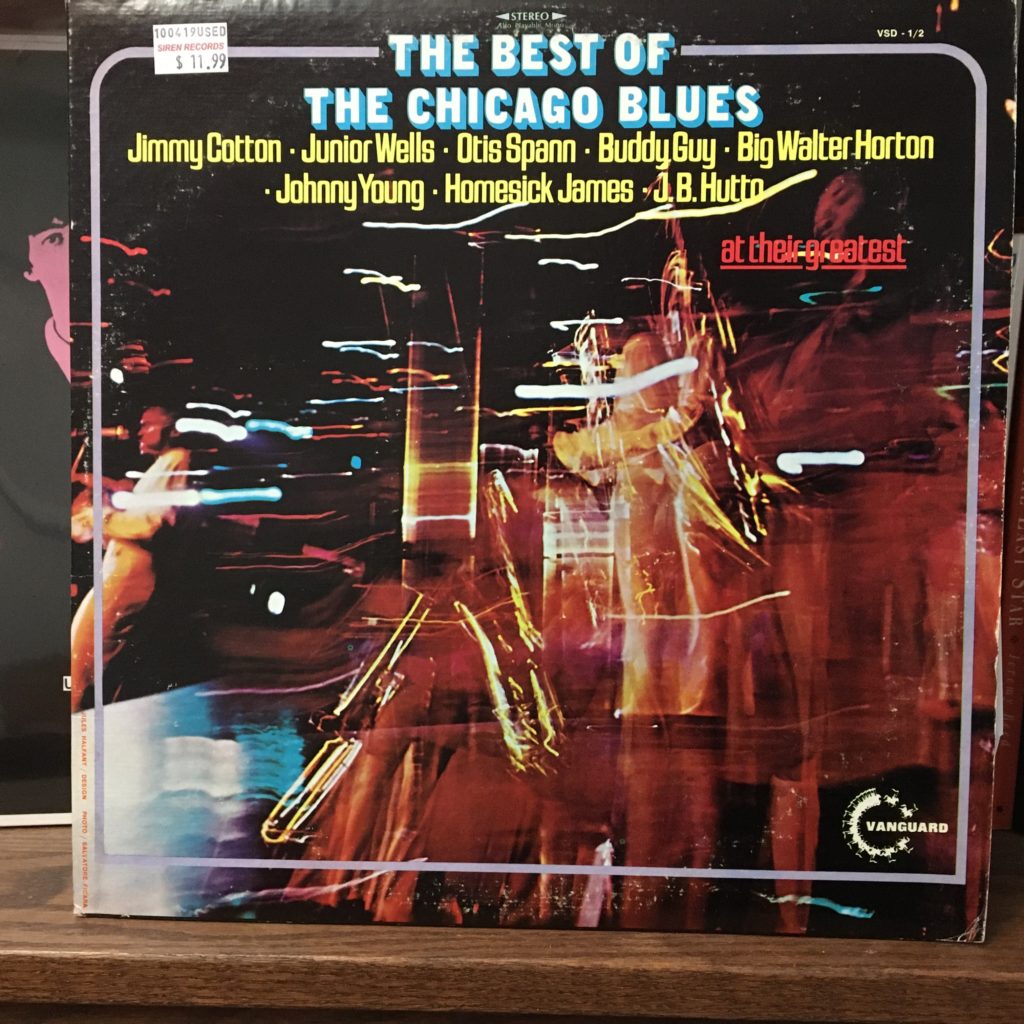 This is a compilation, without a particular lead artist that would cause me to stuff it in with that artist's ouevre. It's pretty evenly spread among Jimmy (Jimmy!) Cotton, Junior Wells, Otis Spann, and Buddy Guy, with a few other artists thrown in. (The same day I bought this, I also bought the fantastic "Blues Jam in Chicago," which, while it features Otis Spann, Willie Dixon, and others, is also fundamentally a Peter Green-era Fleetwood Mac album, and I believe I'll be hiding that one in with the Mac.)
So, if I'm looking for this record, I'm probably going to look for it under "Chicago Blues," and so there it shall reside.
Now, the record itself. I picked up three blues albums on that day at Siren, and had to restrain myself from buying more, because they had some awesome blues. Had I known how good my three picks would be, I probably wouldn't have bought anything else. This, in particular, is just prime Chicago blues — beginning to end, it's a "wow" album. Between this and the aforementioned "Blues Jam in Chicago," as well as the "Grape Jam" — and we've got to have a conversation about the "Grape Jam" — I've honestly had a hard time listening to any of the other (many other) records I bought that weekend.
For starters, I never had any idea there was a time when James Cotton was so young that he went by "Jimmy". His contributions to this are amazing. Buddy Guy is . . . well, he's Buddy Guy, you're not gonna get bluesier than that. Otis Spann, the elder of the group represented here — well, that's some piano playing. And Junior Wells, king of the harmonica blues, gets the most political track on the album, "Vietcong Blues." It's not exactly the antiwar track you might think it is.
This came out in 1970 on Vanguard, and I've gotta say, I don't know if there's better vinyl from that era than Vanguard vinyl. Even when it looks a little beat up, it plays beautifully — and this album is not at all beat up. The sound is fantastic. So, while I don't have a long history with this one, it is probably gonna be my go-to blues compilation for a long time to come.