This Australian EP from February 1984 is just excellent. Oh, I do love me some Church, and every track on this EP is beautiful. It kicks off with "Maybe These Boys," a pulsing little rocker full of attitude, and then moves right back into the dreamy jangly sound with "10,000 Miles" and "Into My Hands." Then, "A Month of Sundays," another haunting bit of work:
You're saying no no no I must be on my way
But it really has been a pleasant night
And you go so slow hope they'll ask you to stay
And indifference gives you a fright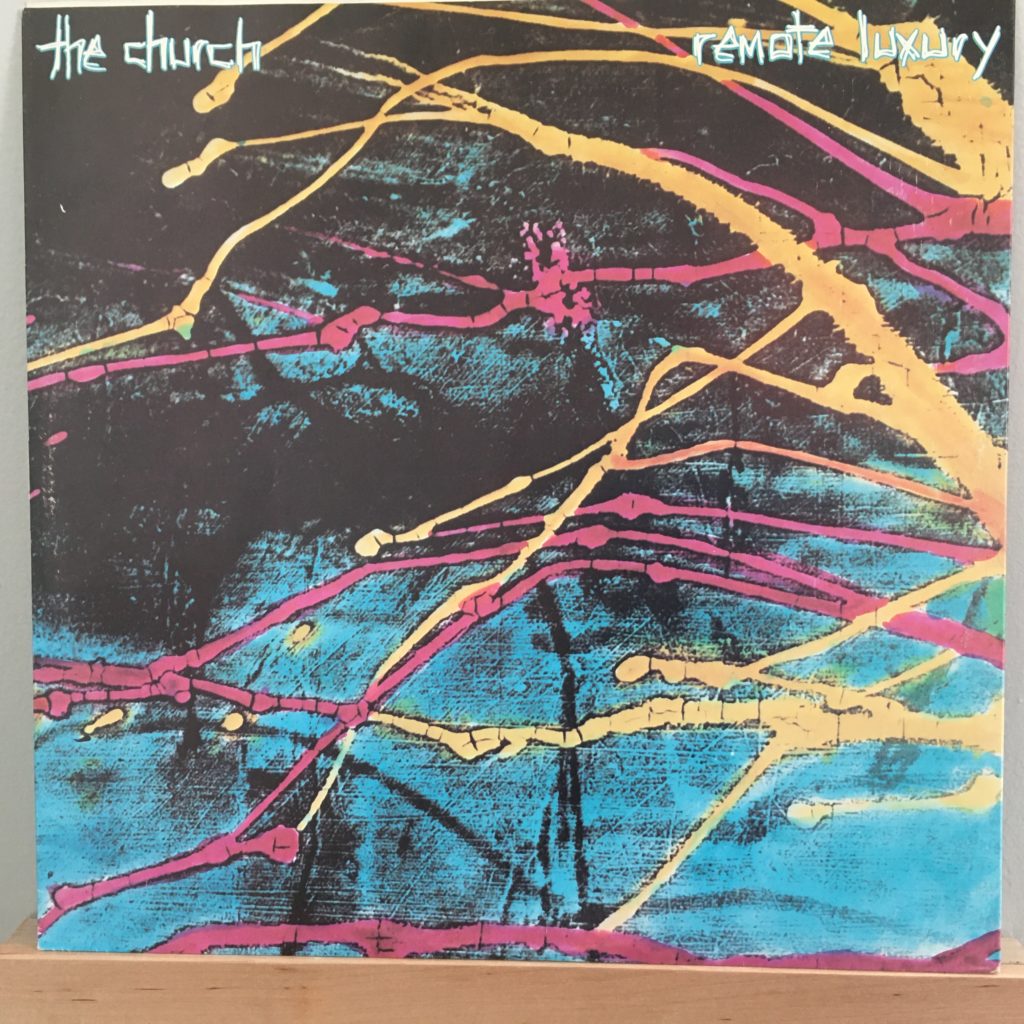 The final and title track, Remote Luxury, is an instrumental. The discography on Wikipedia says this came out in February 1984 — it was released only in Australia and New Zealand. I've had it since shortly after it came out in the winter of '84.
That was an interesting time of life — out of college, newly married, living in our first non-college apartment, working my second real job. An odd transitional time when some of our college friends had moved away, some hadn't, and we were out trying to make our way in the world – and by world, I mean Syracuse. The other thing that was going on that spring of '84 was that I was newly sober. I had had a rough few years of submitting to my genetics and my culture, decided enough was enough, and just stopped. Now that I look back on it, that's a lot of transitions to handle at once.
For some of the music I had collected up to that point, it was as much about the people who shared an interest in it as about the music itself. My roommate Danny and I had shared an intense love of The Beatles, and then of the British Invasion. He came back from a summer in Boston with a raft of new wave stuff we'd never heard of, and then MTV turned us on to even more new stuff, and in that 1982/1983 era, it seemed like there was so much new, good music. Then he and my other musical connections were gone, and sometimes playing that music . . . well, on the best of days, in the best of ways, it felt like a connection to what had been some pretty intense years of my life. But other times, continuing on with the fascinations I had built over the previous five years felt a little hollow, a little desparate, and most often, when I heard the next album by a band I had loved in college, or if I went diving through the bins looking for the '60s stuff we had loved so much, there was a little tinge of disappointment, a little feeling of regret and like it was time to move on. And, for the most part, I did.
But there were exceptions. Marc Almond, whose output only got better and better in those years, and I never felt even a little bit stuck in the past as I listened to his newer works. And The Church. And these songs are for me forever tied up in the feeling, the very smell of that spring.
April, the month I quit drinking, felt bright and sunny to me, and I had to look it up to see that it really was true — there was NO snow in Syracuse that April, which was pretty unusual. Now, we had had 40 inches of snow in March alone, so maybe we deserved a month off, but I'm glad to see my memory verified. It really felt like spring (and April's pretty early for spring in Syracuse). That thumping beat of "Maybe These Boys" will always sound like that April to me. (I'll say the same, ironically, of "Autumn Soon," which I got around the same time). And The Church, in general, I will always associate with better things to come.