A rare case where I'm going to take a pair of records out of chronological order because this is the one that first caught my eye and turned me on to the wonderful oddness that is The Creeps.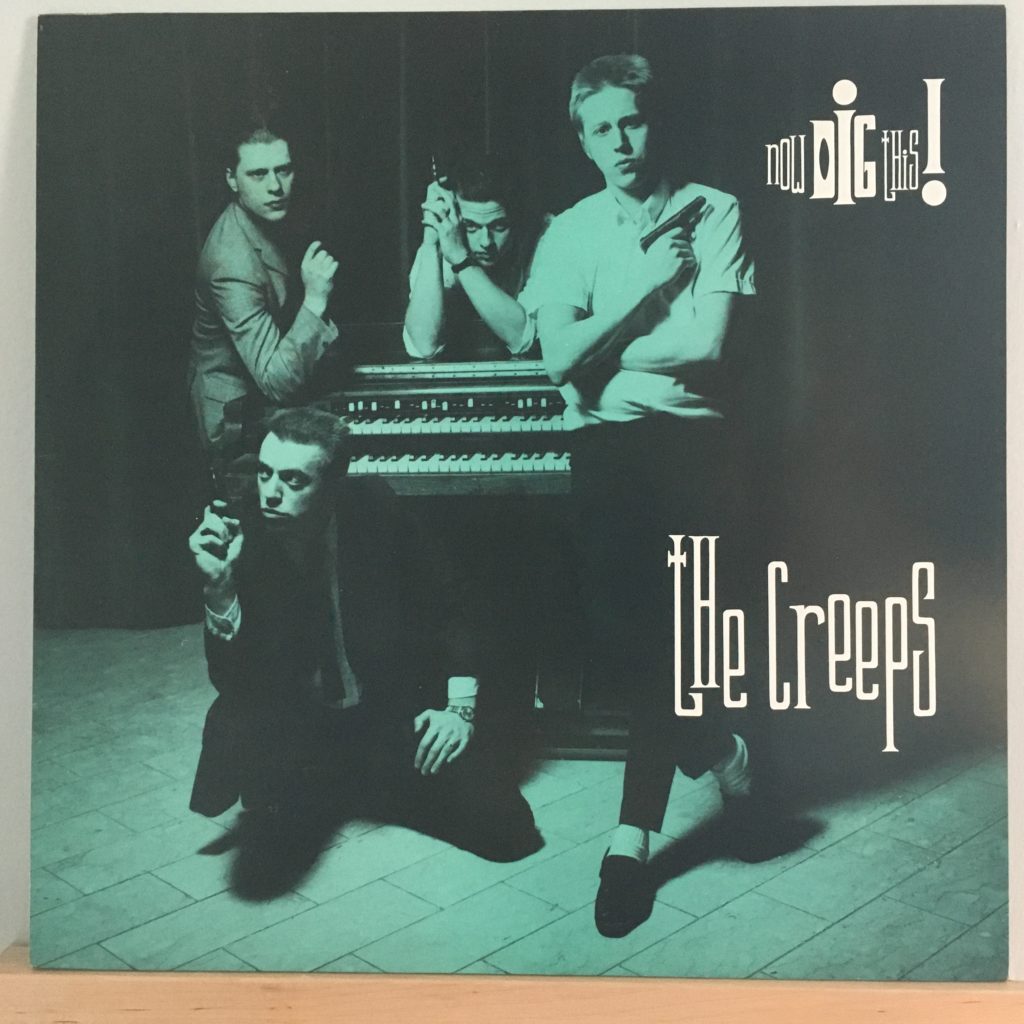 I've written before that I have friends who organize a vinyl crawl — we go from store to store for a very long day of record shopping across the west-of-Philly area. Since the organizer lives near me, it usually ends somewhere near my house, which is convenient because, honestly, a day of heavy record shopping can be exhausting.
At our last such crawl, she had arranged all kinds of special discounts and deals with the owners of the stores we were hitting, and at the last stop, Deep Groove Records here in Phoenixville, PA, the owner promised he'd drag in some crates of good stuff he doesn't usually have in the store (because these days eBay is where more of the action is). True to his word, he brought in a crate or two of '80s new wave wonderfulness. In that crate was this record, The Creeps' "Now Dig This!"
Anyone who says you can't judge a book (or, in this case, a record) by its cover does not understand how design works — because when the design is right, you should have a very good idea of what's inside. So just look at this cover: four dudes with secret-agent-style handguns, assuming international spy poses around a Hammond organ, with the title set off in expressive type. On the back cover, a track list of punchy song titles and liner notes in Swedish. While I couldn't make heads or tails of the notes, a copyright date of 1988 and the promise of that organ on the front told me to Buy. This. Record. And so I did.
So not disappointed. This is swinging post-punk semi-funk garage pop rock (all in English, by the way), with that Hammond tastefully underwriting the whole effort. The tracks rock, they pop, they dance, they have soul — this album is just amazing. In fact, listening to it now, I'm already regretting that I haven't had it in heavier rotation in the past couple of months (but Fleetwood Mac's "Blues Jam in Chicago" and several other blues records keep hogging the turntable).
So sometimes it's really worthwhile to just take a chance on a record, based entirely on its cover.