Part of the problem with doing this tour of my record collection in alphabetical order is that, thematically, there can be some hard turns. We've just been through 11 discs by The Church, one of my all-time favorite bands, and suddenly we're going to . . . The Dave Clark Five. That's a hard left turn, man, from Australian psychedelic back a couple of decades to British Invasion.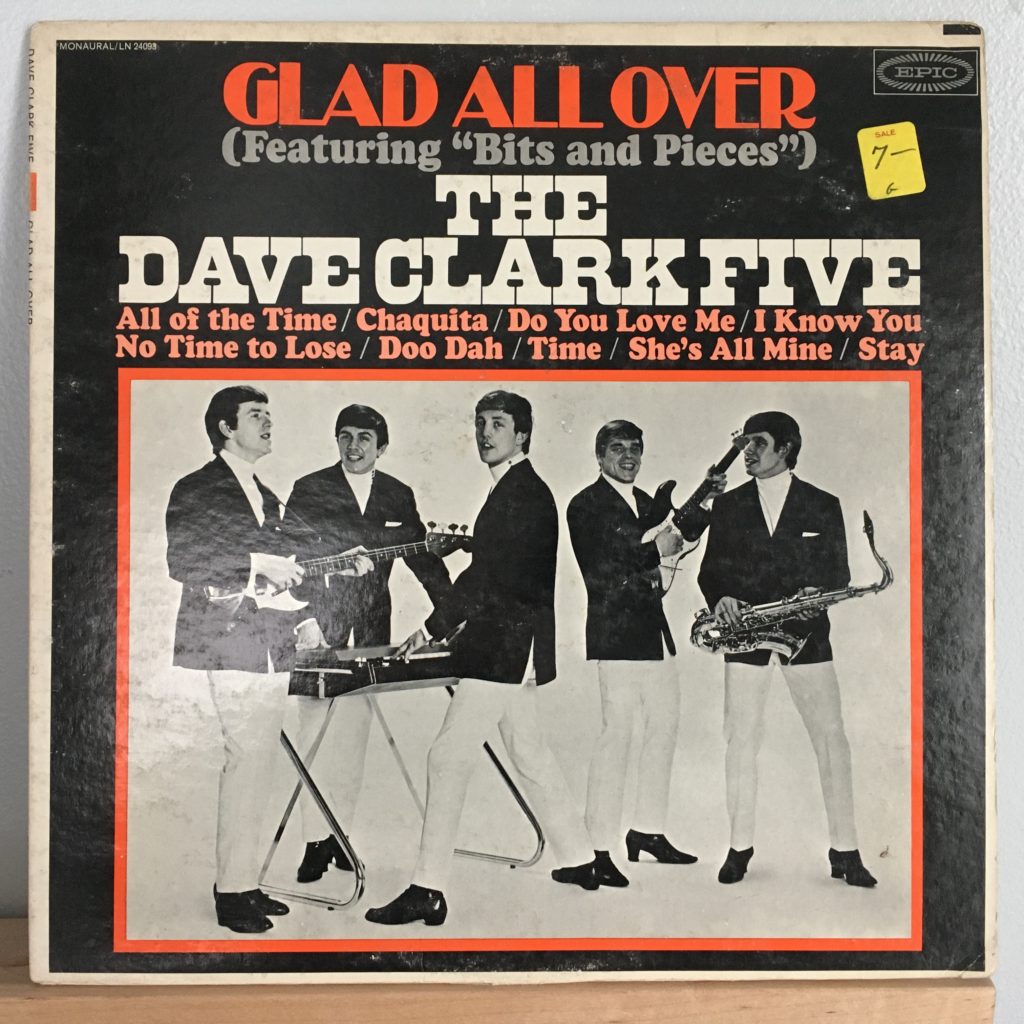 Wow. That's amazing to think about. The Dave Clark Five first hit these shores in 1964 in the vigorous tsunami created by The Beatles, delivering hard-driving rhythmic pop, and only 18 years later, there was this incredible soaring layered jangle rock from The Church. And I was listening to them both at the same time.
Now, The DC5 were supposed to be the vanguard of the Tottenham sound from London, an answer to the Mersey Beat of the Beatles and the other Liverpool groups. Here in the US, we hardly knew the difference — we just knew that if it was British, it was good. Pretty much every band in the British Invasion was compared to The Beatles — favorably by their press agents, less favorably by the fans.
"Glad All Over" was their first album in the US, with exactly no crossover between tracks that were on their first album in the UK. It was released in March 1964, on the heels of Beatlemania, and consisted largely of a number of tracks that had been recorded and released as singles over the previous year and a half. It was a big it, with the singles "Glad All Over" and "Bits and Pieces" both hitting the top 10.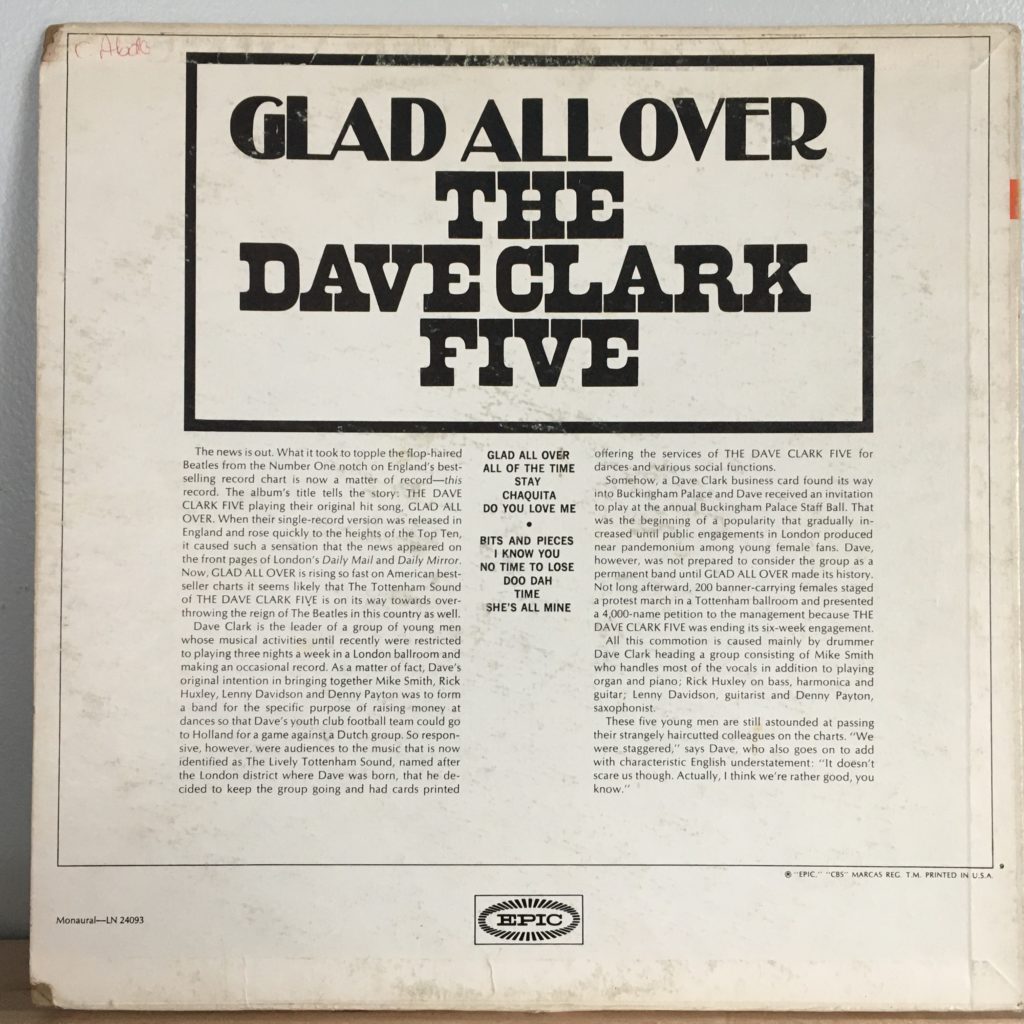 If you wanted a sort of a generic representation the sound of the British Invasion but you couldn't use The Beatles' music, you'd probably go to The Dave Clark Five. But where other groups like The Animals, The Rolling Stones, The Hollies, the Yardbirds and the Kinks seem to have only gained respect and appreciation over time, The Dave Clark Five seem to be regarded in a time capsule. They had 13 appearances on the Ed Sullivan Show, and 12 albums of original material in the US, but while their counterparts were turning on, tuning in and dropping out, the DC5 were putting out album after album of the very same thing. It was a good thing, but very odd that they never really seemed to progress, and so they don't inspire the adoration that some of their contemporaries do.
That said, this is pretty good rock 'n' roll. I mean, "Bits and Pieces" makes "Wild Thing" sound like a symphony, but they do what they do well, which for the most part is simple time, pounding drums and hard-blowing saxophone. But, being honest, I've gotta say that you have to be in the mood for this. Normally, I play these albums before I start writing about them, in order to see what memories they inspire. Having listened to The Church for two weeks or so now, it seemed a lot to ask to just slide on over to the DC5. Almost any of the other British Invasion bands that I know and love, I could have done it, but I just wasn't in the mood for the simplistic bomp-bomp-bomp of "Glad All Over."
I picked up all my Dave Clark Five in that flurry of '60s love that I went through from about 1978 to 1980. Now, inexplicably, my copy of "Glad All Over" has a sticker on it that says "7—" and I can promise that I did not pay $7 for this. I don't remember getting it, but that's mysterious because there's just no way. It must have been marked down somewhere else — and my collection has a number of records that were sold in one used record store still showing stickers from another.
Oh, and if you wondered how the DC5 got their start – they just wanted to get their football club to Holland: