Here's another new old record — new to me, old to the earth. Despite being a big Animals fan and, by not much extension, a big Eric Burdon fan, I don't believe I ever saw this record before a couple of years ago, when I found it in the bargain bin at a local record store and decided that for a couple of bucks I could take a chance on Eric's 1974 reinterpretations of a number of songs that he had done just a few years before. This would come years after the original Animals broke up in 1965, and after the final iteration, known as Eric Burdon and The Animals, put out "Love Is" in 1968. In between, he had joined with the first iteration of War for about a year, then formed this Eric Burdon Band.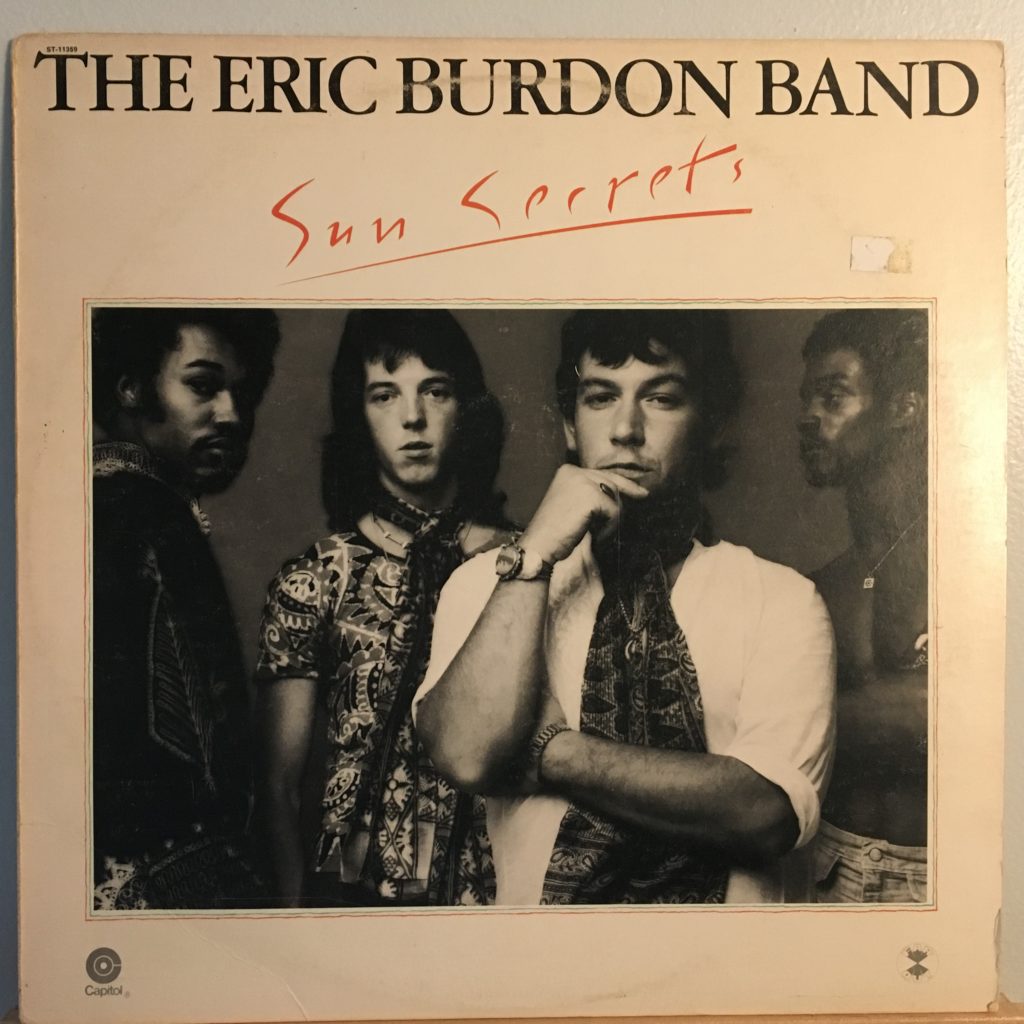 I'm pretty sure I never saw this record before 2018, when the friend and chronic enabler now known as Forever Changes first showed me the way (literally) to Shady Dog Records in Berwyn. At that point, I was still happy that there was one little record store down the street from my house, with a moderately interesting selection for me, but nothing that would create a habit. The stock is clean and not huge, and the prices are just up enough that I can exercise restraint. Then I went to Shady Dog and was introduced to an old-school semi-shambolic mass of vinyl ranging from sublime new pressings to "yeah, I'll pay a dollar for that." A used record store like they used to be. And the stuff in their dollar bins is often great and in great shape — unlike a lot of record stores, they recognize that there's some stuff that only a handful of people are gonna want, and they price accordingly. I've filled in a couple of key holes in my record collection (see Karla Bonoff's "Restless Nights") from the dollar bin with perfectly fine recordings that only I would be interested in. It's a nice thing.
So, this would be that. I'm not sure I ever even saw this record before, and I spend a lot of time in the 'B' section. (As any remaining regular readers of this blog can now attest.) And having never heard of it, not being entirely sure when it came out, and seeing that it mostly rehashes tracks that Eric Burdon had already completely made his own, I had to wonder whether I wanted it. But at bargain prices, I didn't have to wonder too hard. Then it becomes more about how much space it's going to take up in my life, and in the last couple of years I've apparently decided that I'm going to collect all the records I damn well please before I die, and my tiny house will just have to take it. And take it it shall.
I actually bought this as sort of a present for my wife, as big an Eric Burdon fan as I am, and so I gave it to her even though we don't have separate collections or records that are "hers" or "mine." (Just kidding, they're all mine.) And then I probably played it once or twice and set it aside. But you know what? It doesn't suck. As I said, it's almost entirely reinterpretations of previous Eric Burdon and the Animals songs, and a couple of new songs, one part written by Burdon, the others by the band's guitarist Aalon Butler. And they're good. Not mind-blowing, but actually quite good. But if I want to hear Eric singing "Ring of Fire," I'm still gonna go to "Love Is," and so on — it's an odd decision to re-cover your own songs just a few years later, but so be it. `