So weird. I love The Hollies. At least, I thought I loved The Hollies. They certainly fit in with my love for the British Invasion, my love of harmonies, my love of finely crafted pop songs. But for the longest time, when I said I loved The Hollies, I had to base that entirely on two records I owned, both greatest hits collections with significant overlap. I don't know if I just never ran across their original albums in my record-collecting days, or if they were pricey (this one was $8, which was a lot back then). So from the time I bought this 1967 release in, say, 1980, until the early 2000s, This was all I had to go by.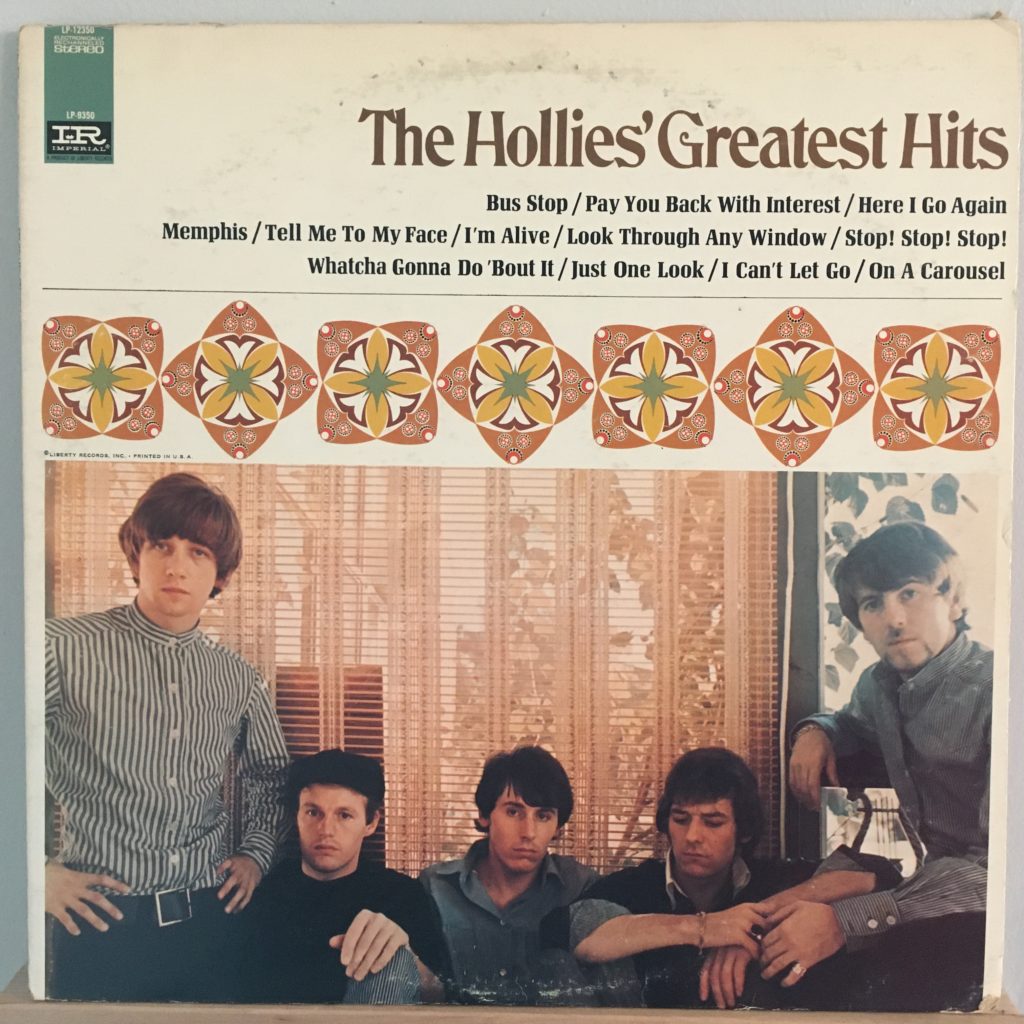 Somewhen in the early 2000s, I bought a 3-CD set of The Hollies, "Special Collection," which is a lot of a good thing. Sixty songs, about 40 of which are new to me, is a lot to absorb. I never find I get to know an artist as well through a box set as I do by absorbing their work over a period of time. I'll play that collection and still hear songs I have no memory of having heard before. But getting to hear much more of their work than was included on the two greatest hits records I'd say that their hits represented them well, and their deeper cuts are very much in the same vein. The later stuff gets a little different, if not really more adventurous.
I will say this: I wish this were in mono, as whatever you may worship intended. Instead, these tracks are reprocessed stereo, and horrendously reprocessed at that. Listening with headphones is not advised.
Listening to this album again really takes me back, once again to the apartment in the building we called The Embassy. My roommate Danny and I must have really gone insane with the record-buying that fall of 1980 – there are just so many records I associate with that tiny apartment. I think of Herman's Hermits, The Left Banke, the Zombies, The Turtles, The Beau Brummels, The Byrds — all that '60s stuff. I don't know how two semi-adults could have lived in such a small space without killing each other, but somehow we always got along. Considering how bad my drinking and more got in that time, I have to give him a huge amount of credit for putting up with me. But having musical taste in perfect synch must have helped – at that time, I don't recall any music about which we disagreed. We were both far more into the music of the '60s than what was on the charts, and we spent many, many hours just hanging around Desertshore Records, our main source of used records, as a form of stress release and bonding. For many years, I got to enjoy the same with my wife, but a lot of my music-buying became a solo activity. In the digital age, it's not even an activity – it's pressing a button and making a payment; there's no experience associated with it, and I'm just as likely to forget I've bought something digitally as I am to remember it. So our return in recent years to actual record-buying, and having picked up a number of similarly afflicted friends, has brought back some of that bonding and stress relief. The simple handling of a record is a simple ritual that helps to unclench my teeth – a ritual that I should not have forgone for as long as I did. If life is long enough, you get to rediscover things you used to know, and that can be sweet.