I've been a fan of The Kinks since college. Of course, their songs were in the backdrop all through my youth, just like any of the other British invasion groups. In fact, more than some, they seemed to cross the divide between AM and FM. The AM Top 40 stations would play "You Really Got Me" or "All Day and All of the Night," while the progressive FM stations were playing the subversive "Lola" and "Sunny Afternoon." So their songs were pretty familiar, but they weren't really big when I was in high school. In my sophomore year of college, though, they came out with "Low Budget," which was a huge comeback for them, and that led me to buy . . . well, not a lot of their previous albums, honestly. I wasn't very into concept albums at the time, and a lot of what was available in the bins seemed to fall into that category . . . and it was priced in such a way as to indicate that there wasn't much demand for it, so maybe it wasn't what I wanted. I stuck to the greatest hits and an early live album. That seemed sufficient.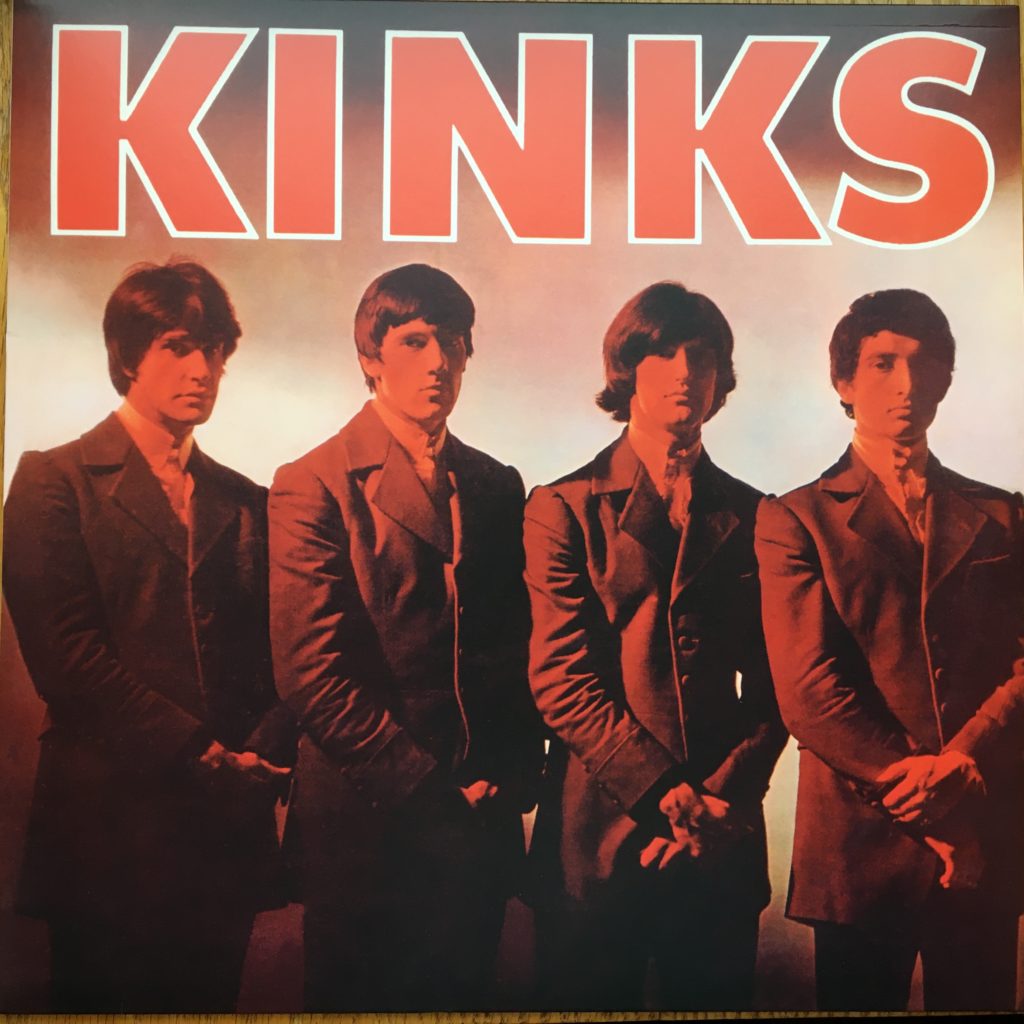 It was later that I really started to appreciate the genius of Ray Davies. I kept up with their early '80s albums, and then in the '90s discovered "To The Bone," a double live collection that absolutely captivated me and put me back into solid Kinks fandom. Much more recently, I was given The Kinks Anthology, 1964-1971, which introduced me to dozens of songs I hadn't known before and came to realize that I was really missing something. So now, building up my record collection, I'm looking for The Kinks again.
This, their very first album, is my most recent Kinks record. I picked it up in March at Forever Changes. It's a gorgeous mono reissue on red vinyl. I never even saw this before, and it turns out that it wasn't released in the US with this cover or title, so no wonder. (The US version, lighter by three songs because of course it had to be, was titled "You Really Got Me.") Not too surprisingly, it sounds like any other British Invasion bands copying the rhythm and blues sounds of their heroes. Songs like "Long Tall Shorty" and "Bald Headed Woman" show more enthusiasm than ability. At the same time, the Ray Davies songs show something more promising than most British bands of the time and, to my surprise, their very first album includes the all-time classic "Stop Your Sobbing."
So this is very solidly in my wheelhouse, as they say, because I love that British Invasion sound, and it also starts to show the promise of The Kinks.