I started seriously listening to music and collecting records in 1972. In that year, The Kinks put out Everybody's in Show-Biz, and got FM play with "Celluloid Heroes." (But I didn't have an FM radio.) Then they released "Preservation Act 1" and "Preservation Act 2," "The Kinks Present a Soap Opera," "The Kinks Present Schoolboys in Disgrace," "Sleepwalker," and "Misfits," all before I went to college. I saw all these records in the record stores when they came out, and they made me no more than mildly curious. As I've said before, I just wasn't ready for or interested in concept albums as a teenager, and their very covers screamed "concept album." My familiarity with The Kinks was entirely through their oldies, and none of these records seemed like that.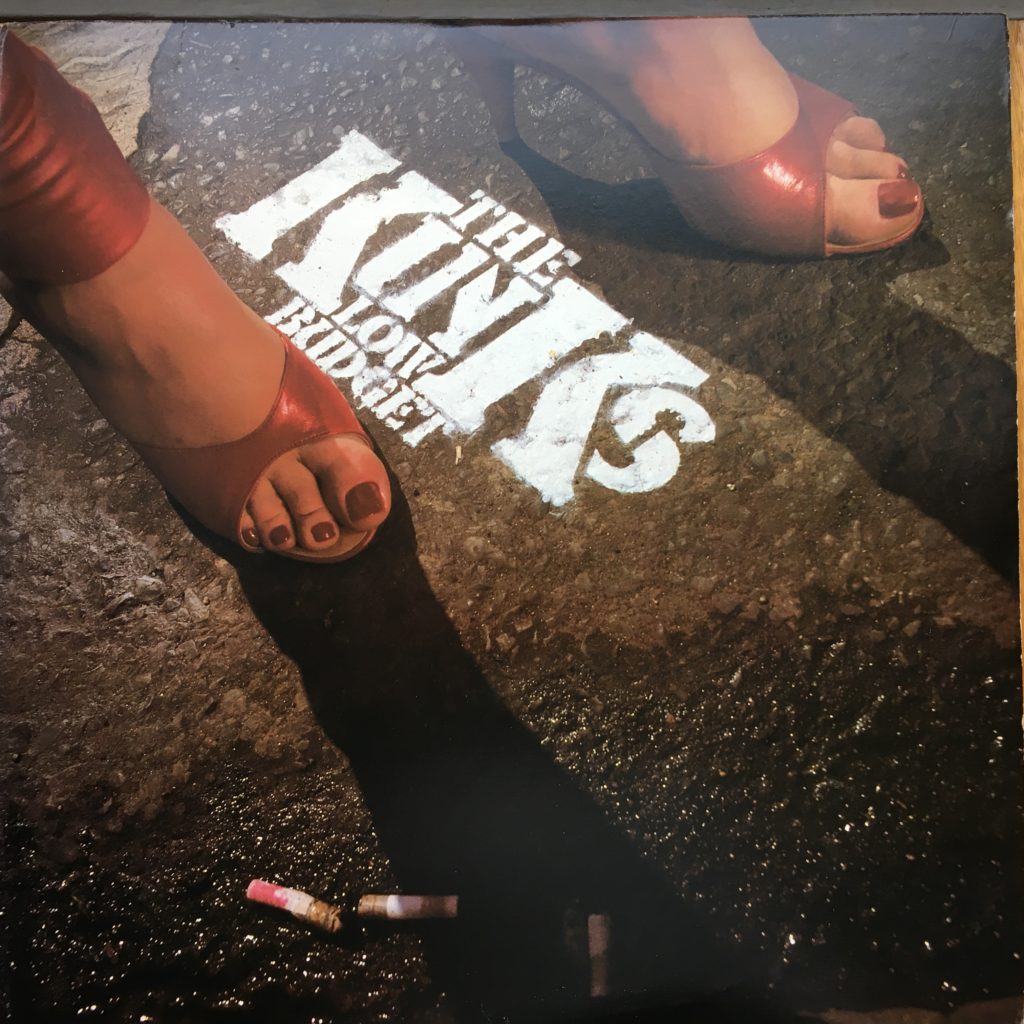 Then in 1979, at the beginning of my sophomore year, the Kinks issued "Low Budget," and my whole view of them changed. Like the Stones did the year before with "Some Girls," a legendary group that was being regarded as something of a dinosaur already suddenly delivered with a tremendous album. In fact, "Low Budget" charted higher than any Kinks album, at #11, and was their first gold record in the US (other than Greatest Hits), which shows that we are idiots.
"Low Budget" was playing everywhere on campus. I remember an autumn day when someone in SU's Lawrinson Hall, a 20-story tower in the valley below our hilltop residence hall, was playing it at absolutely booming volumes on what must have been a full PA system out an upper storey window on one beautiful fall day. Now, of course, I'd be annoyed as hell, even if it were an album I loved, but then it just felt like an exciting communal experience – we were all in our love of The Kinks together.
The album, of course, really touched on the feeling of the times, with themes of gas shortages and economic uncertainty, and displayed some unusually pro-American sentiments for the time, and it just seemed like the album for its time. And so it was. While the music is still great, I can't help but be transported back to my college sophomore year when I listen to this, that year we lived first in Day Hall and then in the Seneca Apartments. Every song is really reminiscent of that year. "(Wish I Could Fly Like) Superman" works a subversive disco thump that would get it airplay in those days, and "Low Budget" is a burlesque romp.
It's still a great album, although as I fill in my Kinks collection I'm more likely to listen to the less-familiar these days than this old beauty I've had since it came out in 1979. It's the record that started me off on the others that I collected, the two greatest hits collections and the terrible Live Kinks record, as well as their next two releases.