This is truly one of the most important albums in my life. I'm sure I picked it up in those early days of my record-collecting, when any oldie was a good oldie (almost), and I was inclined to buy just about anything I had a fond memory of. Well, certainly, I remembered "Walk Away Renee," thought of as a classic just 12 or 13 years after its 1966 release, having gone to #5. And "Pretty Ballerina," which was also a decent sized hit, also rang a bell. So I'm sure I just innocently picked this up at Desert Shore one day, thinking it would be a nice complement to my Byrds and Turtles type records, another nugget from the '60s.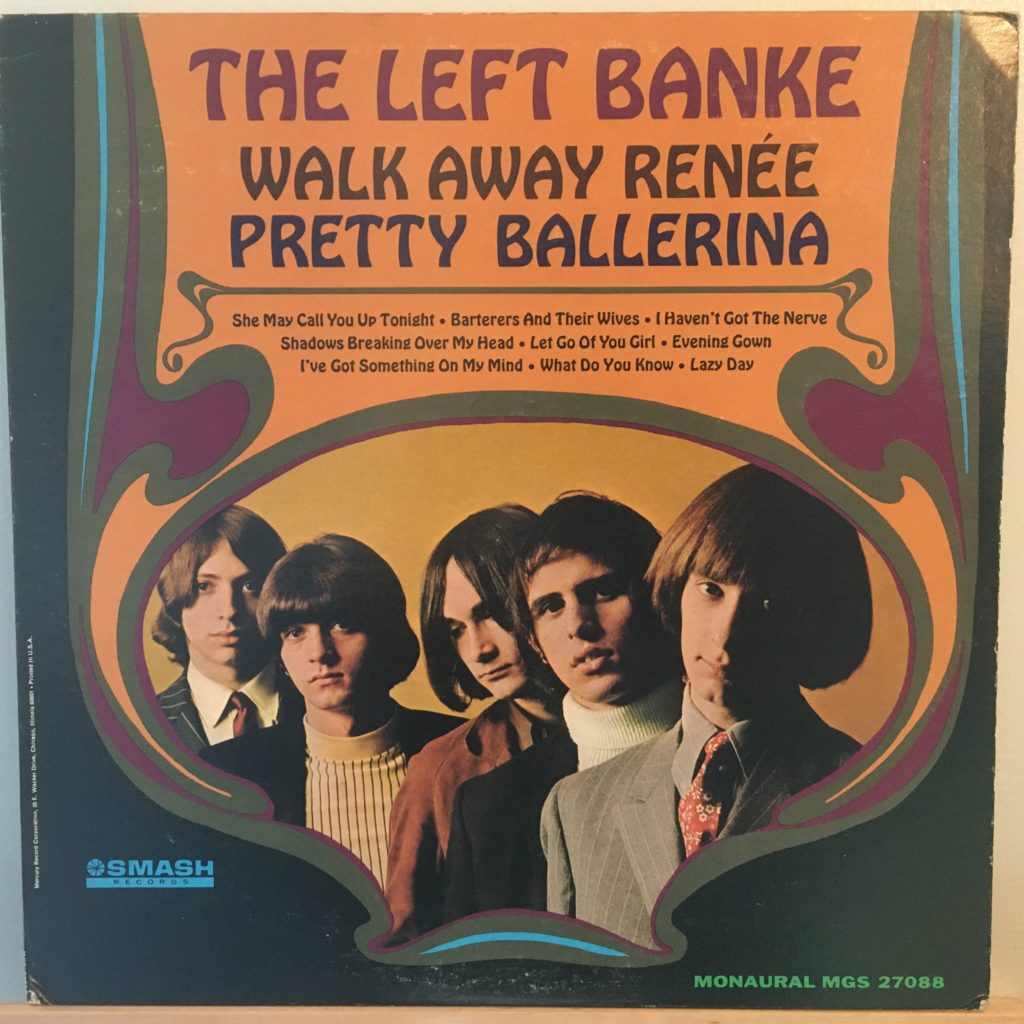 I really wasn't prepared for the awesomeness of this baroque rock classic, for the introduction of harpsichord-based rock into my life.
This album, released in 1967, is like nothing else I know, both stylistically and sonically. There's a deliciously rich reverb throughout. Thinking about how this sounds, it just occurred to me to look up the producer, Harry Lookofsky, and to be surprised to learn that he produced this album, and one other, and that was it. It turns out Lookofsky, a seasoned jazz violinist ("one of the earliest accomplished jazz bebop violinists," according to Wikipedia) who had played with Al Cohn, Gil Evans, and the NBC Symphony Orchestra (under Toscanini), was the father of the band's keyboard player and writer Michael Brown, and had his own studio in New York; he became their producer, manager and publisher. And somehow through his classical training and jazz experiences, he came up with this densely layered sound.
At about the same time, I got a copy of The Zombies' timeless classic, "Odessey and Oracle." It was similarly based on just knowing one of two of the hits on it and thinking, well, I like those, maybe I'll like the rest of the album. And together, those albums really defined my autumn. (Make no mistake, I was on an absolute record-buying spree at the time, even by my normal standards, and I associate many other albums with that time as well. But these two are special.)
It was the fall of 1980, when Danny and I were living in The Embassy, a just-slightly off-campus apartment building where we shared a decent-sized studio apartment. (We called it The Embassy because it overwhelmingly hosted foreign students.) It was our first non-university. housing, and our first time not relying on university dining halls to feed us. I have no memory of how that worked out for Danny, but for me it was nutritionally disastrous. We didn't have a functioning kitchen, just a refrigerator and an electric frying pan. I bought falafel in bulk and repeatedly failed to successfully cook it, while constantly proving that '70s smoke alarms weren't terribly sensitive, or else we'd have been evacuating the building every time I tried it. I also ate a lot of bulk peanut butter and Fluff. I'm sorry, I just did. I bought a lot of sandwiches at The Varsity (and about the same amount of pizza as I ever had). I was not good at subsistence. I also wasn't terribly interested in getting good at it.
So there were culinary disasters, but there was also a lifelong connection made, as one of my discoveries of that autumn was Grossinger's rye bread. Associated with the old Catskills resort, it was sold at Brad's Brews, Stews & Victuals, the best of our on-campus grocery stores (they had actual produce, though in perishingly small quantities). It's gone now, but even among small bakeries, I can seldom find a rye bread nearly so delicious. I became obsessed with it — particularly toasted, and particularly with butter. In fact, butter was another discovery that fall. I mean, I had tasted butter before – it came with the dinner rolls at every restaurant, after all, and was freely available in the dining halls. But I had grown up with margarine, not butter, and suddenly I found out that my life had been a lie.
I cannot stress this enough: do not eat margarine. Life is way too goddamn short. (Don't hit me with your vegan alternatives; there was no such thing in 1980, not anything you could put in your mouth.) Eat the butter.
It was a warm, sunny fall (I had to check the history to confirm, and it's true: there were daily highs in the 70s, and 81 degrees on Oct. 17, which is insanely warm for Syracuse in the fall. Even more incredibly, it didn't rain once that entire month. No wonder I have such a fond memory of that fall (A year or two later, we'd have something like 36 straight days of rain with absolutely no sunshine). So, that was the autumn when my breakfast usually consisted of toasted Grossinger's rye with butter, while listening to The Left Banke.
And now, all these years later, as soon as that delicious fall weather starts, those crisp cool mornings, that scent in the air, I want rye toast, and The Left Banke.
(And the Zombies . . . I tend to play these one after the other.)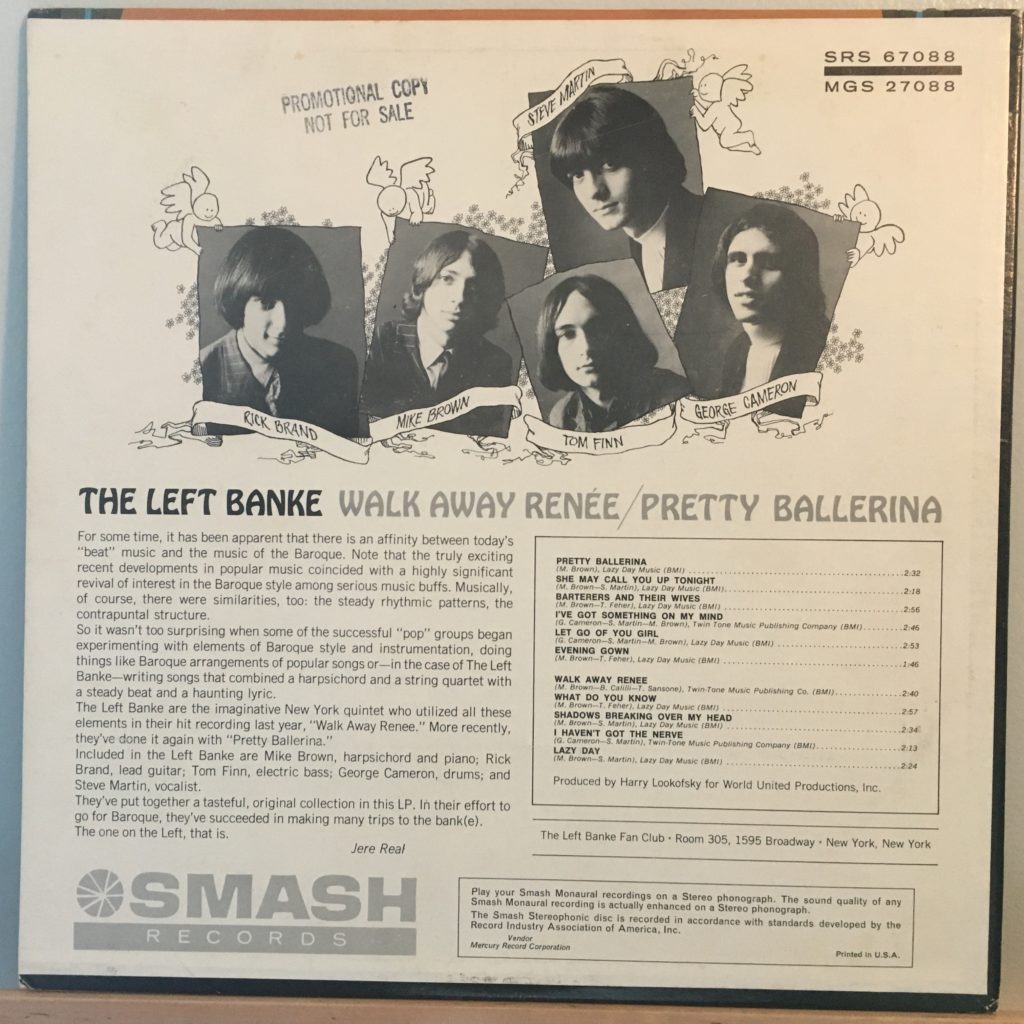 Despite having a pretty pristine copy of this that plays nicely some 40 years after I got it, I could not resist a Sundazed reissue on colored vinyl, and treated myself to it about three years back.