This came out in February 1984, right in the midst of our transition from wild college students into semi-stable married couple. My love of Dolby already established by "The Golden Age of Wireless," I was anxiously awaiting this new release. That interestingly worldly and yet world-weary first album spoke to some ideas of who I thought I was at 21 or 22, and "The Flat Earth" did absolutely the same at 23. My god, did this seem to speak to me, and in many of the same ways: it evoked a dreamy, cinematic world, the kind of world we envision our adulthood will be like when we are young and all of life is before us.
There are only seven tracks on this album as it was then released. It's a slower, more beautiful, more atmospheric album than his debut, filled with a looser set of song structures . . . at least, until you get to "Hyperactive!" which is a crazy rave that I have never gotten over.
I mean, how was I not going to be drawn in? The album starts with a song about writing, "The Dissident," complete with the sounds of typewriting, at a time when I flattered myself that I would one day be A Writer. "I can't read / my own writing." Yeah, I knew that feeling.
"Screen Kiss" worked its magic on me as intended, invoking noirish romance at a time when my love of old movies was only intensifying. But it was Dolby's cover of "I Scare Myself," a very different song when originally done by Dan Hicks and His Hot Licks (which version I didn't know at the time) that really deeply resonated with me at that moment in my life, and for a very long time thereafter.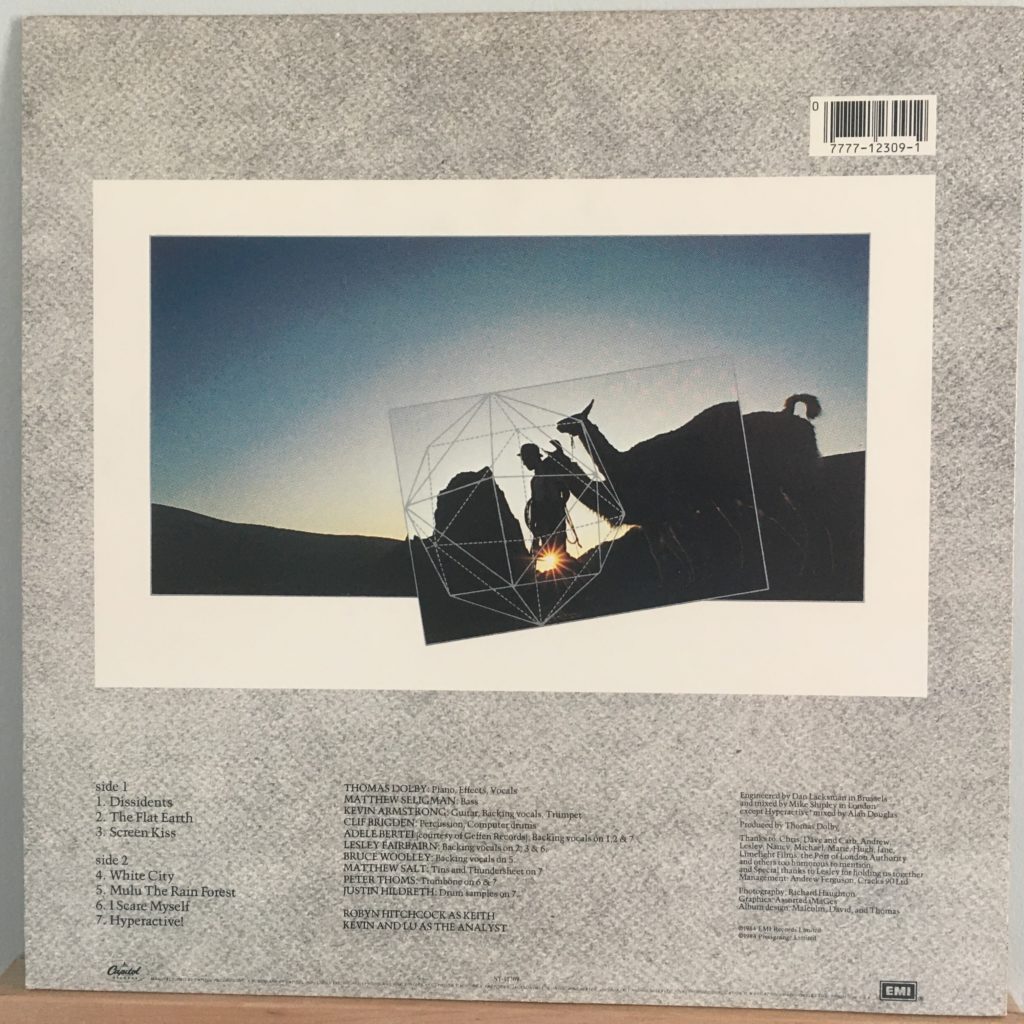 February, 1984. Out of college nearly a year, living in our first post-college apartment, married for maybe four months, working a new job just a little longer than that. Not yet sober, but soon to be, and in the throes of despair and determination to be done with the addiction. When this record came out and into my life, it was into that atmosphere, of being on the verge of something – leaving one life behind and forging a new one. And it spoke to that: "I scare myself, and I don't mean lightly."
But also this:

"But it's so, so very different when we're together
And I'm so, so, so much calmer, I feel better
'Cause the stars already crossed our paths forever
And the sooner that we realize it, the better
There was hope, and that hope was right there with me. She always has been. It's so, so very different when we're together.
I will always hear hope in this beautiful album. That may be more a product of what it meant to me then than anything that was intended on Dolby's part, but there it is nevertheless.