I was pretty pleased at the level of support Rhino seemed to be giving to The Firesign Theatre in the early '80s — Rhino was a label that specialized in minor repackaging of '50s and '60s music, and particularly got my attention with their Turtles reissues, which we'll get to someday. They did great transfers and added some contextual information to their records, making thing like The Barbarians' record available for the first time in years. And I was pretty happy that this group, whose early records were already well and thoroughly seared into my brain by the time this new record came out in 1982.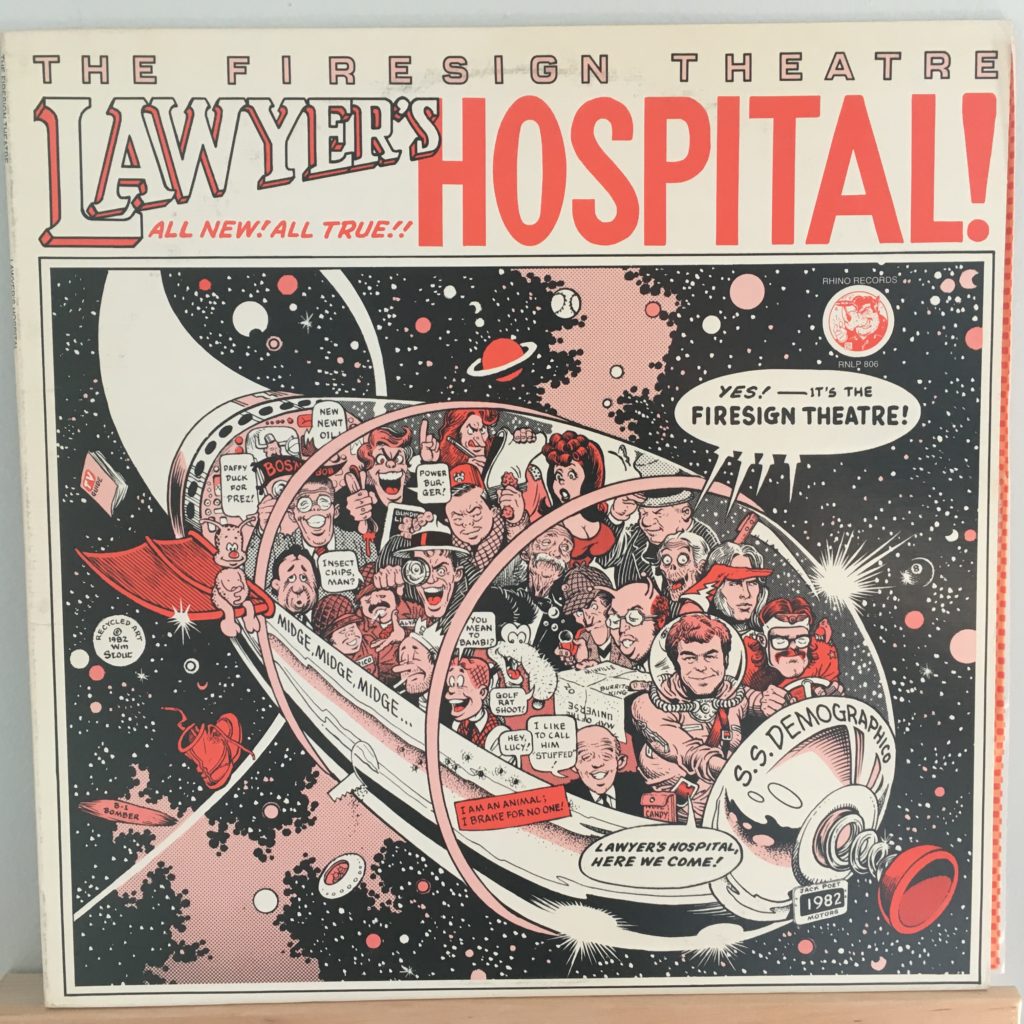 Kinda remarkable, really, but that's how young brains work. I had bought my first Firesign Theatre record, "I Think We're All Bozos on This Bus," in 1978. Within a year, a year and a half, I was thoroughly indoctrinated in the world of Firesign, and any of my conversations might be peppered with quotes from their records. When I bought this, brand new in 1982, it was my 14th record by the group — a huge amount of material to absorb in just a few years. Absorb it I did.
"Lawyer's Hospital," the A side, really does have its moments. A soap opera spoof, it includes some legendary lines:
"You mean, to Bambi?"
"I'm not mean to Bambi. She likes it that way."
"I owe him a lot of money for that airport."
"You owe a lot of people a lot of money for a lot of airports."
All done in high soap opera style, something they had already explored a little bit in "In The Next World You're On Your Own." This material was recorded live, but sounds good.
The B side is something else entirely, "Politics As Usual," which they described as 10 years' worth of previously unreleased pieces dealing with American electoral politics, including some material they had done for NPR's "Morning Edition." Never my favorite of their stuff, just because it was more topical than a lot of their other material, which ages so well for being of its time but not only about its time.
So, a fun record, one I was glad they got to make, and I was happy to support their continuing career, but not one of their monuments.