Part of what drove my intense exploration of the British Invasion and '60s music generally was a certain kind of nostalgia, something that it seems is very common for people in their 20s, to develop a strong affection for the cultural elements of their childhood. That can lead to pawing through thrift shops and picking up trinkets from the past, and not just records. At some point around the time I was 20 I ran across a beautiful Green Hornet flasher pin — the kind that used lenticular printing to create two images depending on your perspective. One view had the Green Hornet logo, the other the face of the hero himself. This somehow wildly attracted me because I had very fond memories of The Green Hornet TV series (barely realizing the hero himself went back to the radio drama era). This flasher pin was the height of cool, even though I must confess that I remembered almost nothing about the TV series itself. (Similar nostalgia occasionally comes around for the 1966 Batman series, or "Get Smart," for example – but I've rewatched some of those.) Well . . . this album has those themes, and more, which must be why I grabbed it around the same time.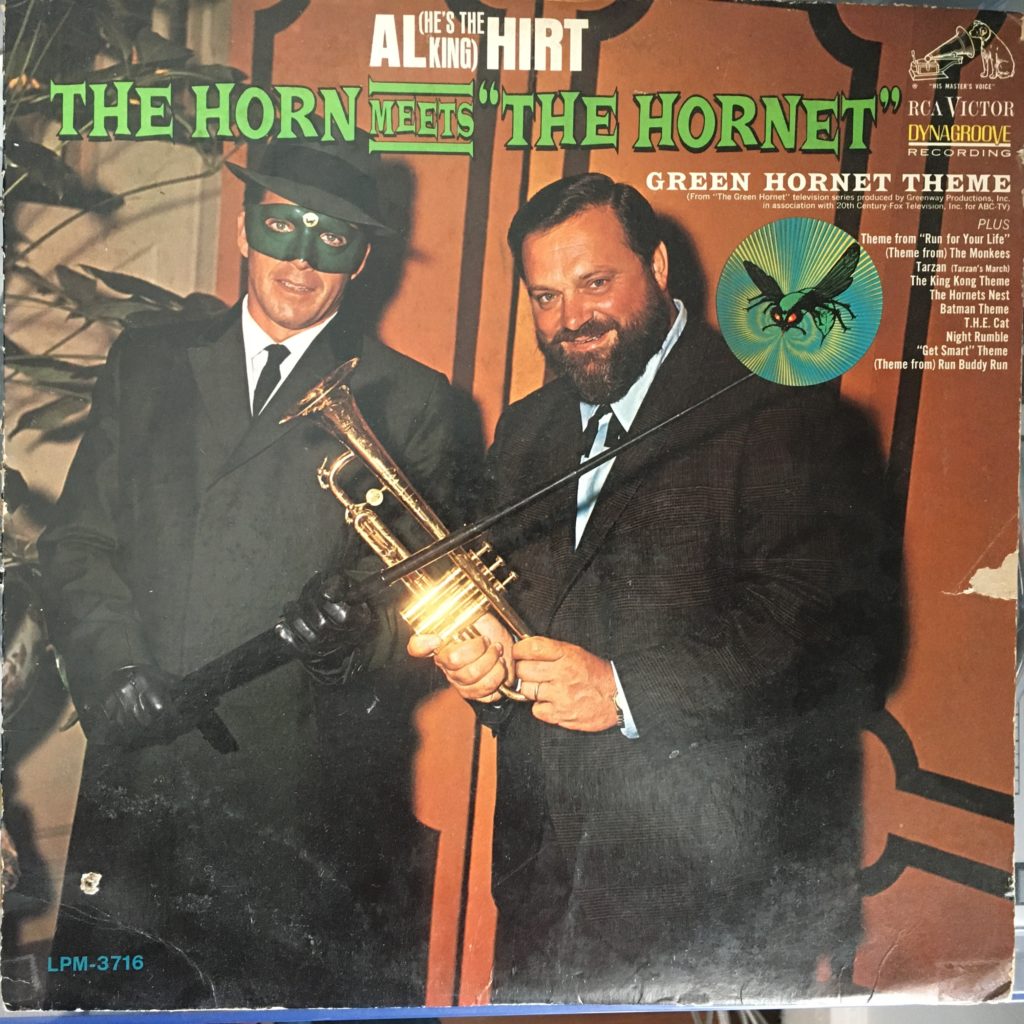 Al Hirt was one of those things that seems impossible today: a trumpet player who had hit after hit, all instrumental. He was already very well known when he was chosen to create the theme for The Green Hornet TV show, and apparently decided to do an album primarily of TV themes to go with it, which came out in 1966. His "Batman" theme is wild and frenetic, and earned a place on one of the earliest mix tapes I ever made. (For reasons, I followed it with a piece of dialogue from the movie "Head": "Quick, suck it before the venom reaches my heart." So, in my mind, the Batman theme always ends with that plea from Terri Garr.)
The album is wild horn music, sometimes wilder than others — Hirt came from the Dixieland tradition, not jazz, and an entire album of it is a lot. Once the Batman theme found its way onto that tape, I didn't find much else use for this record, despite having held onto it for all these years. It looks kinds trashed but plays very well.
But that cover . . . could they not have gotten a decent shot of Van Williams and Al Hirt? It looks like they met at an autograph signing.