When I was talking about Elvis Costello, I noted that because of when I got into him, my relationship with his music was much more through CDs (and, later, digital) than through vinyl. And yet, I had quite a bit of Elvis vinyl anyway. In comparison, the Cowboy Junkies have been almost as much of a constant in my life as Elvis, and yet I have only one LP, their first.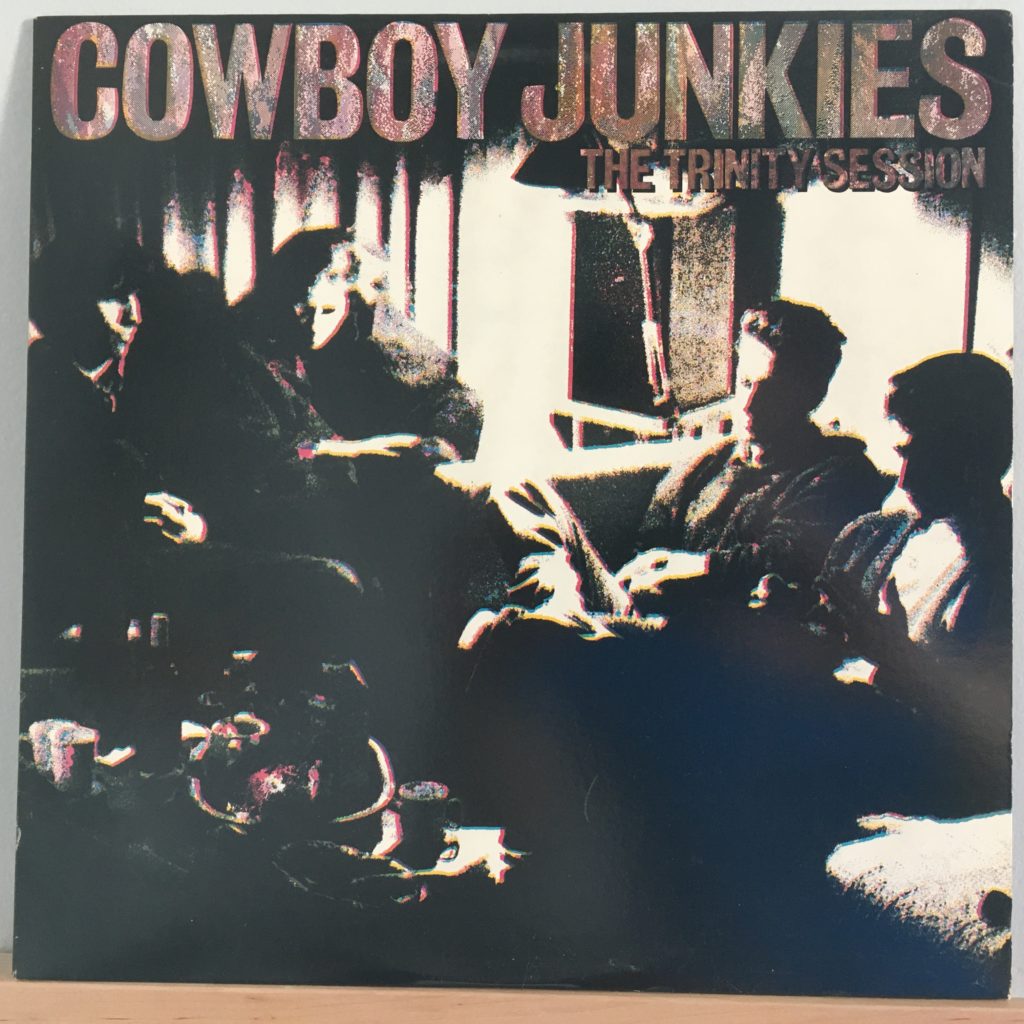 I remember the first instant I became aware of The Cowboy Junkies: their appearance on Saturday Night Live, February 18, 1989. I don't recall why we were back in Scotia, but we were, staying at our friend Lisa's and watching SNL together. I had never heard of the musical act, and everything about their name probably prepared me to tune them out. But they came onstage and did a version of Lou Reed's "Sweet Jane" that was simply revelatory. I was absolutely taken aback. (I honestly don't remember if we stayed up long enough for their second song, "Misguided Angel.")
I don't know precisely why, in 1989, I bought it in vinyl, not on CD, but I do know that I bought it right away, probably that very week. That year, I was finishing an intense grad school program, and was not really getting introduced to much new music, so this was a breath of fresh air, and the album, "The Trinity Session," was really unlike anything else going on at the time. Maybe the closest would be some of kd lang's tracks on Shadowland, and it's probable that having listened to that kind of deep, old-style country made me ready for The Cowboy Junkies, who featured mandolin, pedal steel, dobro and fiddle — all the things that 30 years later would spew up a category I can only characterize as "goat rock". These songs had all those traditional country instruments but used them so sparingly, so beautifully, to such gentle effect. Everything about it is dreamlike, from the opening chant of "Mining for Gold" (not many emerging artists sing about silicosis) into the sad, loving beauty of "Misguided Angel." They also cover Hank Williams and Patsy Cline, but in ways that are entirely their own, and their originals on this album showed that Margo and Michael Timmins are gifted songwriters. Adding to the album's dreamy feel is the fact that it was captured live (in Toronto's Church of the Holy Trinity, hence the title), around a single microphone, all in one day. Amazing.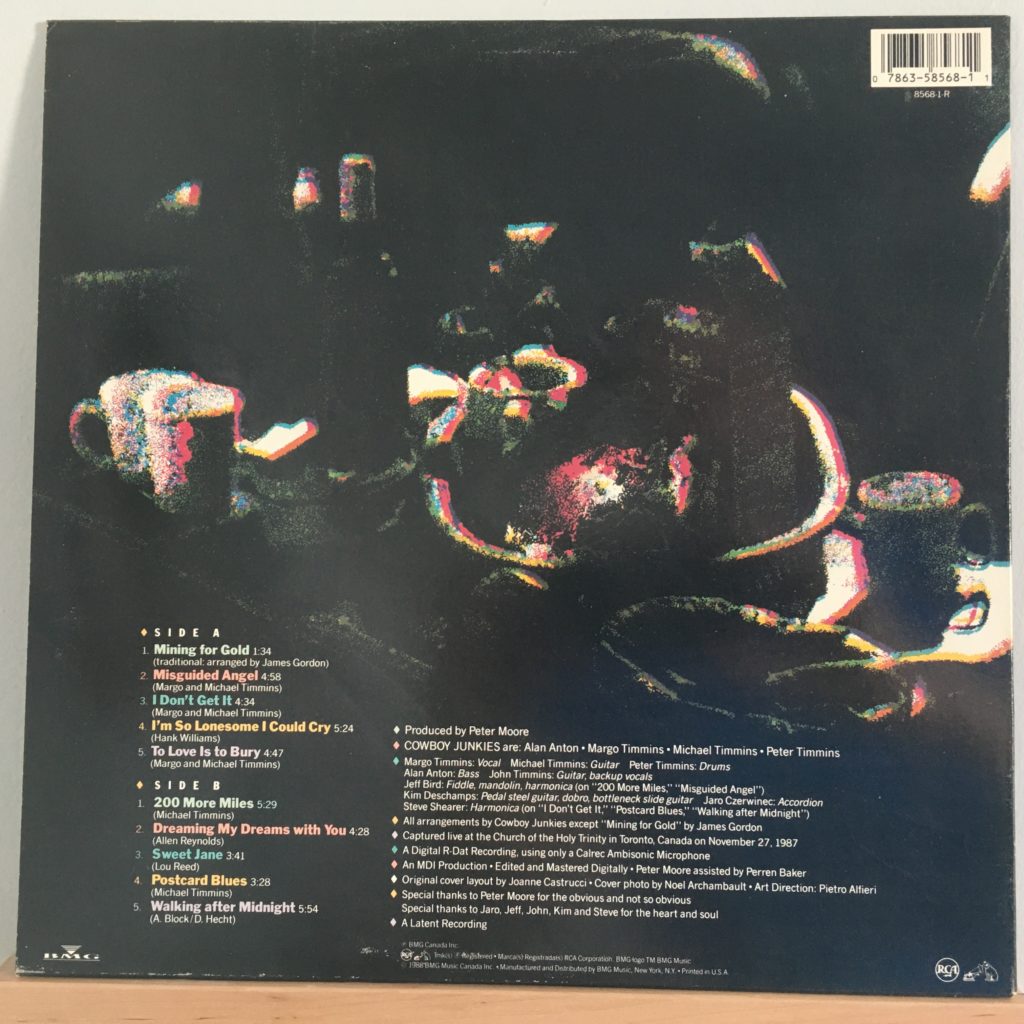 Safe to say this album blew my mind. It was a huge part of the soundtrack for 1989, a year when I would finish grad school and spend the summer doing temp work, baking bread and getting our things and ourselves ready for a huge challenge, as I was fortunate enough to get a fellowship in the New York State Senate for 10 months, beginning in September — but with no promise of future employment, we had to make the very difficult choice to spend the workweek in different cities. In order to afford two places to live, we had to downgrade from our lovely two-story apartment in a renovated Victorian to a smaller one-bedroom in a converted carriage house around the corner — still lovely, but much smaller. On days when I didn't have temp work, I would bake bread and listen to The Cowboy Junkies. (And Joe Jackson. A lot of Joe Jackson.)
Since then, I've bought a lot of their catalog; in the early days I followed everything they did. And while I haven't kept up with their more recent albums (and by recent, I mean the last 20 years), those first 9 or 10 albums have been a constant in our lives. We've gotten to see them a couple of times, and their live performances are so far beyond anything the records can capture. And I would probably have no idea, if I hadn't been watching SNL on that particular Saturday night.
(Side note: top 3 bands that I discovered through SNL — The Blues Brothers (of course), Cowboy Junkies, Florence & The Machine. Are there any others? I'll have to think about that.)