Talk about a hairpin turn – from Cowboy Junkies to The Cowsills. Sheesh.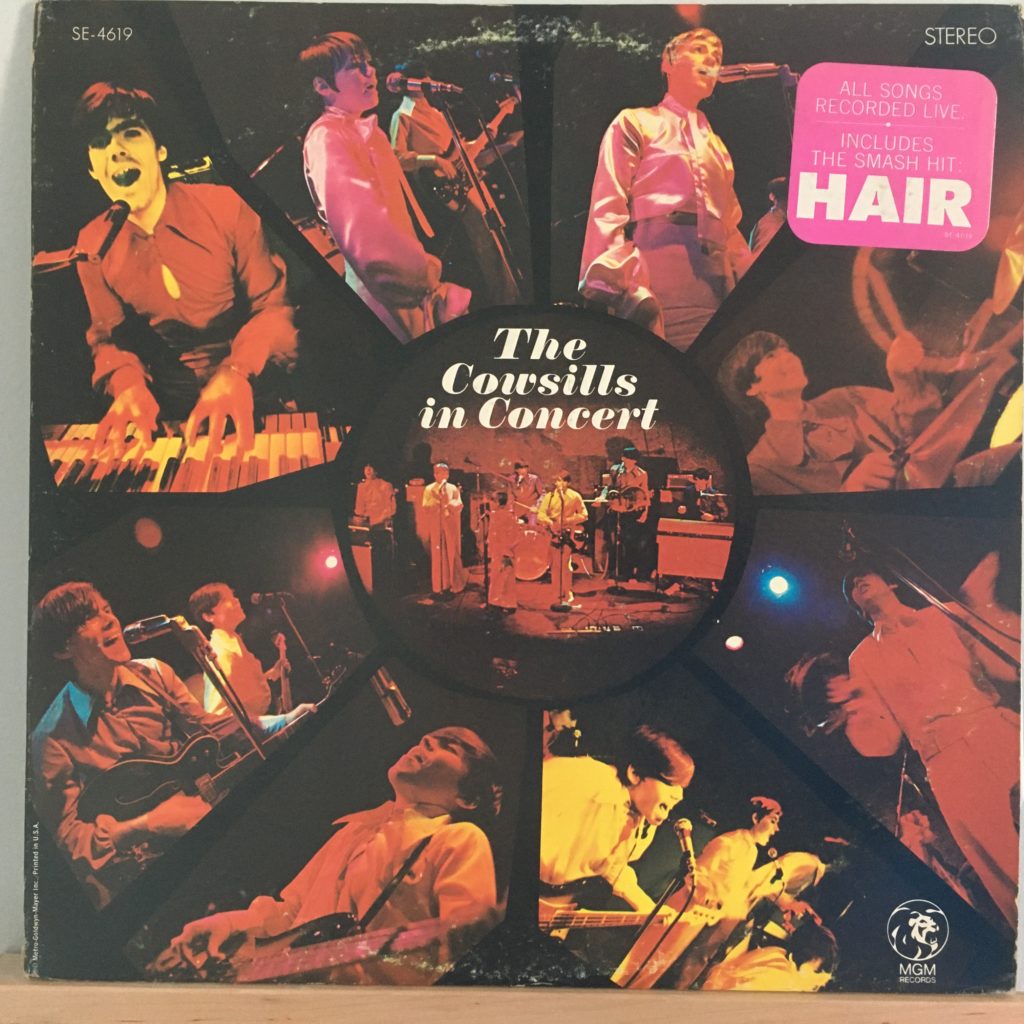 The movie "Hair" came out in early 1979, 11 years after the Broadway musical about a draftee meeting a tribe of hippies had opened. I never saw the musical but boy, was it part of the zeitgeist as I was growing up. The movie came just as I was exploring all things hippie, counterculture, and Woodstocky, and it's likely we got to see it in the fall of 1979, my sophomore year, as the campus got movies very close to first run for one of the many film series that ran at Syracuse University. (Sometime I'm going to have to talk about how many film series there were, how many great opportunities there were to see incredible movies, and how much that influenced me. Seeing movies together was one of the foundations of my relationship with my wife, and remains that to this day.)
So, if you're suddenly influenced by "Hair" the movie, you're likely going to fondly remember "Hair" the hit theme song. How it came to be that The Cowsills, the real-life inspiration for The Partridge Family, and the straightest of straightforward pop groups, came to be associated with a revolutionary countercultural icon, I never knew — until just now. According to Wikipedia, legendary writer-producer-actor Carl Reiner was putting together a television special called "The Wonderful World of Pizzazz:"
Produced for NBC TV, this special was designed to be a look at fashion and style trends around the world. The show's emphasis was on the newfound "Freedom" in look and in living as seen in fourteen different countries. This one hour entertainment documentary special was hosted by Carl Reiner and Michele Lee; with related numbers by the Cowsills and Harper's Bizarre.
If you didn't grow up in the sixties, you may not be able to appreciate what a huge divide there was over hair length — men's hair in particular. It was vitriolic and political, and hair was a statement. Reiner thought it would be funny to have one of America's cleanest groups singing about long hair. They recorded it for an upcoming live album and their release turned into a hit single, the biggest seller for the Cowsills, going to No. 2.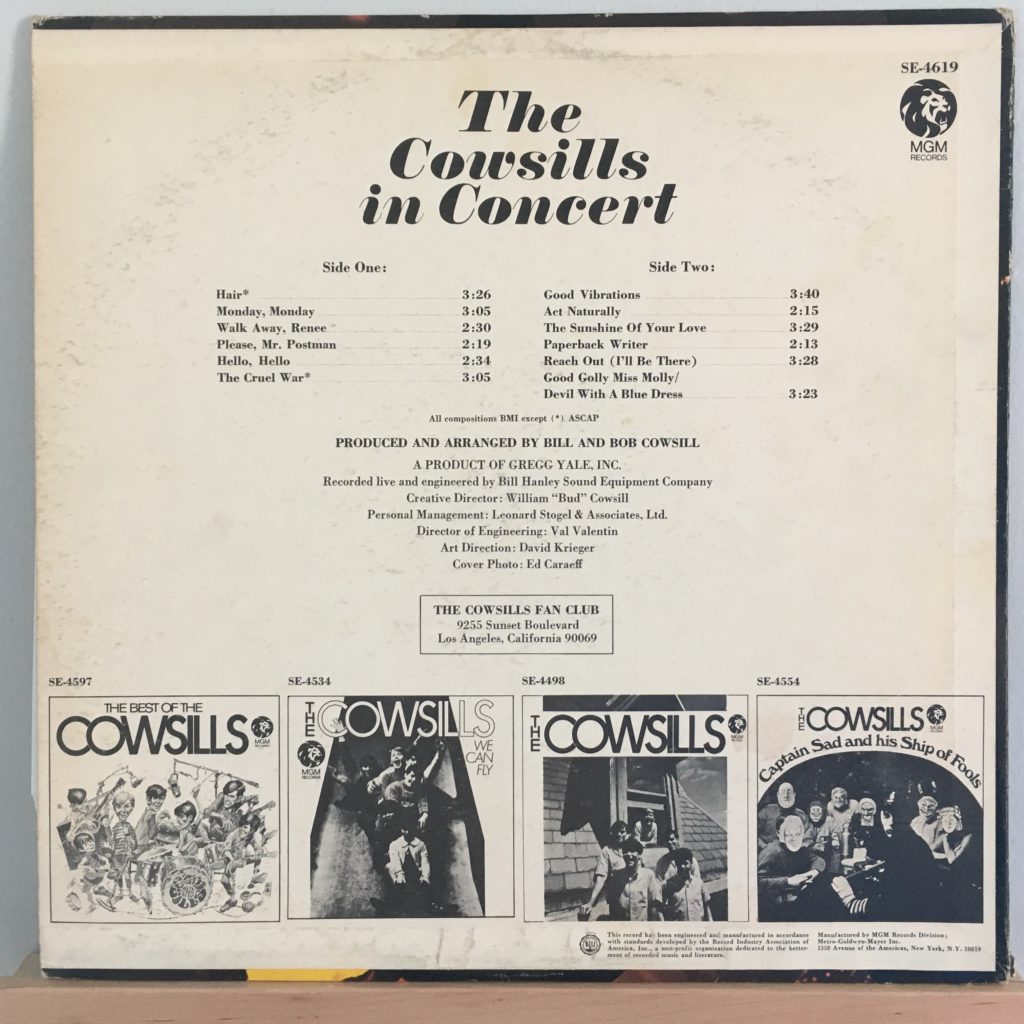 I'm sure that it was only because I was quite taken with the movie, and in the back of my head remembered this hit from a decade before, that I bought a copy of "The Cowsills in Concert." "Hair" opens the album and is the highlight. The rest of the album consists of covers — "Walk Away, Renee," "Good Vibrations," "Sunshine of Your Love," among others — and while I'm sure it was a good time live for their fans, these versions are solidly adequate. I remember playing this a considerable amount in the spring of 1980, when we were living in the Seneca Apartments, a once lovely, classic 1920s or '30s apartment block that was in service as a dorm. My association with this album is entirely with that dorm suite, which we shared with a sweet, slick Algerian named Salim and a dope named Pete who refused to flush the toilet.After that semester, this didn't get much play, as I collected actual versions of the songs I liked on it, by the original artists. I mean, you're not going to listen to The Cowsills once you have Cream. And until this project, I can say with some certainty that this hadn't been spun in decades. Probably won't be again, honestly, unless I get another hankering to hear "Hair." It's a fun little artifact, and that's enough sometimes.
It registered for the first time when looking at the credits that the cover photography was by Ed Caraeff. That's a name that anyone who studies album credits would be familiar with – one of the all-time great rock photographers. He took the iconic image of Jimi Hendrix at Monterey; I remember his name primarily from the Elton John albums that I studied religiously in my teens. He photographed everybody, and designed hundreds of album covers. As the Iconic Images website says, "His photography archive includes Jimi Hendrix, Jim Morrison, Iggy Pop and The Stooges, Elton John, Carly Simon, Linda Ronstadt, Dolly Parton, Tom Waits, Tim Buckley, Tom Petty & The Heartbreakers, Neil Diamond, Bob Dylan and Marvin Gaye."
And The Cowsills.