This is the album that was my actual introduction to CSNY. In the '70s, this album was ubiquitous, required of any teenager with the slightest hippie/folkie/singer-songwriter tendencies — and most of my friends were folkies. Issued in 1974, I'm pretty sure I picked this up in my senior year of high school, 1977-78, and played it a lot. A lot.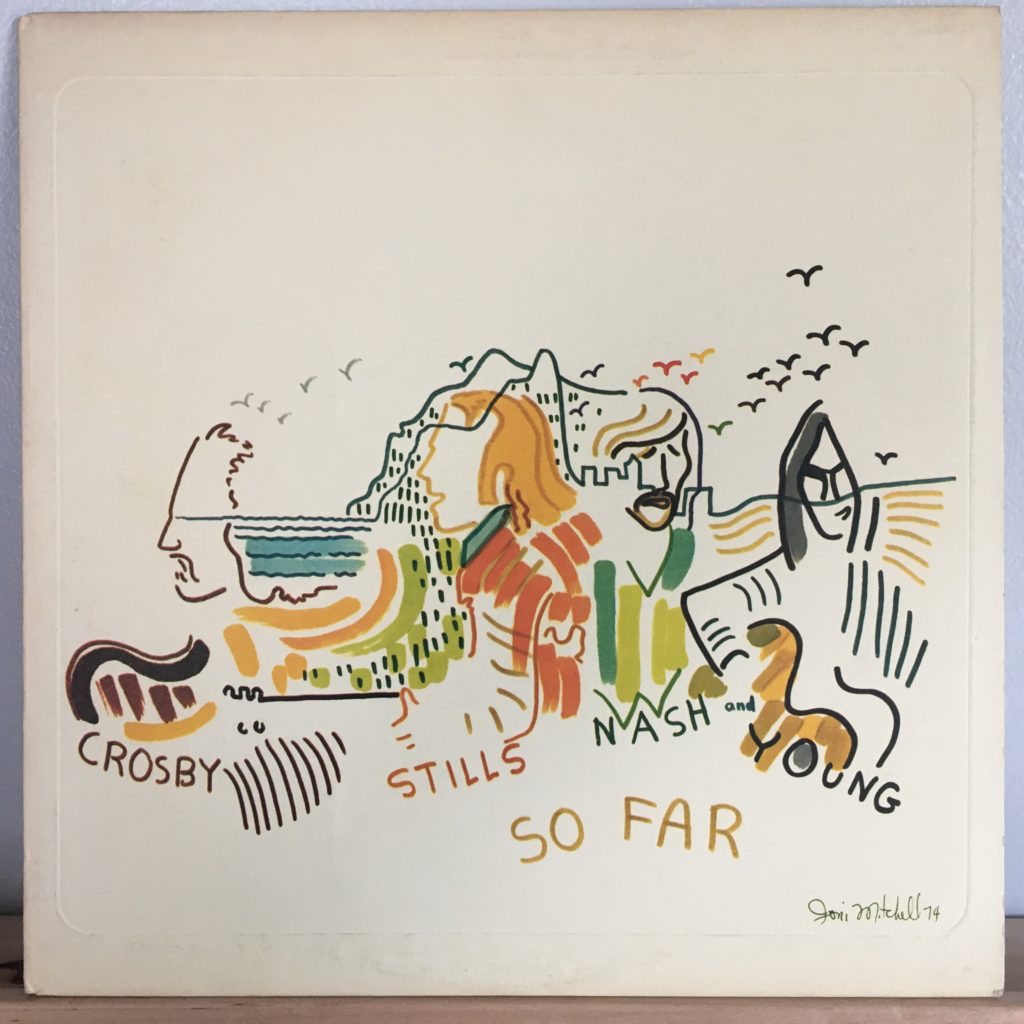 I think they reason I didn't get any more of their catalog until it was available digitally was a lack of funds and the classic problem of having their great hits record. The real paradox of a greatest hits record is that it can generate additional interest in a group but it can also cannibalize sales, and for a group that had only put out two studio albums, mushing them into one (and adding the non-LP "Ohio" and its b-side) really didn't provide much incentive to buy those earlier records. Looked at on a "cents per song" basis, paying for duplicates just didn't make sense when there was other music I wanted more.
But I loved this record, and played it to death. I have two copies — one, in much better shape, I think was originally my wife's. Mine looks a little bit more like it got carried around to parties and gatherings.
One thing I like about So Far is that the cover is an unusual matte stock, which, like their choice for Deja Vu, stands out from a time when most record covers were semi-glossy. It's also adorned with simple, beautiful line art by Joni Mitchell. I wonder if this is my favorite art cover in my collection? It's certainly in the Top 5. Have to think some more about that.
I'd love to remember where I got this, but I really don't. The chances are pretty high that I picked it up in the record department of the Two Guys Department Store in Schenectady — for a department store, their record selection was huge, and much of what I bought in the late '70s came from there. Singles nearly always came from Apex Music Korner, but albums were from Two Guys (bigger selection, probably lower prices). Also, when I went to Apex, it was usually on bicycle, as it was a relatively short hop across the bridge and into downtown Schenectady. Two Guys, just a few blocks further on, was more likely to be a nighttime stop, either as a planned shopping trip with someone's parents or making a raid on the place after an alleged study session at the Schenectady County Public Library. Either way, we would have gotten there by car, which was a much easier way to carry albums home. A backpack on a bicycle was not ideal for getting 12" records home in pristine condition.