I've had a beat-up copy of Tumbleweed Connection as long as I can remember — but it hasn't always been this beat-up copy. My previous one was a garage sale find that was, quite simply, unplayable. I got it in my early 20s, my college years, and because of its condition it never got much play, and Tumbleweed Connection didn't really get a chance to grow on me. At that time in my life, I wasn't really playing a lot of Elton John anyway — it was music that I very much associated with my teen years, and while it was still very good, it wasn't really what I was listening to. So having an unplayable copy wasn't really a problem.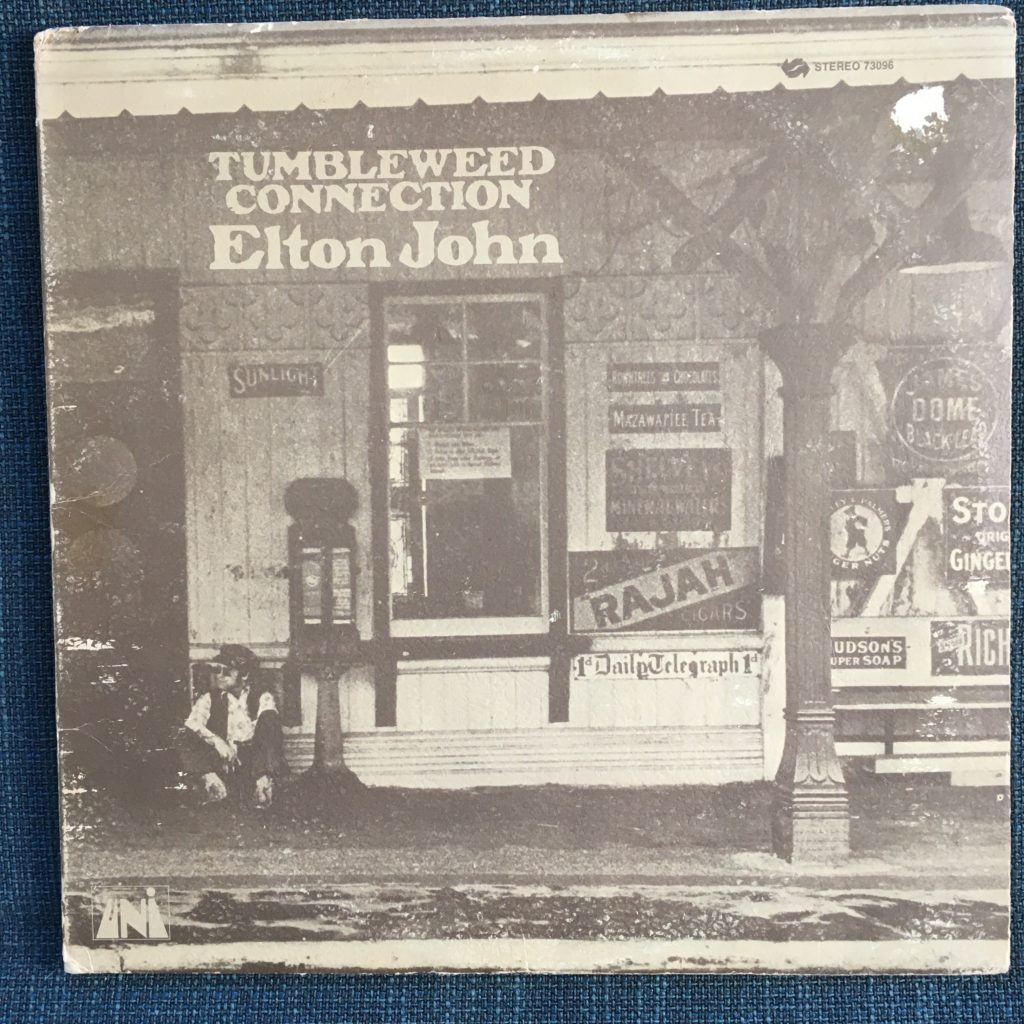 Make no mistake, I was a big Elton John fan in the '70s — but just a little after this came out. This was his third album, released October 1970. I got into records around 1973, when his sixth album came out. (More on that soon.) I was aware of some of the earlier Elton songs (certainly "Border Song" and "Your Song"), but for whatever reasons drove my thinking in my teens, I didn't look back.
Ten or more years ago, as I was filling my digital library with as much of my vinyl library as I could, I relied on my town's library for CDs of a number of records that I owned but was too lazy to go through the process of digitizing myself. (I take the completely unsupported position that if I own something on vinyl, I'm entitled to a digital version of it.) So I got a nice clean digital copy of "Tumbleweed Connection," as well as "Madman Across the Water" (which for some reason I still don't have on vinyl) and "Honky Chateau," and started getting very much back into the groove of early Elton John.
At some point I junked my vinyl copy as simply too beat up to carry around anymore, at a time when I was jettisoning a lot of vinyl I wasn't going to play again, especially if I had a digital copy. But somewhen in the last few years, I ran across a marginally less beat up copy at a local record swap — this one with the complete lyric booklet, which my previous copy had lacked — and so I think for $2 I got a somewhat nicer copy of Tumbleweed Connection.
So I can't tell the tale of all those long, teenage hours that I would have spent staring at the photographs and the lyrics booklet, or the attempts to make sense of what was going on in "Burn Down the Mission" or what kind of a name "Amoreena" was. That confusion wouldn't come until relatively recently.
The design and packaging on these early Elton records is really something – you got your money's worth. This one has a very large lyric booklet packaged in a gatefold jacket (which I'm pretty sure my previous copy didn't have). Although it suits a lot of the material, I can't say that I share Elton's (or his designer's) love for old-timey western imagery, sepia photos and a palette of brown, but I do love that you got a lot to look at with these albums.