As we're going through these old records, some of them are so well-known and familiar to me that I really don't have any need to play them to tell the stories I associate with them. Others require a spin or two to remind me of the songs that were on them and see what memories they bring to mind. Sometimes that's pleasurable. Sometimes it's not.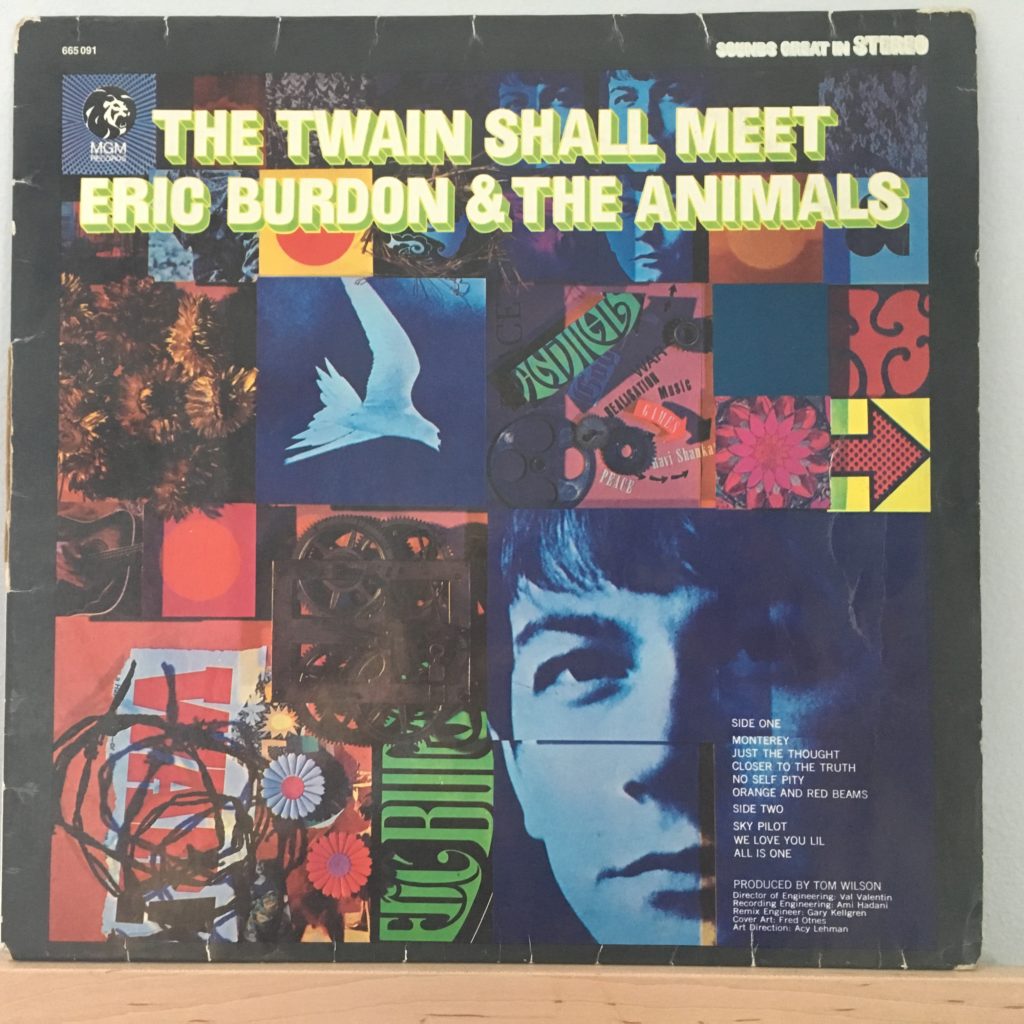 Okay, if "Winds of Change" was what happened when the drugs took hold of Eric Burdon and the Animals, then "The Twain Shall Meet" was what happened when they wouldn't let go. According to Wikipedia, this album, featuring the same lineup, was recorded in December 1967, just two months after "Winds of Change" had been released, and came out in May 1968. The music business just cranked out more product then. And in the brief time they had to write new material for this album, the new members of the Animals must have asked themselves, what can we bring to modern music that hasn't been done? We've already used a violin to imitate sitar. We've had a lot of dark horns. We've done bebop poetry. Whatever can we do?
That's when someone said: "Bagpipes." (We'll get to it.)
The album opens with "Monterey," which would get to #15 as a single. It's a driving recap of the acts who were at the Monterey Pop Festival, an odd little thing to sing about ("Woodstock" didn't list the acts who were at Woodstock). I think this is officially the last song on which Eric Burdon mostly just sings the names of other bands. I'm not saying he shouldn't have promoted the greats who came before him, like he did on "Hey Bo Diddley" and "Club A Go-Go," among others. But he did it a lot. It was, one must admit, a bit much, but the song is still pretty good.
For the first time on an Animals record, someone who isn't Eric gets to sing lead vocals — bassist Danny McCulloch gets two tracks. First, "Just The Thought," is some 1968 deep hippie nonsense:
There's a staircase in my living room
And it leads to (k)nowhere land
There are flowers growing from my wall
They lend a touching hand
The second, "Orange and Red Beams," is more of the same, though the melody is a bit more haunting and McCulloch's strained vocal kinda works with the song. In between those, "Closer to the Truth" and "No Self Pity" are more of the same. "No Self Pity" lays it down, man:
Modern day structures are fantastic
But have you seen a butterfly's wings?
Man has created symphony
But have you heard a blackbird sing?
To make it deeper hippie nonsense, there are some left/right stereo effects going on, with fading back and forth that was almost mandatory at the time but now is just insanely annoying if you're listening with headphones on.
The second side opens with "Sky Pilot," a not at all subtle anti-war song that starts with an a capella recitation, builds into the band, and then explodes into bagpipes. Bagpipes. "We Love You Lil" does us the favor of not hitting us over the head with a message because it's an instrumental, and honestly, it's the best song on the album after "Monterey." Then the album closes with "All Is One," which opens with . . . more bagpipes.
I love the heck out of Eric Burdon, but this is asking a lot of fans. (Not that I necessarily blame the band — next time we'll talk about how much product they were putting out.) The cover, ironically, is probably the best album cover the Animals ever got, a collage style that is popular to this day. But a good record this is not. "Winds" hadn't really torn up the charts, peaking at #42. "The Twain Shall Meet" only reached #79.
I don't have a particular memory of buying this one, it was probably around 1980 or 1981. My copy is an odd German pressing, don't ask me why. The cover was a little beat up from the start – German records all seemed to have a layer of cellophane or a similar plastic coating that added extra shine and protection for the paper underneath, but which eventually peeled off in an unsightly manner. I have several German discs that look like this. The disc itself is also pretty beat up, with some real rough sound through "Orange and Red Beams." But I have never, ever cared enough to bother to replace it. This is not what you would call a good record, and I've hardly ever played it.