The pace of record releases in the '60s was truly astonishing, and almost certainly one of the reasons so many bands fell apart under the pressure. Perhaps a bit easier when they were covering other artists' songs or having songs written for them, but for those who were creating their own material, the pace was just grueling. Just look at The Animals. In their first incarnation, MGM Records released Animals albums (in the US) in September 1964, March 1965, September 1965, July 1966, and November 1966. "Eric Is Here" was released in March 1967, after first band had fully broken up. Then the new version of the band had releases in September 1967, April 1968, August 1968, and December 1968. Four albums in just over a year – and one of them was a double album.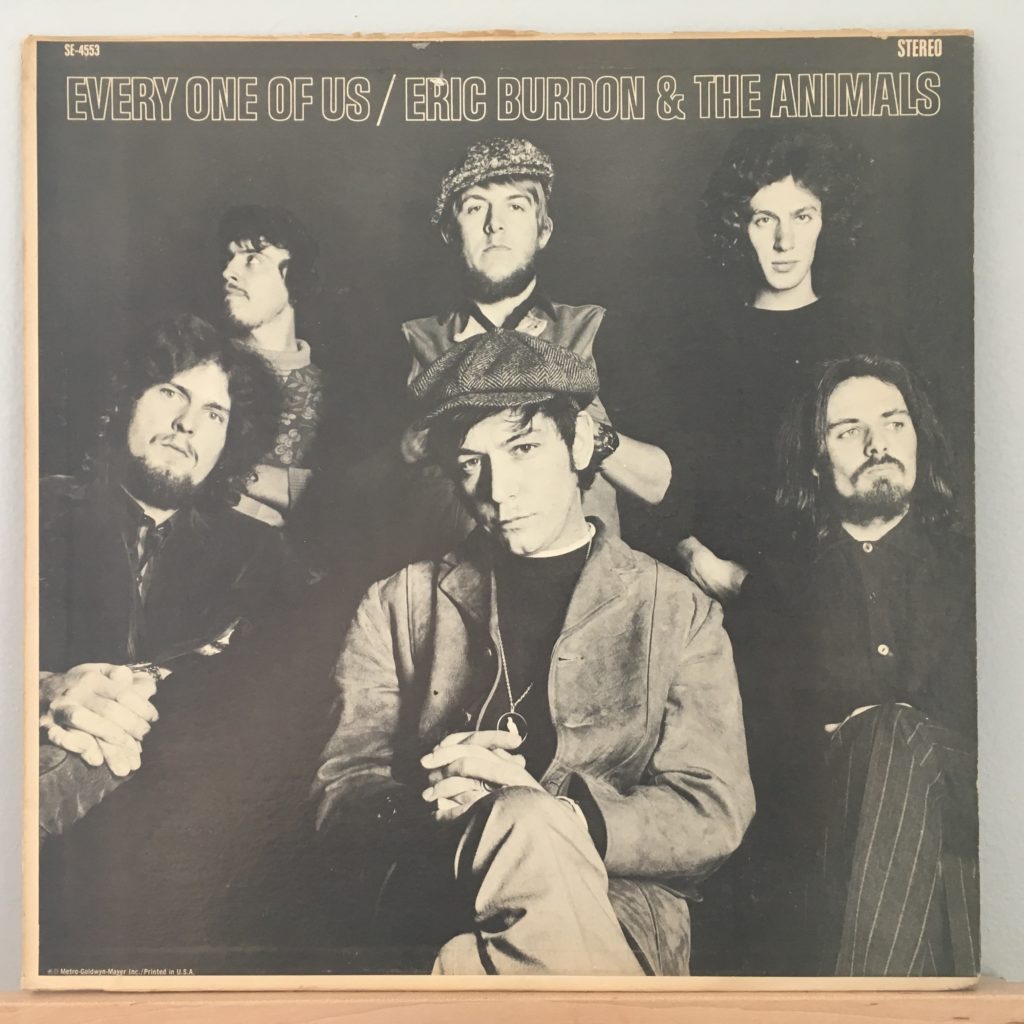 So, yes, perhaps the quality slipped more than a little bit. Also, the '60s were in full swing — a time of tremendous creativity and a time of tremendous nonsense, and it was sometimes hard to tell the two apart. "The Twain Shall Meet," which in my view fell pretty fully on the nonsense side, and not especially creative nonsense at that, topped out at #79 on the US charts (way better than "Eric Is Here").
The band had picked up Zoot Money on Hammond organ and piano, which gave the first song a rollicking, Band-like feel. "White Houses," which was also released as a single, is some straight-up 1968 social commentary:
White houses in neat little rows,
Contrasting against the sky.
Tumble down black shacks over the tracks,
Children so hungry they could cry.
The chrome the steel, the metal dream,
Leaving the teeth which will rot.
The escapist young mind left behind,
Saving dimes for community pot.
Better get straight
You better, you better get straight, babe
It's not bad, it's just SO sixties. And then, because it's the sixties, we break into a nursery rhyme — they call the song "Uppers and Downers" (oh boy a drug reference 1968 what a shock), and recite:
The grand old Duke of York
He had 10,000 men
He marched them up to the top of the hill
And he marched them down again
And when they were up they were up
And when they were down they were down
But when they were only half way up
They were neither up nor down
Listen, they were ALL doing this shit then. Everybody had some weird retro nonsense on their albums.
There's a very pretty instrumental by guitarist John Weider, "Serenade to a Sweet Lady." Then there's "The Immigrant Lad," more social commentary. "Year of the Guru" at least rocks.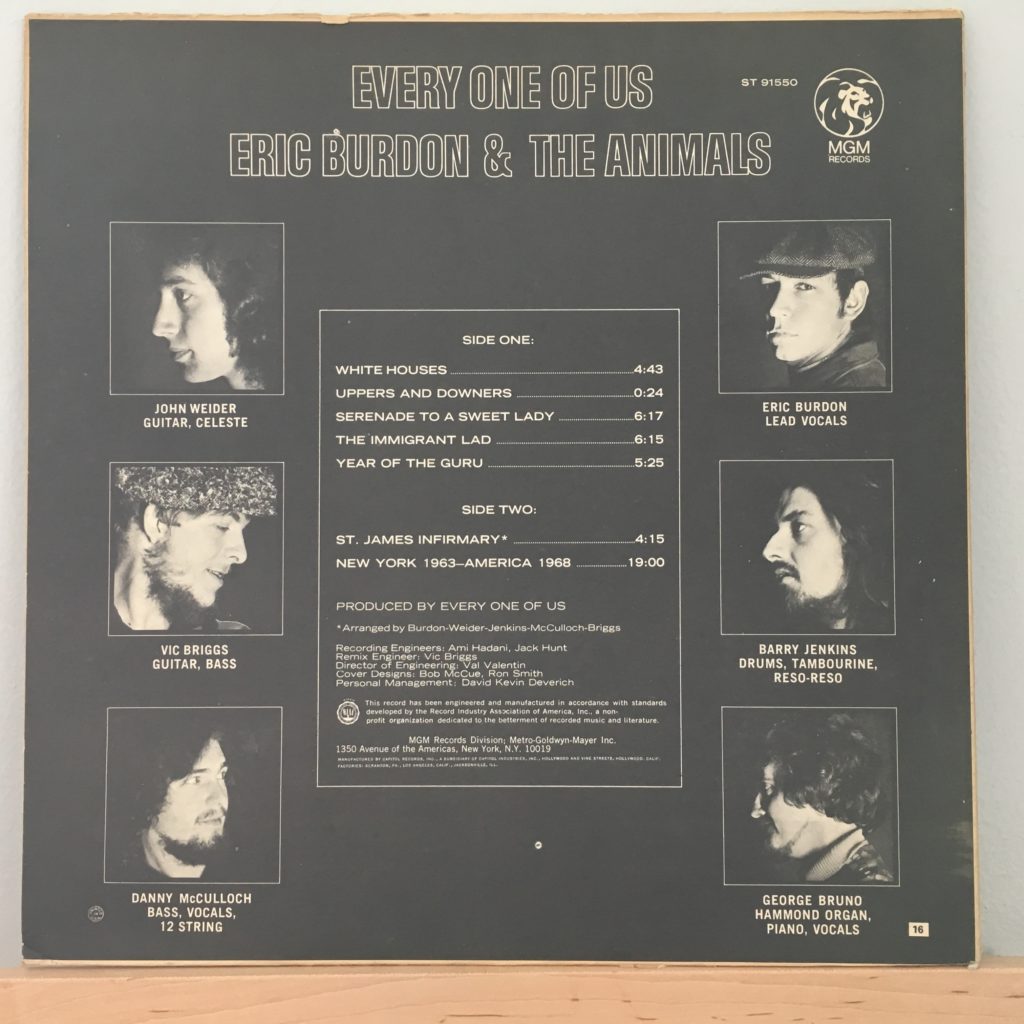 The B side opens with an absolutely incredible take on "St. James Infirmary." It starts out as a straight, super-slow blues, just deep guitar and Eric's deep voice, and rolls through the first few verses at a lugubrious pace. Then the song explodes into a fury of electric guitars, wailing out above a rocking blues, sails to an amazing crescendo, and comes back down to earth as Eric brings it home to a sad, bluesy end. It is quite simply awesome. In fact, it was my introduction to this old blues, and while I've heard many different versions, this is still my favorite.
So, how to follow that up? How about a 19 minute (that's right) . . . um, what is this? soundscape? Sometimes a song, sometimes a narrative told by whom, we don't know. It's about race and class who knows what else. It is an incredible mess. This is how it opens, with singing by Eric:
And when I got to America, I say it blew my mind
And when I got to America, I say it blew my mind
In Central Park the children were playing
Behind the bars the tiger walked
Smiling young faces of many colours
Many young tongues were being talked
The garbage lying in the streets of the Village
Smiling face of an unknown Bob Dylan
(Do it again, man)
She was sixteen, young and so willin'
The sudden violence of a Village killin'
(And here comes the police as usual, eh, what good are you now)
Then we get an odd story from someone who claimed to have been a fighter pilot, telling tales of how things were in the poor place he grew up: "You know the town that I was born in, we didn't have no streets? It was all dirt roads, dirt roads and poor people, nobody had nothing."
Then it turns into something about freedom that sounds a lot like what will turn up as "Gemini" on the next album, at least structurally, and that isn't a surprise, as this is co-written by Zoot Money, who brought some of his earlier material with him. Oh, it's just . . . well, this is what having to produce too much music in too little time, in the age of self-indulgence, drugs and anything goes will do.
I first remember hearing this around 1981 or so. I was into all things Animals, and as I said, "St. James Infirmary" blew my mind. Being young and filled with social conscience, the rest of the album certainly resonated at the time, but I can't say it has aged well, and today I would only really listen to the rest of it as a curiosity piece.