I have had my copy of Crown of Creation forever. ("Forever" for my records generally means I bought it in 1979 or 1980.) I'm sure I got it on the heels of "Worst Of" and "Bless Its Pointed Little Head," if not during that same summer of '79, then shortly after.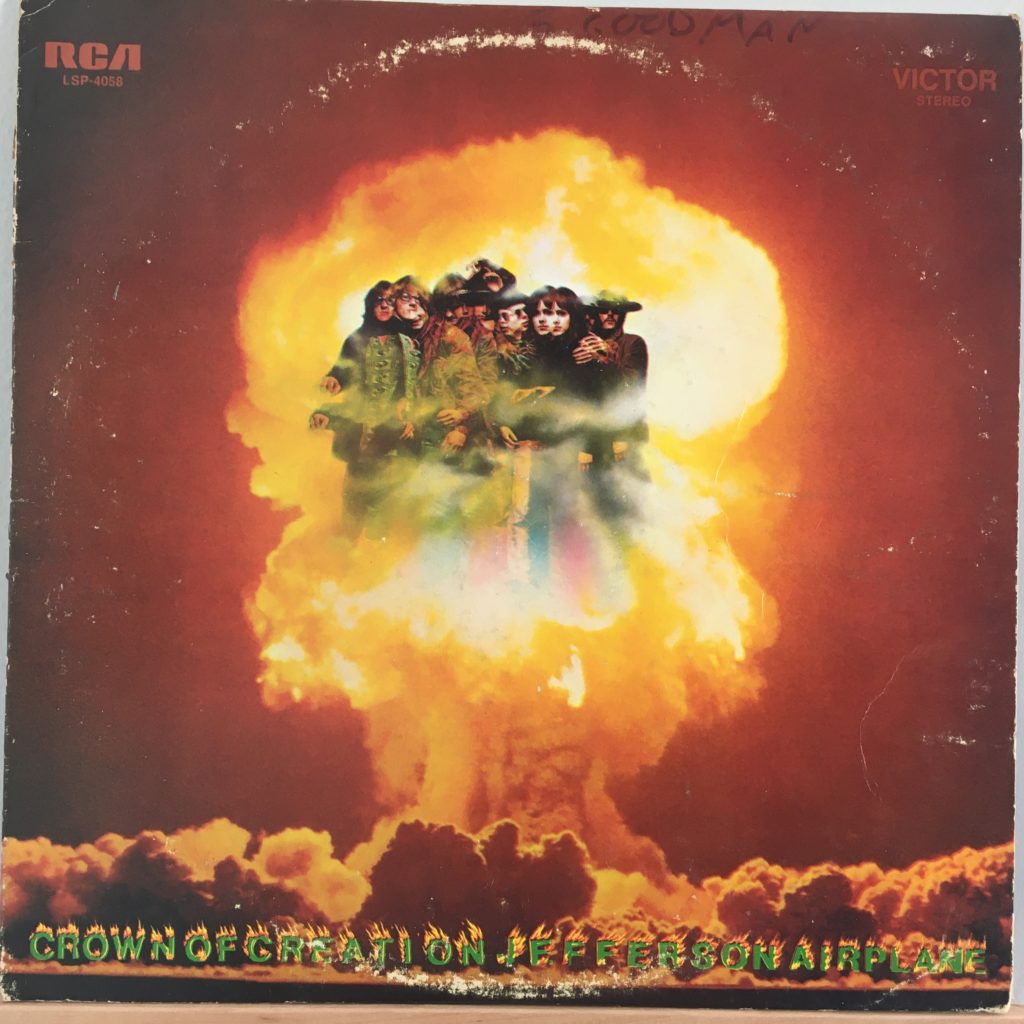 It starts with the incredible "Lather," a lament about the loss of wonder and play that is expected of us in order to become "adults." It was hearing "Lather" on my copy of Worst Of that first revealed to me what kinds of depth Jefferson Airplane were capable of. That and "Embryonic Journey" – it blew my mind that the band doing "White Rabbit" and the other hits was also capable of these insightful bits of revelation.
The album also features one of my all-time favorite JA songs, the title song, "Crown of Creation." I have quoted it constantly for years without knowing that the lyrics were adapted from a science fiction novel called "The Chrysalids" by John Wyndham. So these incredible words are either from or inspired by Wyndham:
"Life is change – How it differs from the rocks"


"In loyalty to their kind / they cannot tolerate our minds / In loyalty to our kind / we cannot tolerate their obstruction"


"Soon you'll attain the stability you strive for / In the only way that it's granted: / In a place among the fossils of our time."
I often quote that as a putdown of reactionaries who are trying to take us back to a "better" time (in their view), both to ridicule and to point out the impossibility. But it applies to me as well. We want the illusion of stability, of safety – we imagine that's possible, and sometimes for stretches of our lives maybe it seems like that's something we've achieved. But it's an illusion, and that stability only comes at the end.

"My life is to survive
And be alive for you"
It also has the David Crosby song "Triad, " a very '60s justification for a ménage à trois that nevertheless features some of Grace Slick's most beautiful, relaxed, soulful vocals ever. She also excels on "Greasy Heart," and the album closes with the very Airplaneish "The House at Pooneil Corners."
As I said, I've had this for decades, and I've played it for decades. The thing with the Airplane is that, until my very recent purchase of the complete Woodstock set, my order of play was always this: Bless Its Pointed Little Head, then Volunteers, often Worst Of, and then Crown of Creation. There was a very clear hierarchy in my mind, and that was how it played out. Now that I'm spending way more time listening to vinyl than I have for three decades, I'm more willing to be a bit more random, to pull out the less-played records and put them on first, and with that Crown is coming up more often these days. And I have no regrets.